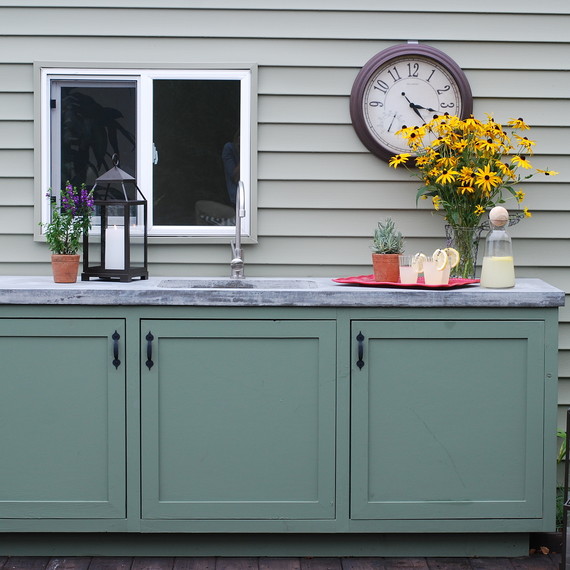 Bring the Farm to the Table
Farm-to-table is all the rage in restaurants, so of course it's at the top of our list for home gardening ideas, too. With just a few steps, you can transform your yard into your own personal pantry, overflowing with fresh ingredients and natural designs. Here's how to incorporate this trend into your garden:
Grow an edible garden.
Edible gardens are nothing new, but they're growing in popularity, even in urban areas. You probably remember your grandparents or parents growing veggies in the backyard to save money on groceries. Today, while financial considerations are still relevant, it's more food quality and nutrition concerns that have people of all generations gardening.
Try an herb wall.
If you love cooking with fresh herbs but don't have a ton of space for a garden, you can still plant an herb wall. Simply grow your favorite selections -- basil, cilantro, dill, oregano, mint, and others -- in pots on a wall and you'll save time and money by plucking leaves from your own vertical herb space. When the seasons change you can transfer your plants indoors and keep them growing year-round.
Do the cooking outside.
Outdoor kitchens are trendy, and practical! Depending on the scope of the project, they can be installed relatively easily and for very little money.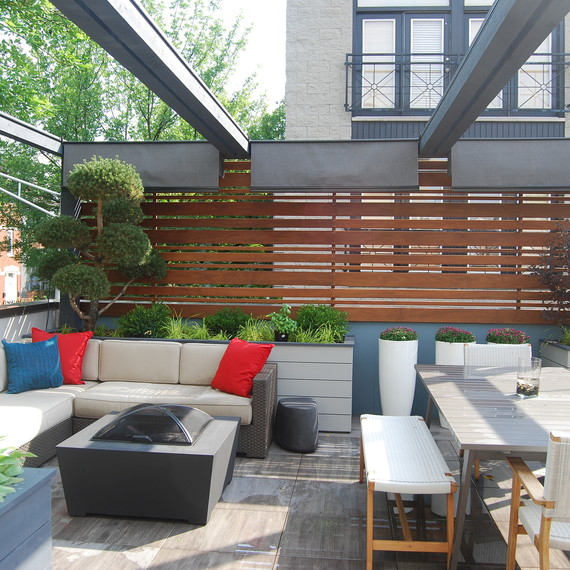 Design with Modern, Clean Lines
Clean modern lines is one of those gardening ideas we can get behind. Modern lines transform the space into a contemporary oasis. Not only do sharp edges give your garden a fresh style, but they make everything seem larger and more sophisticated. Try these tips to get the look:
Opt for horizontal fencing.
Good-bye, vertical fencing, and hello, horizontal slats. These pieces give the space a wider appearance, and the slats can be arranged to your liking. Horizontal fences are quite versatile and can be made out of many materials, so the options are endless.
Try sleek, modern outdoor furniture.
Who says your backyard has to be filled with boring typical patio furniture? Make your outdoor space as beautiful as your interior with modern outdoor furniture. Furniture with clean lines gives your yard a sleek style with a focus on simplicity and functionality.
Update your containers.
Container gardening is also rising in popularity. However, choosing the right container is important to create the style of your space. Keep within the contemporary theme with modern containers. If you want to stick with the horizontal theme, you can even make your own containers that match your fencing.
Change from the ground up.
Transform your space from a boring backyard to a stylistic sanctuary with modern flooring. Wooden planks, stone, porcelain pavers, or an outdoor rug nicely complements your design aesthetic while adding a sense of elegance to your outdoor living space.
Dare to Live Alfresco
Big or small and no matter the budget, any area can become your very own paradise. Living alfresco is a gardening trend that brings all the relaxation and luxury you need to the great outdoors. Here's what you need to get this style:
Create an outdoor oasis.
Bring all the comforts of your indoor living room outside for a luxurious backyard getaway. Make your space cozy by investing in enough furniture for lounging, while also adding a welcoming vibe to your yard. Another key: Spice up your space through great outdoor lighting. Illumination goes a long way to create ambiance for summer barbecues that quickly turn into late nights.
Make the most of your rooftop.
Even city dwellers can enjoy living alfresco by giving their rooftop a little TLC. Treat your rooftop like you would backyard retreat with flooring, furniture, and lights, to give it some character. Liven it up with a little greenery. Container gardening and vertical gardening will show off your green thumb while rejuvenating your space with beautiful plants.