When our sister was diagnosed with celiac disease about five years ago, no one in our family really knew how to put a tasty Thanksgiving side dish together that could be gluten-free, too. Seriously, though, gluten is hiding in a lot of ingredients -- well beyond the obvious ones like wheat and barley. But these days, a lot has changed. There is an ever-growing variety of gluten-free options out there to choose from on the market, including vegetable stocks, breadcrumbs, and much more. And when you throw in a dash of creativity, well, you can easily come up with something delicious and satisfying!
Quinoa is probably one of the lesser-used grains in our household, and that's likely because it hasn't got much flavor on its own. What we do love about it, though, is its ability to carry other flavor profiles. Technically classified as a "pseudo cereal," quinoa is actually closely related to beet roots and spinach, and it's both high in protein and low in carbohydrates.
Give this gluten-free Thanksgiving side dish a try -- we're sure you'll love it!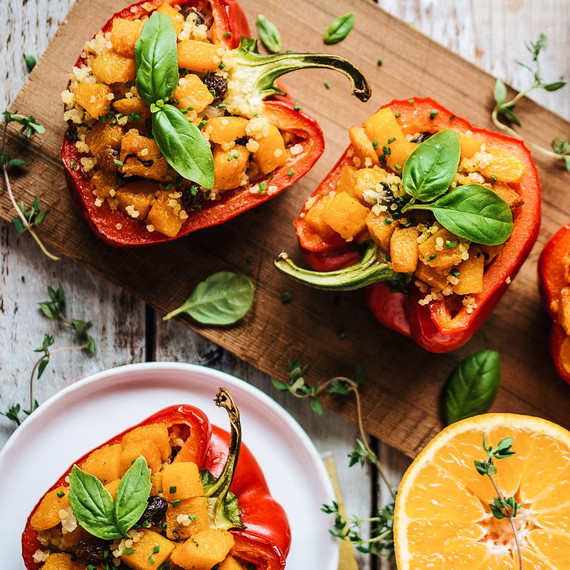 Ingredients
1 cup white quinoa
1 cup gluten-free vegetable stock
1 cup butternut squash, peeled and cubed
1 small white onion, diced
2 garlic cloves, minced
2 tablespoons unsalted butter
2 tablespoons extra-virgin olive oil
½ cup brown mushrooms, diced
4 bell peppers, halved and hollowed
½ cup goat cheese
1 teaspoon nutmeg
salt and pepper, to taste
2 tablespoons coconut oil
3 sprigs fresh thyme
1/4 cup raisins
juice and zest of half an orange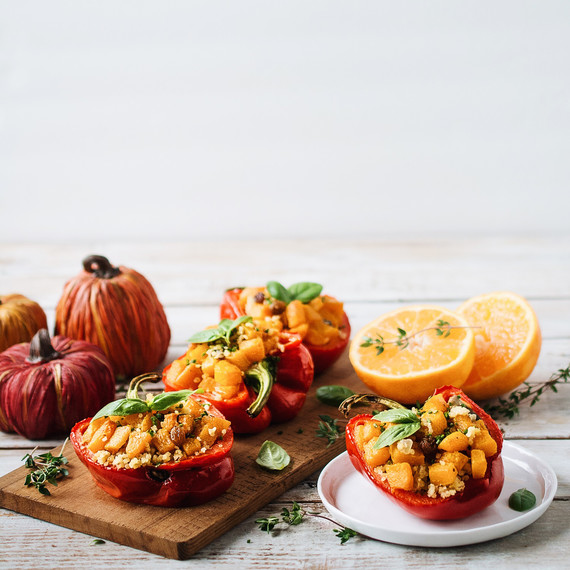 Directions
Preheat oven to 350. Peel and dice butternut squash into small pieces.
In a small bowl, combine raisins, orange juice, and zest and let sit until raisins are plump.
While the raisins are soaking, heat up 1 tbsp extra-virgin olive oil in a frying pan. Add butternut squash, and let cook for about 5-7 minutes, until it begins to look tender and partially cooked through. Remove from heat and set aside.
In a small pot, combine quinoa and vegetable stock on high heat. Bring to a gentle simmer, then lower heat to minimum and cover. Cook according to package directions.
In a heavy-bottomed pot, heat 1 tablespoon of extra virgin olive oil on medium heat. Add onions, and let them sweat for a few minutes until tender and glossy.
Add mushrooms, and cook for another 2-3 minutes or so, stirring every once in a while. Add garlic and butter, salt and pepper to taste, and let everything cook down for another 3-5 minutes.
Add cooked quinoa to onion and mushroom mixture, and combine well. Add raisins, orange juice and zest, fresh thyme leaves, nutmeg, and crumbled goat cheese. Mix well, allowing the goat cheese to melt and incorporate into the mixture.
Slice bell peppers lengthwise, and remove seeds. Using a kitchen or pastry brush, lightly coat peppers with coconut oil inside and out. This helps keep them moist, and also prevents them from burning or sticking to the pan.
Spoon quinoa mixture into the peppers, and top generously with butternut squash. Set on a foil lined pan, and cover with more foil.
Transfer the covered pepper to the oven for 30 minutes or so, then remove foil and finish for another 15-20 minutes at 400 degrees.
Remove from the oven, and let rest for a couple minutes before serving.
---
Happy glulten-free Thanksgiving!