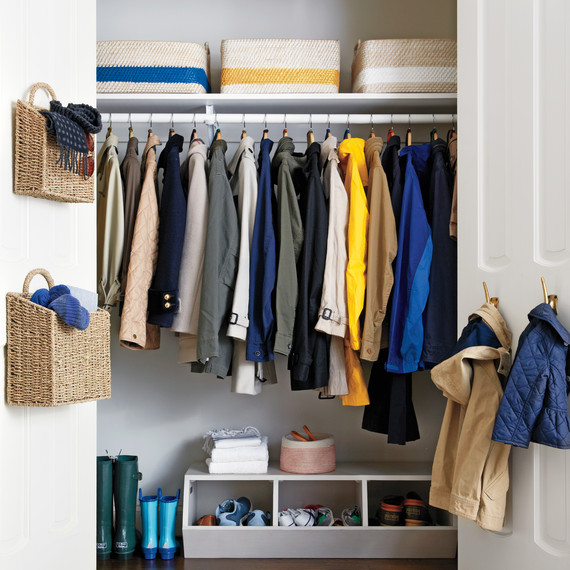 No two closets are alike. The dimensions of your space will determine your closet-organization strategy. A great first step is taking everything out and really analyzing the floor plan to figure out how you can make the most of it. We like to map out where everything will go before we put it back in. Is there vertical height you can utilize with stacked storage bins? Handy built-ins to store accessories? Can additional racks be installed? No matter what you are working with, these tried and true tips will help you create a little bit of organized paradise!
Edit!
Now that you've emptied everything out, it's time to reevaluate what you really need to put back in. The most important part of an organized closet is what's in it. A proper edit should be done at least twice a year. We like to follow a general rule of thumb that for every item brought in, we take something out. This keeps the balance of your closet and helps your wardrobe stay fresh throughout the year.
Ditch those wire and plastic hangers.
Swap out mismatched plastic, wire, and wood for quality, matching hangers. We love using velvet hangers for shirts and dresses that often slip off regular plastic ones and end up on the floor. You will be surprised how much more put together and organized your closet will instantly look just by doing this one step! Additionally, using storage baskets and bins are a great way to store necessary loose items (hats, belts, scarves, gloves) that are otherwise lost in the deep dark crevices of your closet. The key again is making sure they match.
Get a shoe rack, pronto.
Get them off the floor and at eye level where you can see them. If you are crunched for space, line them up heel to toe to maximize storage. Use inserts to perk up boots and help them keep their shape. This is so much more visually appealing than sad, saggy ones. It will feel like they are all standing at attention to greet you! Put your most beloved and everyday pairs at the forefront. Keeping what you use more frequently easily accessible helps save time during your daily dressing routine.
Hang your jeans and graphic tees.
Installing double racks and shelving is the best way to keep separates in check. We prefer to hang jeans and graphic tees. Chances are if you are folding and stacking your jeans, you are only wearing the top two pairs. You forget what you have if you can't see it. It's much easier to sift through shirts if they are hung as well. Sweaters, on the other hand, should always be folded, stacked, and sorted according to neckline, fabric type, or color. Hanging can damage both light and heavyweight knits.
Merchandise!
Ever notice how a creative window display can entice you to walk right into a boutique? Or even more, make you pull out your wallet and purchase something? The same concept works in your closet. Just because it's organized doesn't mean it has to be rigid. The key to closet organization is that it should be fun and reflect who you are! For a final step, merchandise your closet with personal touches. Place framed photos of your favorite things on shelves or hang on walls. Create displays with your accessories, (clutches and handbags are a great way to do this). Getting dressed should be something you look forward to, not something that feels like a chore.