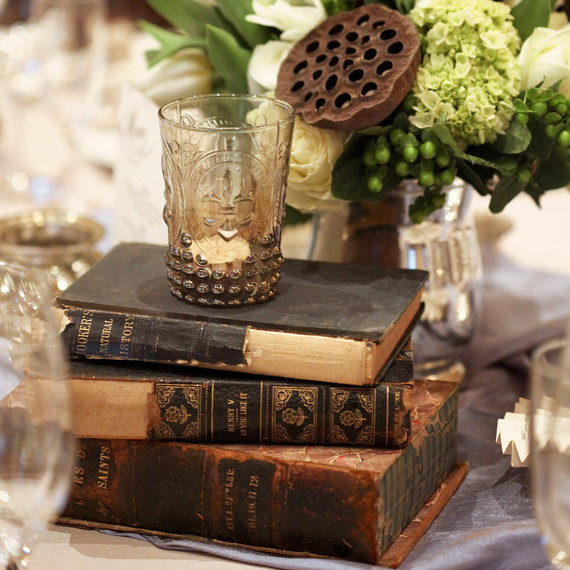 For the Bookworm
Vintage books bound in leather are absolutely stunning, and, I think, are pieces of art and history in themselves. Graduation centerpieces featuring these gems signify intelligence and dignity, and are perfect for high school or colege graduates.
Place a stack of books at the center of the dining table and add blooms in small bud vases to complement the setting. You can pick classic books like "Gulliver's Travels" or "Moby Dick," and give the books to the pupil as a graduation present! The combination of vintage books and small blooms will scream academia without being too kitschy. If you want to bind your own books in leather, check out this article on working with leather before you get started.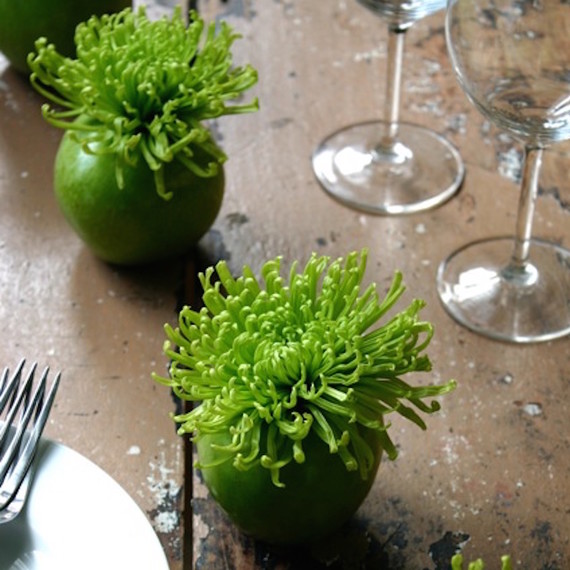 An Apple a Day...
... keeps the bad grades at bay! Apples have always been an analogy for the very first day of school (think: kindergarten), so wouldn't it be fun to bring them back for the very last? Create apple-focused graduation centerpieces for your commencement celebration by carving out the centers of apples and placing a small bloom within the crevices. Follow these simple instructions, but rather than carving a pumpkin, carve Granny Smith, Gala, or Cortland apples! There are so many ways to incorporate apples into your decor, and sometimes simplest is best -- even a pile of freshly picked apples in the center of the table will create just the right impact.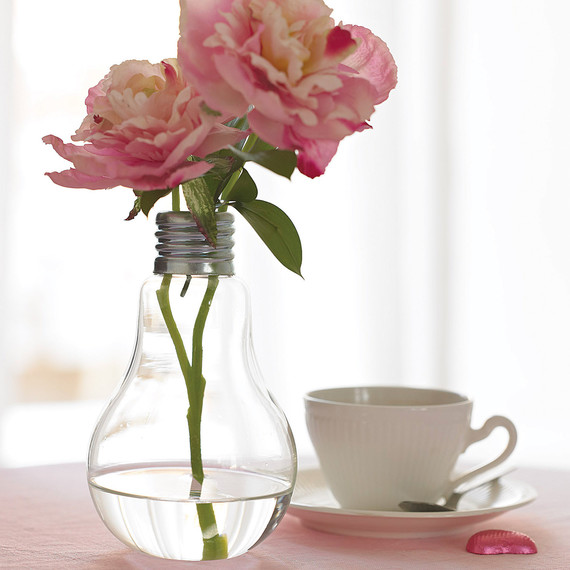 A Very Bright Future
Although not an obvious reference to academia, lightbulbs are metaphors for intelligence, lustrous ideas, and bright futures -- all things celebrated at a graduation! This is also an affordable way to decorate a large party, and the lightbulb vases are reusable. You can even hand them out as gifts at the end of the party!
See more adorable ways to use apples as decorations.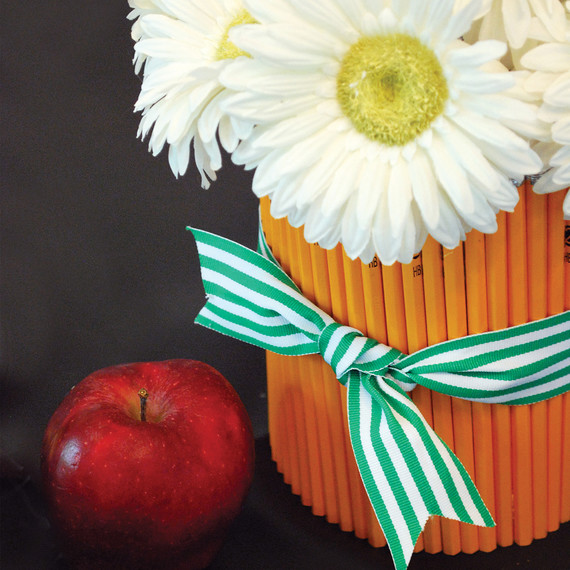 Take Note: The Yellow Pencil
For a little more of a pronounced scholastic reference, create DIY pencil vases and place them throughout your dining or buffet tables. To make this super-easy vase, place a rubber band around the middle of a glass vessel and add new yellow pencils between the rubber band and the glass. Tie a ribbon -- in your school colors -- around the rubber band and then arrange your favorite seasonal blooms into your DIY pencil vase! You can also do this with small wooden pencils (typically used for golf and board games) if you want to re-create this look throughout the party but don't have a lot of table space.
Spell It Out
I always remember how playing Scrabble really helped improve my vocabulary, especially as I'm a competitive player and enjoyed choosing obscure words. Create place cards out of Scrabble pieces, marrying the theme of educational lexicon with close friends and a jovial celebration.