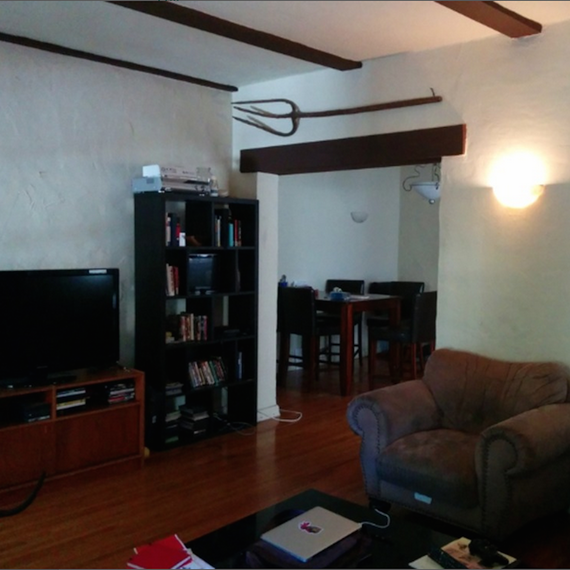 This particular design project was an especially exciting one for us at Laurel & Wolf for a number of reasons. Chiefly, because it features the space of Laurel & Wolf cofounder Brandon Kleinman! Located in Los Angeles's Fairfax district, Brandon lives with his adorable pitbull Clyde within walking distance of a plethora of hot spots. Brandon lucked out with the prime location and historically fascinating apartment, but his bachelor pad needed a major design overhaul. Interior designer Jamie Nash stepped in and helped him transform his living and dining areas into a masculine blend of contemporary eclectic and urban industrial comfort.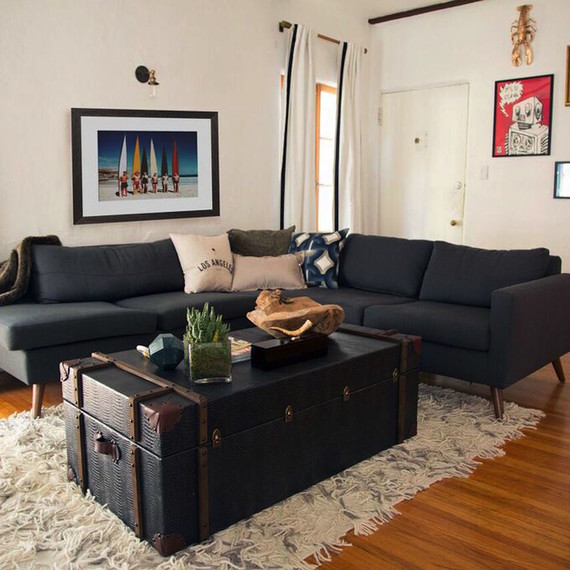 Brandon wanted a clean, streamlined, and cozy look for his living room, where he could comfortably kick back and watch TV with his dog. Keeping the space very masculine was also a priority for him, so Jamie made sure to find structured elements in strong, deep colors. The gorgeous sectional sofa from TrueModern was just the modern touch needed to make the place sleek yet relaxing.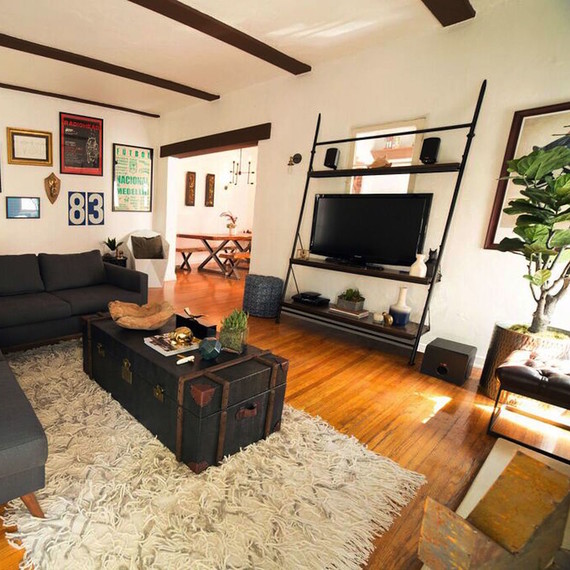 The TV stand was an important piece for Brandon, as it needed to be able to fit a rather large TV. The industrial TV stand that Jamie picked out unifies the space through its dark wood and straight lines, and is large enough to fit a full entertainment system. We also love the juxtaposition of the croc-embossed leather trunk coffee table placed on the chevron wool shag rug.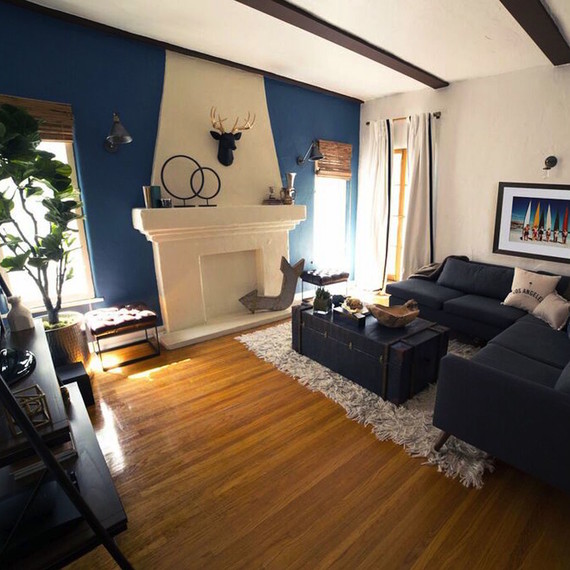 Sconces keep the room well lit and draw attention to the accented fireplace, which is expertly adorned with a stag head and a few other asymmetrically placed sculptures. All the art, which Brandon owned previously, pays homage to music, sports, and Los Angeles culture.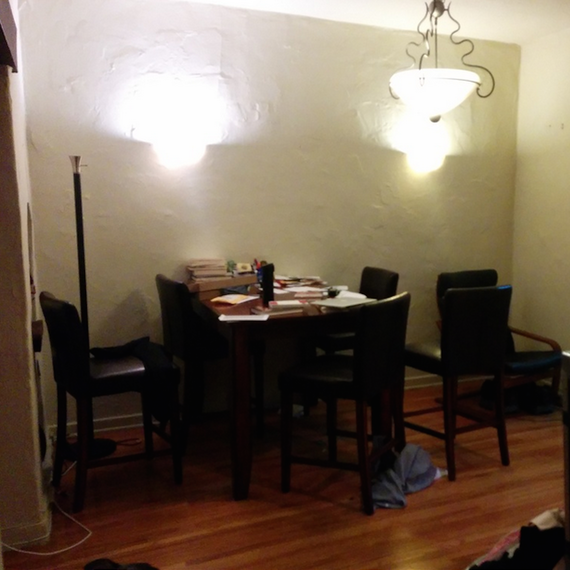 Before his dining room felt messy, cramped, and altogether uninviting.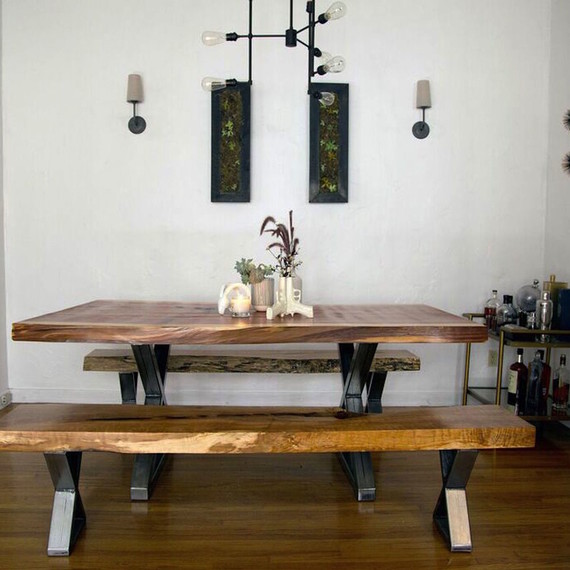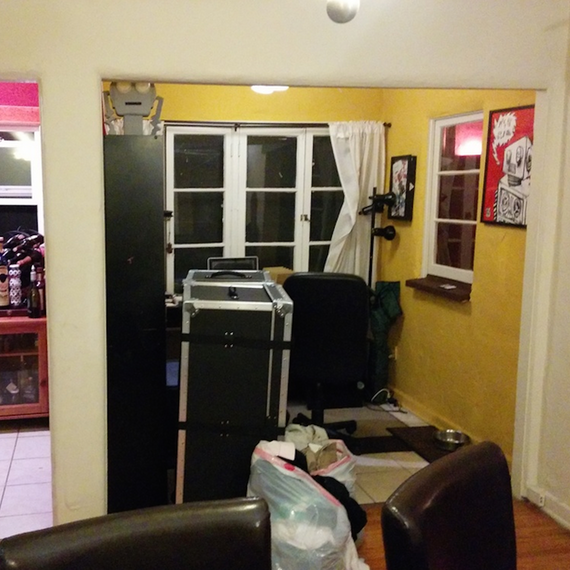 Our favorite part of the makeover is probably the tiled library nook, which underwent a major improvement from the cramped office space it functioned as before.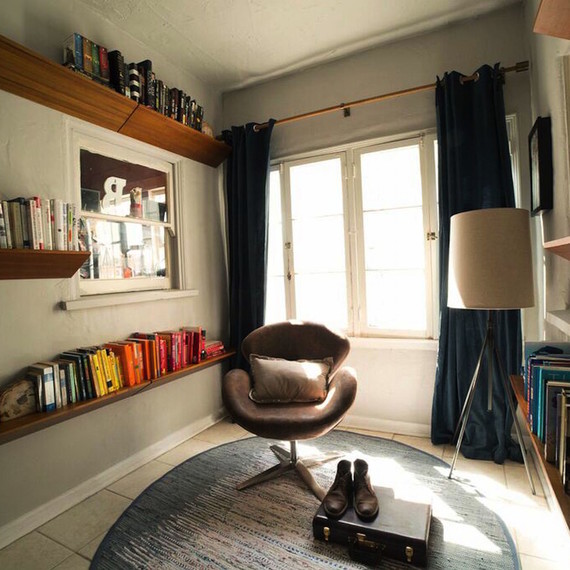 It's hard to believe this is the same room! Continuous floating shelves hold Brandon's book collection and keep the space neat. The regal blue drapes on the midcentury curtain rod are a great accent and we absolutely love the Modern Brown Petal Chair by Christopher Knight.
This design overhaul is proof that any disorganized man out there can create the perfect space with just a little bit of work and a lot of help from one of our excellent designers!
Feeling inspired by this design makeover? Share it with your friends on Facebook, Twitter, and Pinterest, or start your own project with laurelandwolf.com!