When you're preparing for baby, you don't have to change your personal style. Sure there may have to be a design compromise here and there, but you don't have to feel like you live in a pre-k classroom! With only a couple of months before our little guy would be able to grab at any and everything, we wanted to turn our living room into a more sophisticated and streamlined space. By making just a few simple changes, we were able to create a more modern and homey feel, perfect for our new family of three! Read on to see the transformation!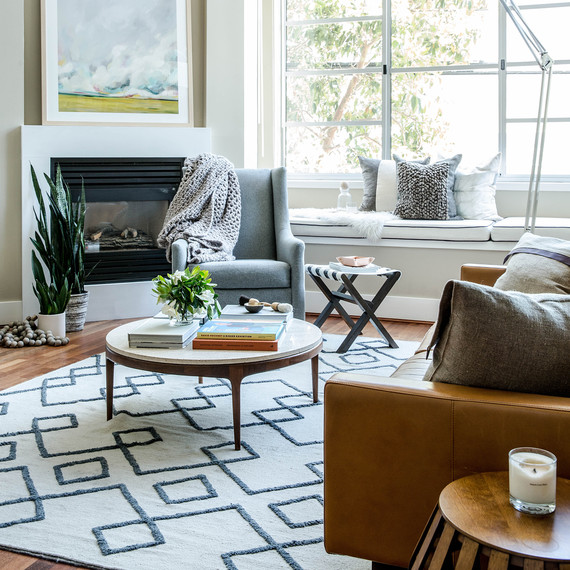 Step one in our mini-makeover: de-clutter. Nothing is more important when it comes to preparing for baby. We had dotted our living room with a lot of souvenirs and personal finds -- little trinkets that added bits of interest and character to the room, but it got to a point where the space was just feeling a bit too crowded! With a baby and the hundreds of toys, burp cloths, blankets, and bottles on the way, we really needed to streamline and transform the room to be as soothing as possible. We did that by starting with a single piece of large-scale art over our fireplace. A strong focal point gives a place for your eye to land first (and distracts from the TV!). It can be very challenging to find art that works with 20-foot ceilings and is both interesting and affordable, which is why I was thrilled to learn that Minted.com is now offering oversize prints!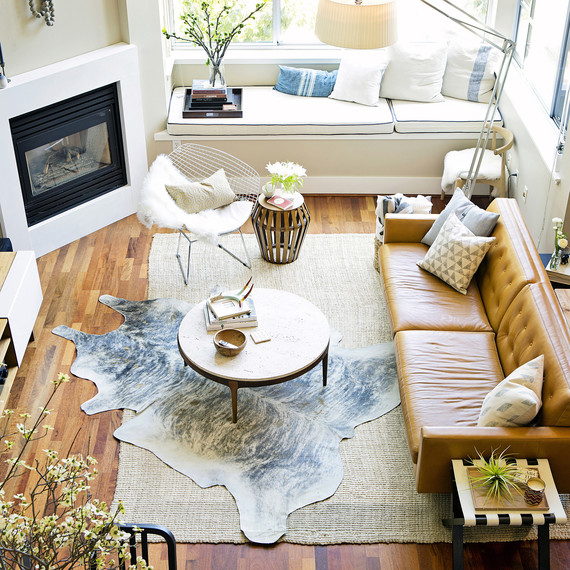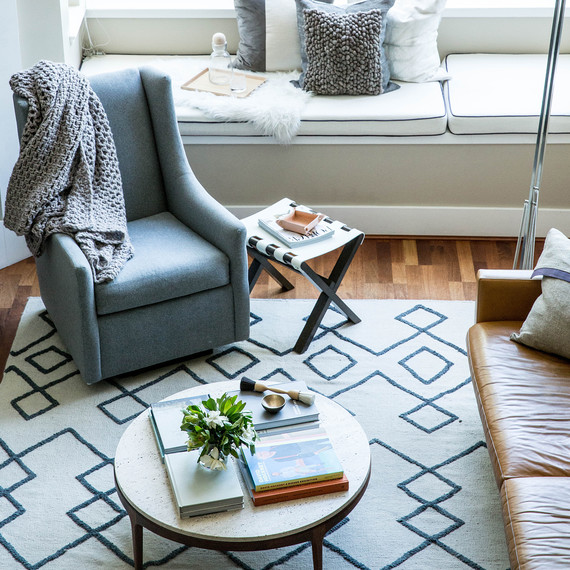 While I initially loved having a layered rug look (formerly I had a hide over a sisal rug), it suddenly felt like a little too much going on for this mama! So we switched it out for a modern black-and-white geometric design. The new rug is a lot softer than the unforgiving sisal, which makes it a perfect place for play time on the floor with baby!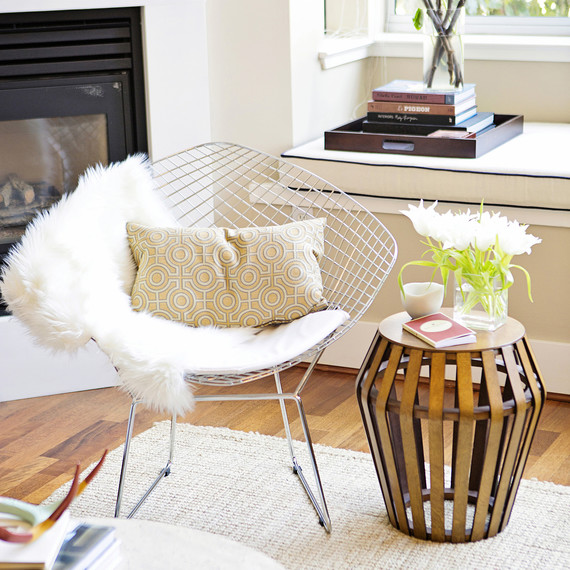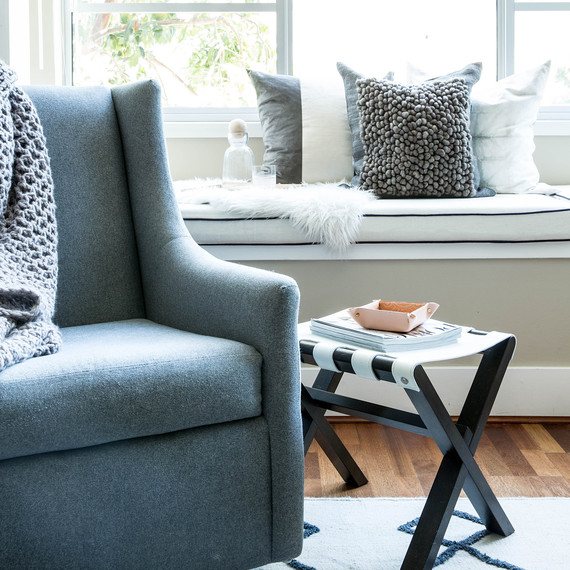 Next we looked at the furniture. The midcentury-inspired wire chair in front of the fireplace was stylish but not practical. It got a new home so, dare I say ... a glider could go in its place. There are so many options for baby-friendly chairs with adult-friendly silhouettes out there. I also selected a timeless charcoal fabric so that no one can ever tell it's actually a baby glider. It fits right into the space!
As for accessorizing our living room, a simple refresh of our pillows and throws was all the space needed to feel warm and inviting. I realize it's only a matter of time before sticky little fingers will get on everything, so I decided to enjoy some beautiful textiles -- think wool, cashmere and linen -- while I still have time! The textured pillows on our window seat were hand-knotted in Argentina and are my favorite pieces in the room! I kept everything in natural, neutral tones and deep shades of gray.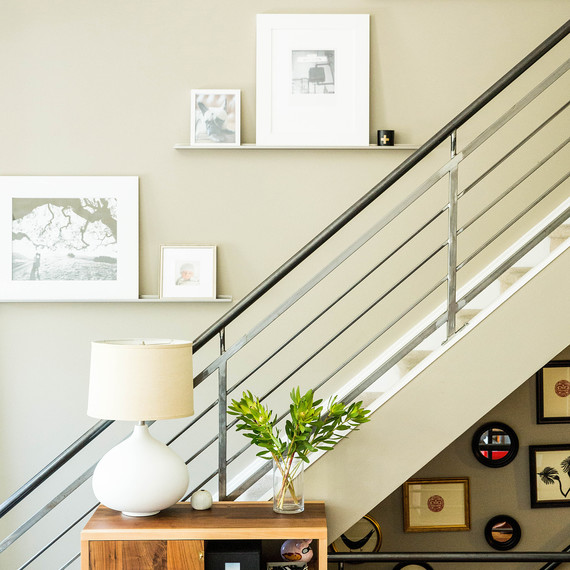 On the other side of the room, the gallery wall running up our stairs also got a little refresh. There, I edited things down to a monochromatic black-and-white color palette featuring a mix of family images and artwork that has personal meaning.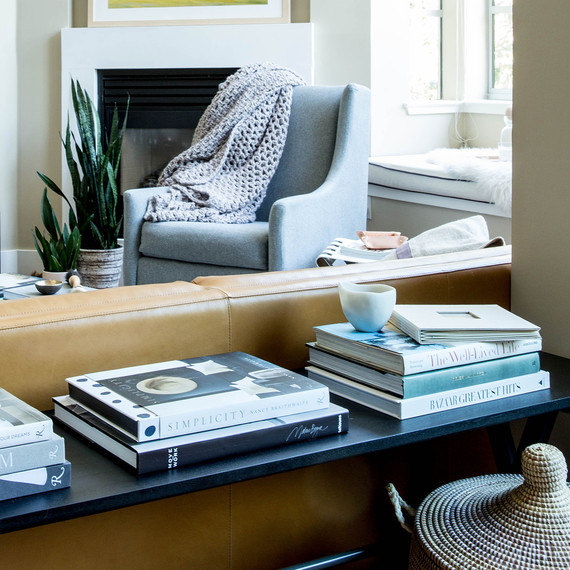 I finished the space off by displaying some of my favorite design books -- their oversized scale adds a nice texture and depth without making it feel like we're up to our necks in tchotchkes. All the baby toys are purposefully hidden away in baskets, lots of baskets!
I'm quite certain there'll come a time when I'll have to do another baby-proofing sweep of this living room, but this first purge was a great way to ease into the transition of having a little one around. It's a room where we can enjoy a glass of wine while reading "Goodnight Moon." #mamaapproved