When I talk about contemporary design with people, most of them feel the need to reassure me that they like the "warm" kind of modern -- as if modern usually connotes "cold," "stark," and "uninviting." On the contrary, I believe that the modern aesthetic is incredibly versatile -- and perfect for inspiring something as "warm" and "cozy" as a gorgeous fireplace.
If you're considering a contemporary fireplace, here are some pointers to help you create something warm, inviting, and dramatic.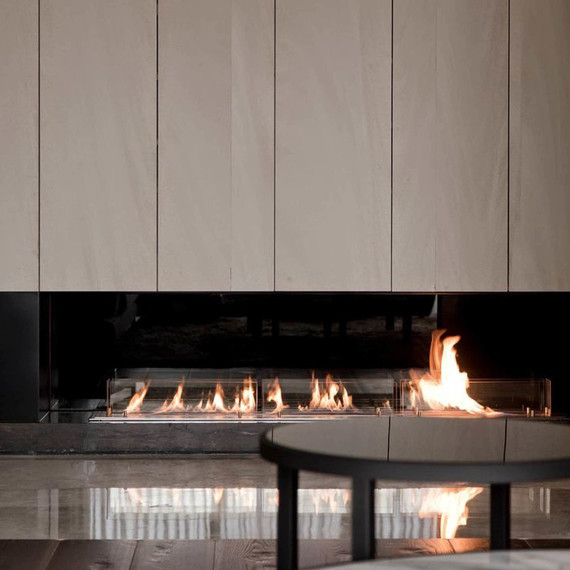 Stick with simple lines and shapes.
While more traditional fireplaces often have ornate moldings to create interest and glamour, use your vertical and horizontal lines to your advantage. Repeat them to create patterns and opt for a sexy, long, linear fireplace insert.
Most contemporary linear fireplaces come with a standard set of beads that sit at the bottom of the flame. Let me tell you, there is nothing warm and snuggly about a pile of green glass. Opt for a minor upgrade and go for small stones, or another material that feels more natural and inviting.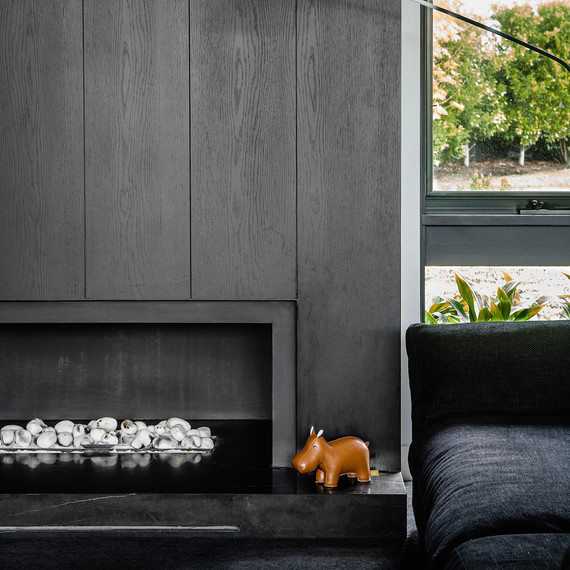 Let your materials do the talking.
The simplicity of contemporary design doesn't mean it needs to be boring, or cold for that matter. Try using a wood with a visible grain and matte finish. Keeping things feeling natural always adds an element of coziness. If you are trying to create a more dramatic surround, select a few materials that contrast each other.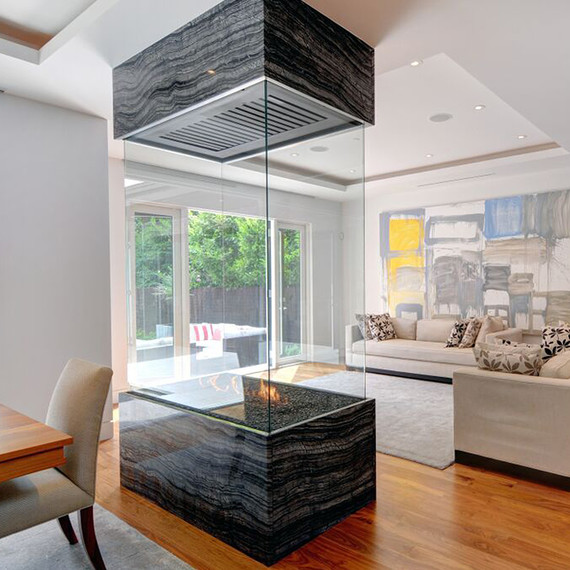 2-for-1 is always a good idea!
Double-sided fireplaces can be a great solution in modern homes. While most people now gravitate toward more open-concept layouts, artist and interior designer Katherine Gordon tells me about how she designed this custom zebra marble fireplace, "to separate the living room and dining room of a large estate home in Vancouver, BC." Her use of a luxurious material with large airy glass panels created a beautiful architectural element without overwhelming the space.
With the lights down low and the fireplace glowing from the center of this entertaining place -- this feels like the perfect place to host an intimate (and chic!) party.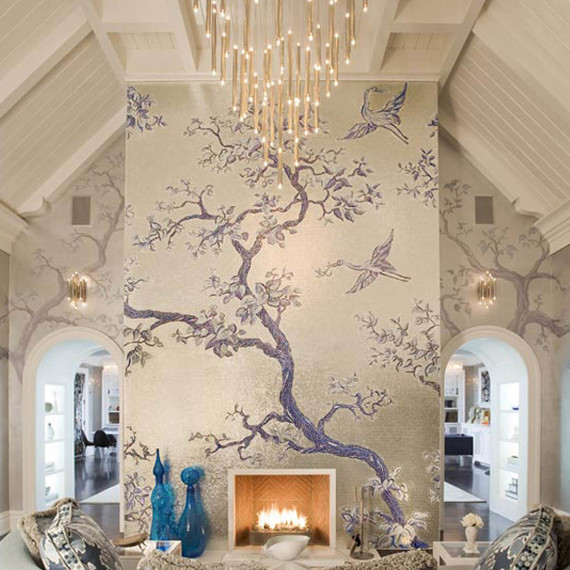 It's okay to break some rules.
Aren't all of them made to be broken anyway? I constantly battle with my love for all things modern and the beauty of traditional design. It's easy to get stuck in a mind-set that dictates completely committing to one, but it doesn't need to be so black-and-white. My favorite designs (be it my own or the work of another designer) are always the ones that thoughtfully combine elements of the past and present.
Try pushing that modern-traditional boundary. This space designed by Daun Curry is a great example of how taking a contemporary shape and applying a more traditional material can create something that feels current and timeless all at once. This fireplace makes my heart skip a beat with a façade covered in hand-painted Venetian glass tiles. While this may not be the most affordable route to take, there are always ways to get the look for less. Try boxing out your fireplace breast and covering the whole surround in a wallpaper or wall mural.
Cover photo/photo 3 designed by Daun Curry, photography by Emily Gilbert Photography. Photo 2 designed by Kestie Lane, phography by Jonathan van der Knaap. Final photo designed by Katherine Gordon, photography by Geoffrey Tomlin-Hood.