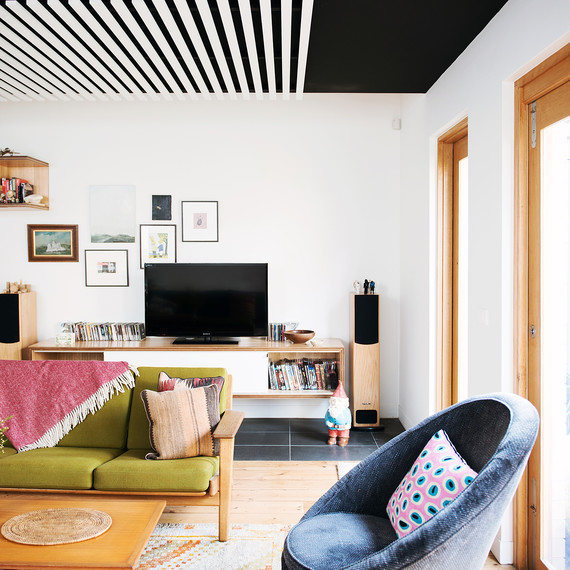 Stripes make a bold statement in a home -- and can be utilized anywhere from the ceiling to the floor. Australian Firm Nest Architects is not afraid of stripes, and have even gone so far as to incorporate stripes into the structure of a house. In one recent project (shown above), they created a striking black-and-white beamed ceiling to contrast the colorful midcentury decor.
In another project, they opted for a striped black-and-white-tiled backsplash in the kitchen. "Thicker stripes tend to be more traditional," offers interior designer Yanic Simard, "while more narrow stripes tend to fall in the contemporary category." Stripes can also create different moods in any room of the house. For instance, large yellow and white stripes on the ceiling of a nursery will make a cheery statement, while a thin classic charcoal pinstripe is better suited for a masculine study.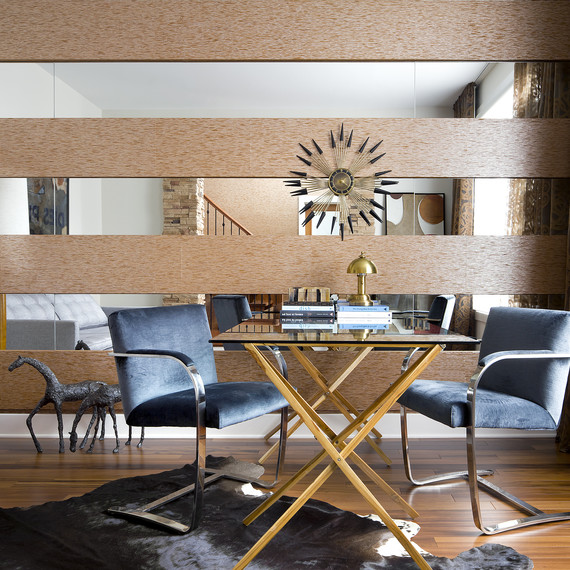 Yanic Simard of the Toronto Interior Design Group used mirror and wood paneling to create a striped wall in a client's dining room. "I've always been a lover of stripes" he says "They provide a sense of structure. They're timeless yet classic and look great in all forms, scales, and colors."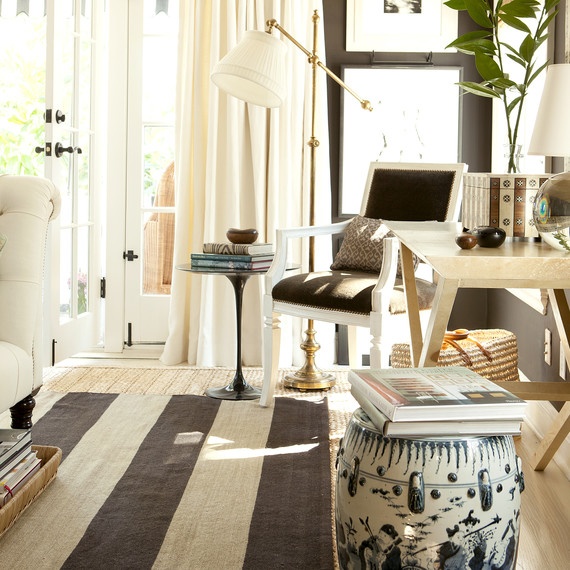 For those not quite ready to make such a permanent statement, a rug or runner can do wonders to a room, or even an outdoor area. This room, designed by Mark D. Sikes, shows just how crucial a rug can be to the overall design. Mark is no stranger to stripes, as you can tell from his clothing line M.D.S. Stripes. He suggests throwing down a classic striped rug wherever possible! Especially in light neutral shades (or his preferred blue and white).
The staircase is a place where stripes fare particularly well. From vertical or horizontal painted stripes to more traditional stair runners, there are many options to choose from. If you like to switch up your home decor ideas frequently, opt for a runner that can be easily replaced. This one from Roger Oates is one of my absolute favorites -- I love the texture of the weave. If you're the more crafty, hands-on type then try your hand at painting -- it's also easier to customize the colors to match your home decor.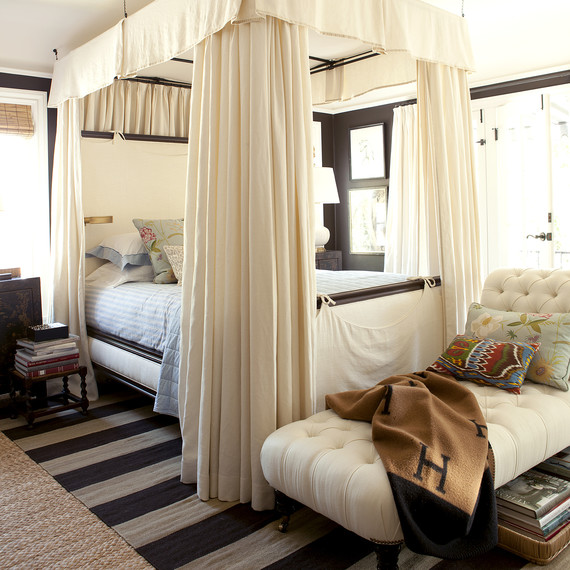 While making a bold statement with stripes is sure to impress guests, they are just as well suited to more classic environments. For example, a subtle blue-and-white stripe on a set of sheets can complete the intricate layering of a well-appointed bed.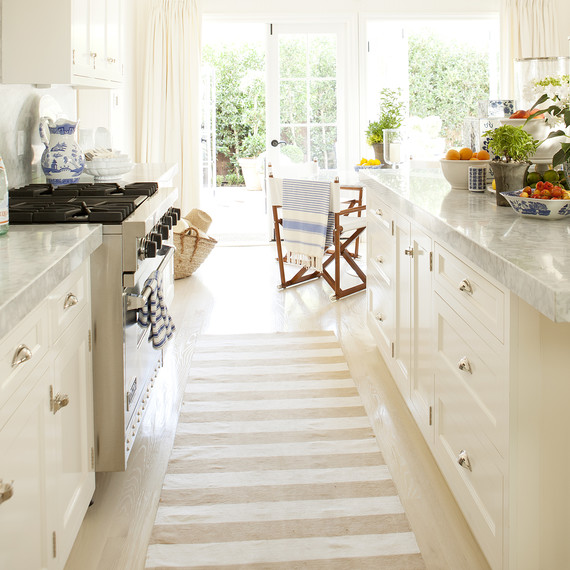 Something as simple as a light summer throw layered on a dining chair can serve as a decor's finishing touch. It's also an easy way to bring color into any room. "Stripes are great because they can be modified to fit the space," says Yanic Simard. "They can run horizontally, vertically, or diagonally, while also acting as a perfect transition to break up a room's elements." Keep this in mind as you start to experiment with this fun pattern.