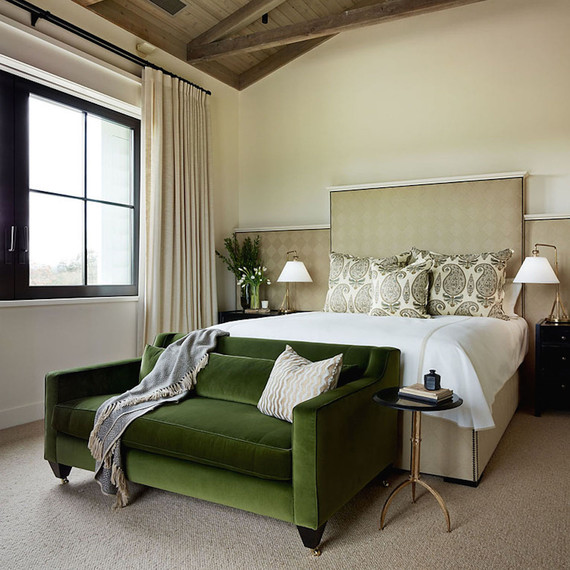 For me, the most eye-catching interiors are those that incorporate a variety of textures. I love to mix soft fabrics with natural fibers and luxurious textiles with beautiful masonry. This rich pine colored love seat in luxurious velvet is an accent I can't get enough of. Positioned in the most unexpected place like the foot of the bed, the elegant velvet makes a such a bold statement.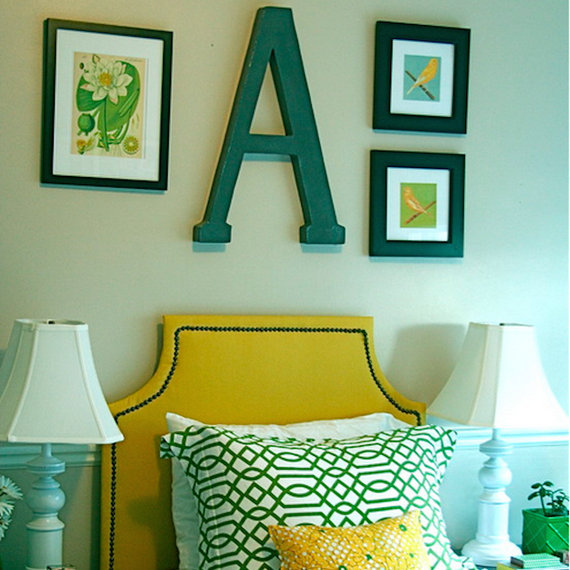 Looking to add a sophisticated yet youthful element into a teenager's bedroom? Try adding letters -- rather than additional prints or paintings --in an elegant dark green. I love a room with a small touch of innocence and whimsy.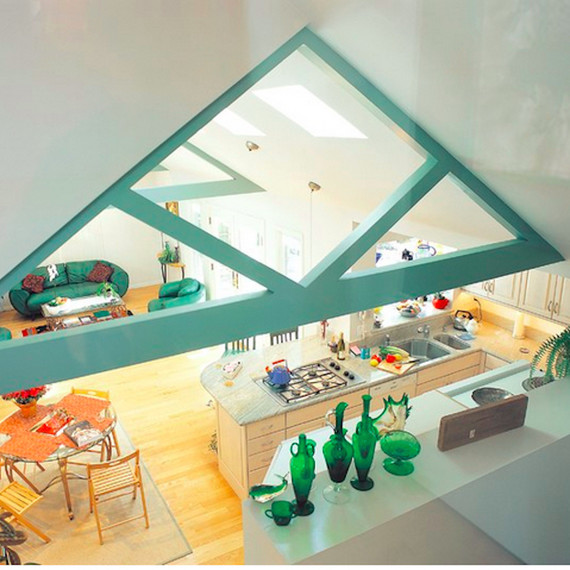 I usually think of exposed beams as being very rural, a design element found in many farm or country homes. I especially love this sage-colored, modern beam and am drawn to its contemporary lines. Painting the beam brings an unexpected pop of color and adds a modern spin on classical design.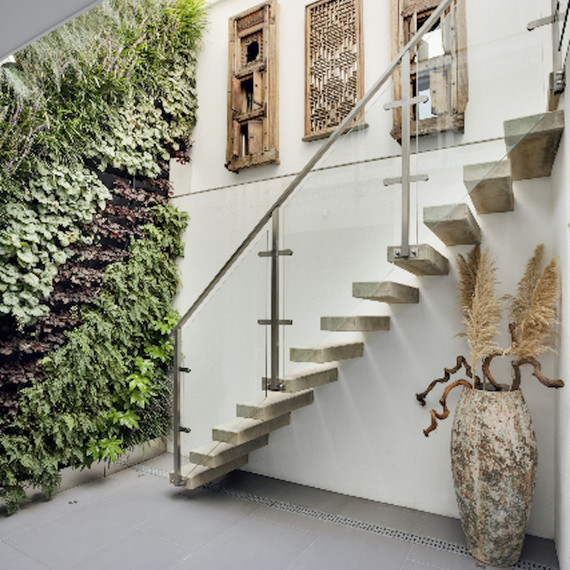 If you're looking to add green into your home, an easy way is by incorporating some lush vegetation. A living plant, a green wall or a windowsill lined with potted herbs will add more life to your home, bringing a sense of peace and serenity.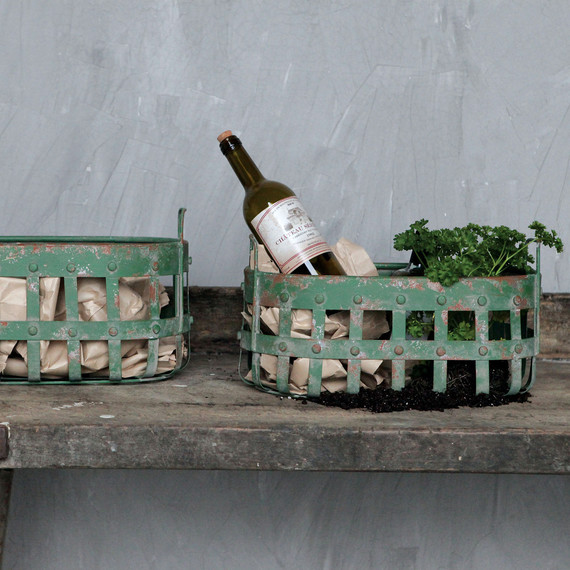 Keeping a space tidy and organized is something to be proud of, especially when living in a small New York City apartment! For me, what makes organization so easy is keeping beautiful baskets, like these, on top of my console tables where I can easily store some of my clutter. These versatile pieces will work well in any home.
Incorporating bold colors into your home can certainly be difficult. You might not want to create a space that resembles a kaleidoscope, but you don't want one that lacks character either. Rather than focusing on adding bright green in large quantities, I love incorporating it in decorating accents, like lampshades. An evergreen lampshade will not only make an unexpected statement, but it will also add dramatic lighting to your room.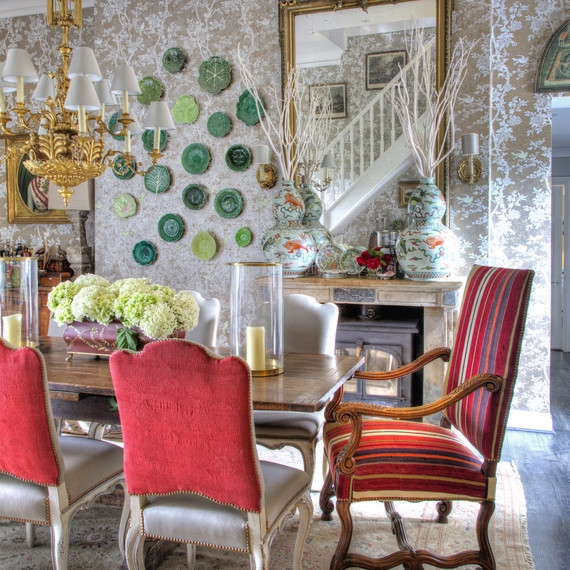 Growing up in Asia, I constantly find myself incorporating Asian elements and accents into design. One of my most favorite things (and an undiscovered gem!) is Thai celadon ceramic. The peaceful green and subtle designs of the ceramic pieces are so understated and elegant and I find them absolutely breathtaking and, not to mention, incredibly versatile. It's so sophisticated to include some beautiful pieces not only on your tabletop, but also in your bookshelf or on the wall.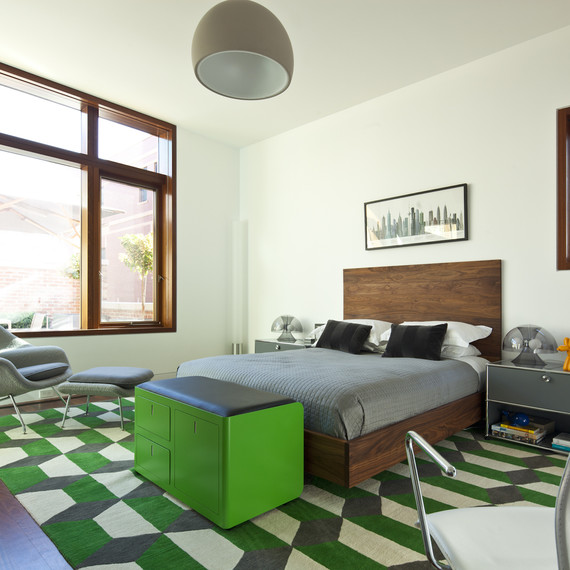 There is something romantic about having a trunk in your room; the valise hearkens back to times of elegant and exotic travels in faraway places. But, rather than a shabby (and smelly) leather box, opt for one with a modern spin. A green lacquered wooden chest is an ideal complement to a modern aesthetic.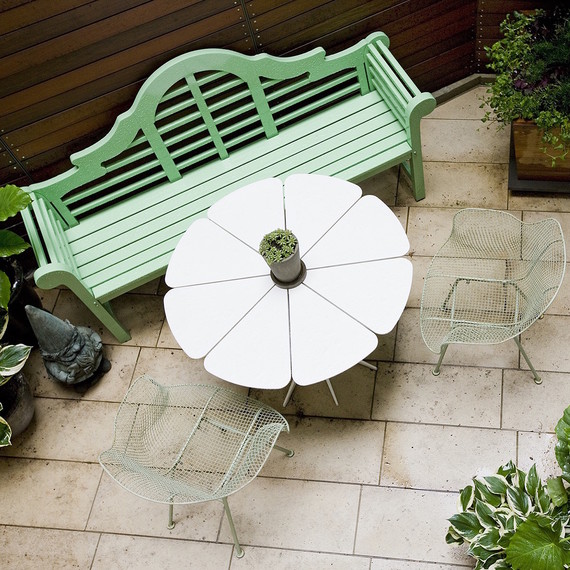 Have a backyard or patio? For me, there is nothing better than being outdoors, so I opt for colorful and vibrant furnishings. I adore this setting, where a stunning green bench complements the lush potted plants as well as the two pale green wire chairs.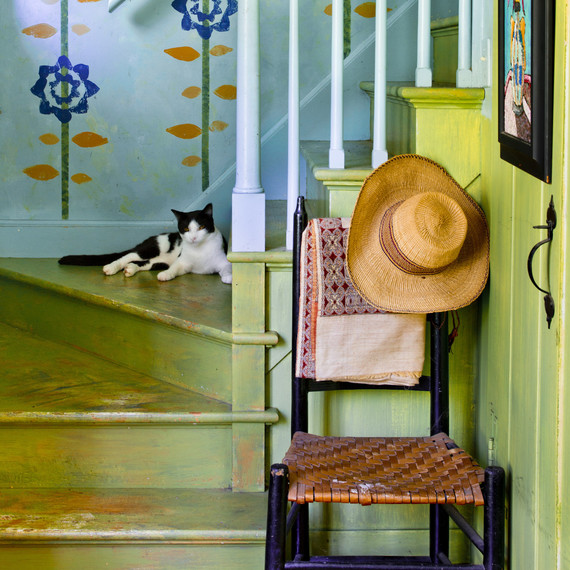 I have a horrible tendency to overlook small stairwells as a space to create unique design -- even the littlest of spaces deserve beauty! So, if you have a staircase that could use a bit of a lift, I suggest painting it a rustic green. A pop of color may put a pep to your step!