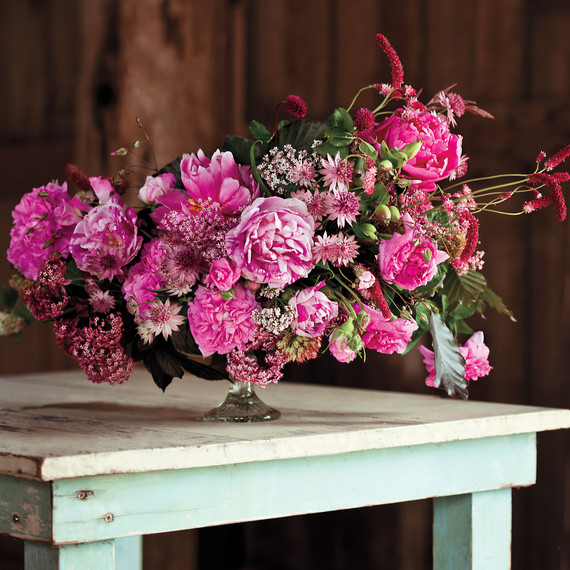 Flowers and Healing
Flowers, much like paintings, can evoke all sorts of emotions when used for gardening or decorational purposes. The combination of color and fragrance gives them aromatherapy and memory-triggering qualities. Scents like lavender and rose can help with insomnia, anxiety, and depression. Sweet, floral scents can even increase pro-social behaviors like helping others. Not only do fresh flowers have physiological effects, they also have psychological healing effects. Just like you pick out wall colors for your home to evoke a certain mood (calming or energizing), flower colors can also have an effect on your mood. Bright, pastel colors (like hydrangeas) tend to be more relaxing; bold flowers (such as gerbera daisies) tend to be more energizing and can increase creativity. Anxious about an upcoming presentation? Feel a headache coming on? Try sitting by a fresh bunch of flowers—such as daisies—to take the edge off your anxiety.
Get the How-to for Pink Flower Arrangements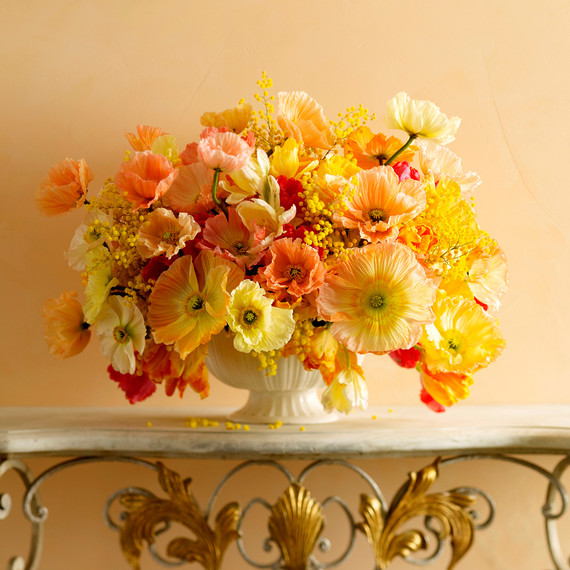 Color Coordination
According to researchers at Columbia University, different primary and secondary colors are directly associated with "mood tones." 
Red is a color of passion, love and life. Popular red flowers include roses, dahlias, tulips, spider mums, and carnations. Receiving a bouquet of red flowers from a friend or significant other evokes feelings of love and passion that you associate with that person. (Hence why red roses are so popular around Valentine's Day!) When making a bouquet of red flowers, make sure to pair them with lighter flowers to make sure the red flowers pop. Set them in an intimate place like your bedroom for full effect.
Orange and yellow are happy and jovial color, associated with energy and luminosity. Popular orange flowers include dahlias, tulips, zinnias, ranunculus, calla lilies and gerbera daisies. Popular yellow flowers include sunflowers, calla lilies, poppies, tulips and zinnias. Using both orange and yellow in a bouquet is calming, but cooler colors combined with yellow and orange creates balance. Place a bouquet with these colors in your kitchen to create an energizing, balanced and jovial space.
Blue and purple are the colors of tranquility, peace, and life. Popular blue and purple flowers are hydrangeas, lilacs, hibiscuses, geraniums, hyacinths, and irises. These cooler colors are perfect for bedrooms, bathrooms, and kitchens, but they work well in almost any area of the home. Place a bouquet of all purple or all blue flowers in the entryway of your home to make guests feel calmer when they enter. Purple is also associated with authority, so a bouquet of purple flowers on your desk can have a powerful psychological effect on leadership.
Green is a highly saturated color associated with life and peace. This is why many people keep houseplants and succulents around their home or on their patio. Orchids, hydrangeas, ferns, and other plant-based flowers are great for the kitchen or dining room. Green is a symbol of new life, so a bouquet of this color can be rejuvenating for your home or office.
Get the How-to for Floral Arrangements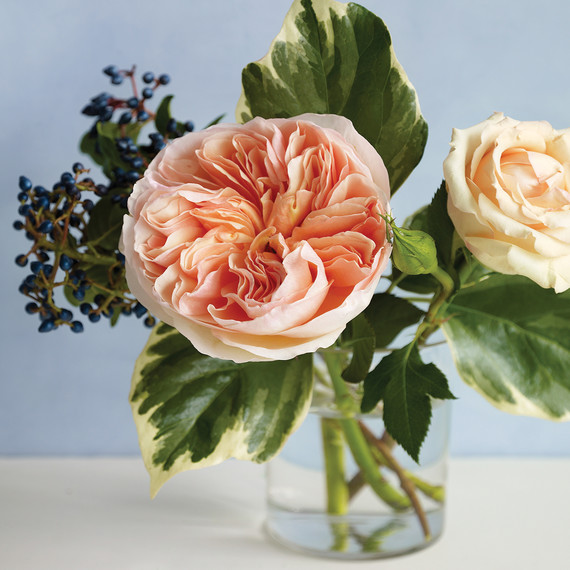 The Perfect Gift
In addition to creating bouquets of your own and surrounding yourself with mood-altering colors, receiving a bouquet of flowers has been a scientifically proven mood-booster. If you are looking for the perfect gift for your mother, a coworker, your girlfriend or a friend, pick a strategic color and create a beautiful bouquet. Researchers have noticed that when people physically receive flowers as a gift, they emit a Duchenne smile—a "true" smile. A Duchenne smile produces increased activity in the left temporal region of the brain, which is connected to position emotions.
Having a bad day? Give yourself a bouquet of flowers. Know a friend who needs a boost? Give them a calming or energizing bouquet of flowers, and you will instantly make their day.