To find all of your materials for this dazzling Easter centerpiece, you will need to visit your local floral shop or market. Most of these are very common plants and supplies so you shouldn't have any difficulty finding them. Here's what you'll need:
Sheet moss

Mood moss

Spanish moss

Hyacinth

Lichens

Muscari

Swiss Army Knife

Floral pipettes

Floral tape

Floral pin

Floral sheets

Plastic bag

Waterproof tape

Soil

Bird's nest -- we used a bird's nest from Terrain for the base, but any decorative nest will do as long as it's big enough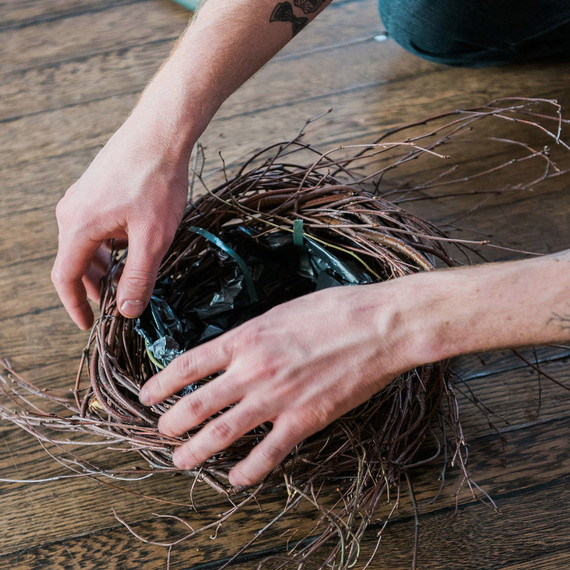 How to make your Easter centerpiece:
Cut a 3X3" piece of plastic (we used a garbage bag for this). Tape the bag to the inside of nest with waterproof floral tape. We do this so water doesn't leak through when you water your plants.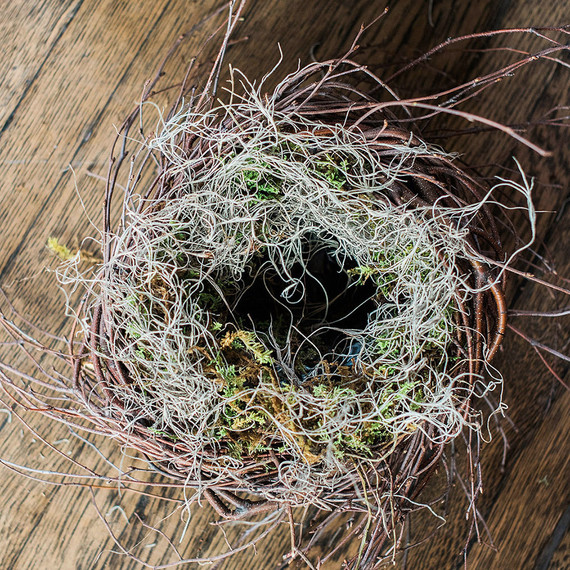 Cover the trash bag and tape with a mixture of both sheet and Spanish moss. Make sure to completely cover the plastic!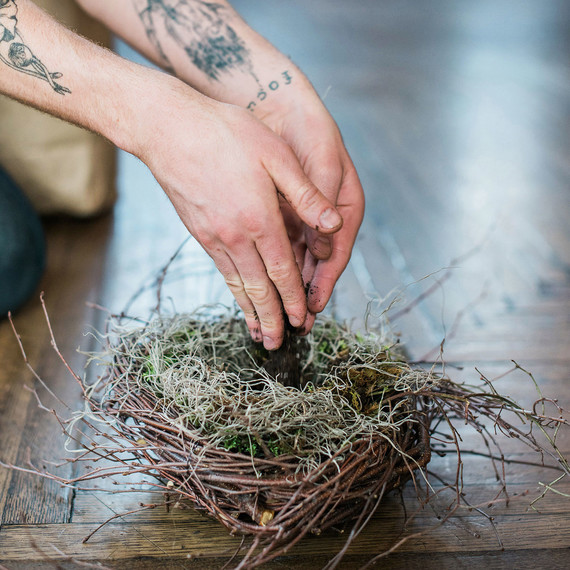 Fill nest with two generous handfuls of soil. Don't pack it down -- you will want the soil to be loose.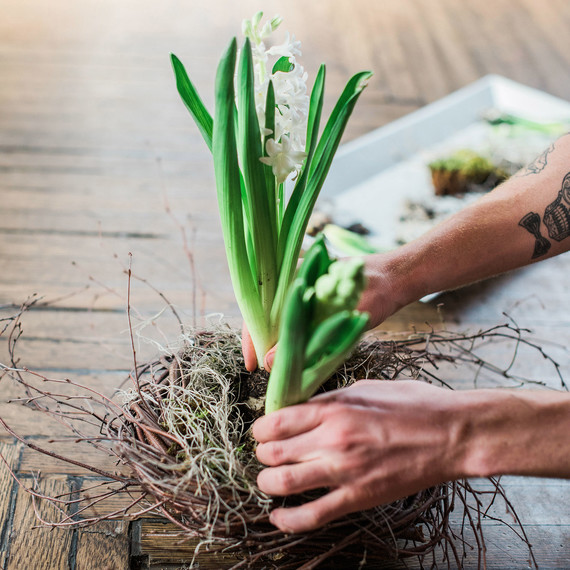 Add two hyacinth bulbs. If the roots are very long, cut them down so only 1" remains. This makes it much easier for planting.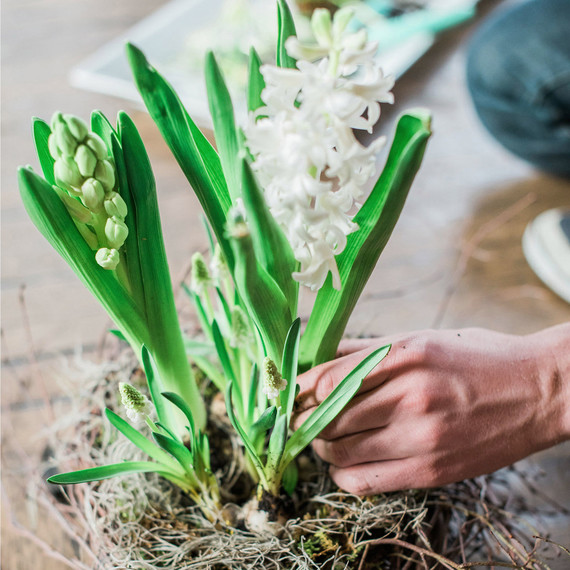 Add five muscari bulbs around the hyacinth.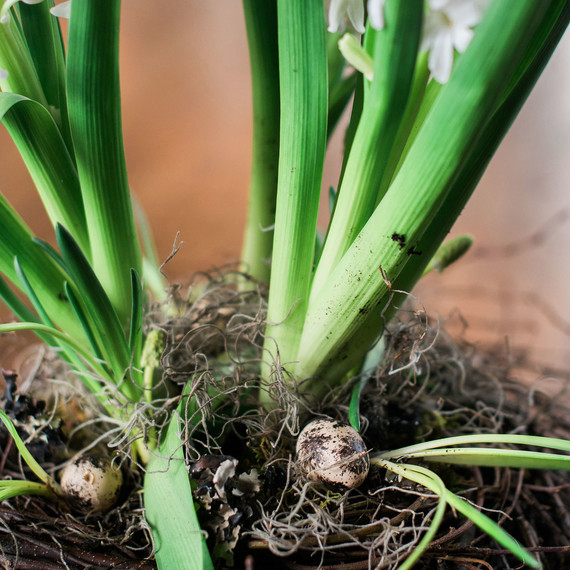 Now it's time to add your decorative touches! Add lichens, mood moss, and robin's eggs at your discretion to finish it off. Just tuck these into the soil and moss around the plants. Once everything is secured, your centerpiece is done! Now, let's see how it looks on the table...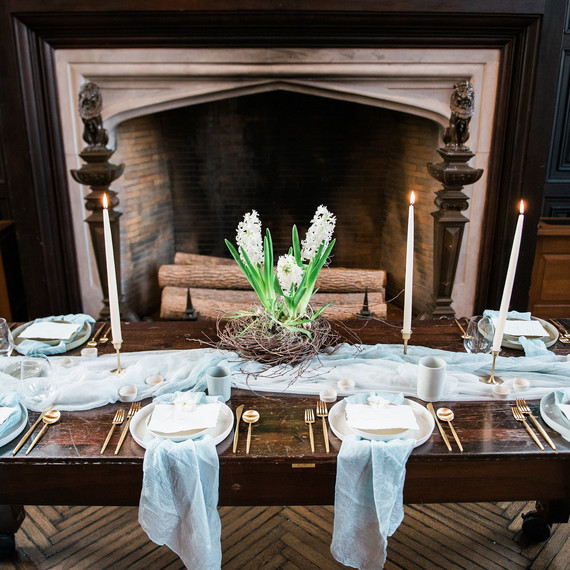 We had so much fun making our centerpiece, and doesn't it look so charming on this Easter table? This gorgeous tablescape was created with decadent linens from Silk and Willow, and dishware from the Lisette Lucas of the TableTop Company. Lightly draped linens, simply refined dishware, and understated place cards make this tablescape complete. We also love the way this arrangement looks on the rustic table.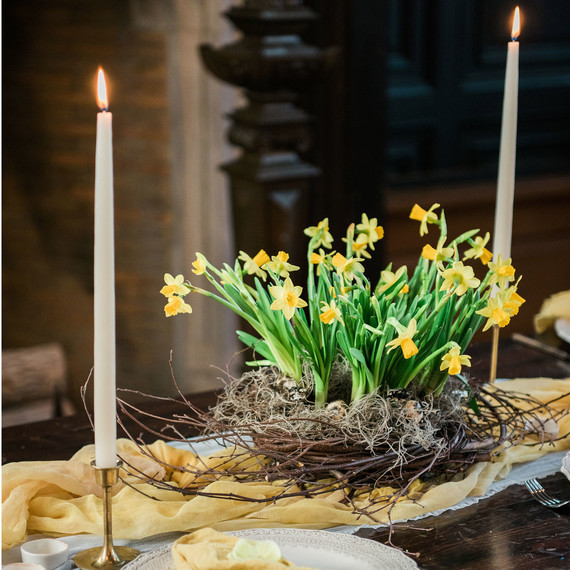 To further inspire you, we made a few other versions of this DIY centerpiece! The one pictured above was created using exclusively daffodils for a light and bright focal point for your table. The sunshine-yellow flowers are just the thing for an Easter brunch.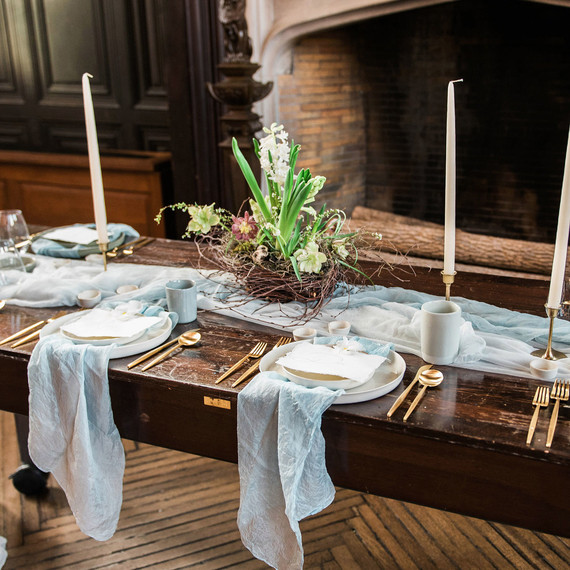 And this stunner was made using spirea, fritillaria, hellebore and hyacinth, making it a very interesting (and more intricate) piece. We added in the spirea, fritillaria, and hellebore sparingly, but don't be afraid to really experiment with this arrangement!
Photography by Ann Marie Collins of AMC Photography. Taken on location at the Highline Hotel in NYC.