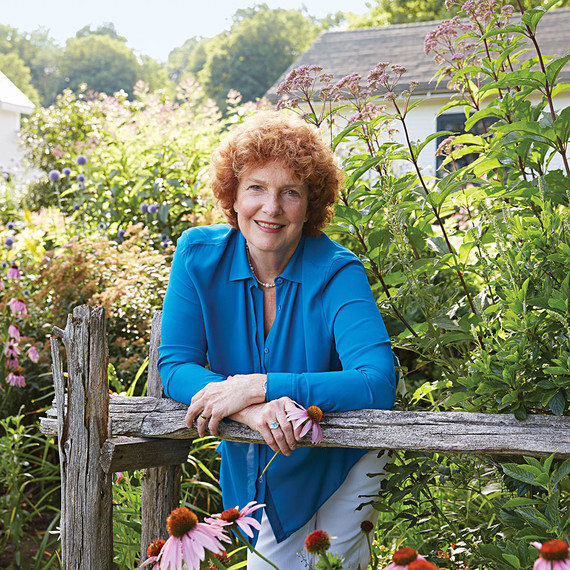 By Thomas Christopher
The earth gives to Eileen Rockefeller, and she gives back to the earth. When she and her husband, Paul Growald, first saw their farm in Vermont some 35 years ago, what captivated them was the breathtaking landscape. "Beauty is very important to me," says Eileen, author of the memoir "Being a Rockefeller, Becoming Myself" (Blue Rider Press, 2013) and a lifelong philanthropist. "It is a way of reaching the spirit.
Over the years they've made it even more striking by planting gardens full of contrasts and harmonies of color and texture. And when they began to live full-time on the farm, around the mid-'90s, the couple discovered an entirely new reason to love the place: It is not only a home with a view, but a place that feeds them. They raise chickens and produce there, and grow some 200 varieties of vegetables and flowers, most of them from seed.
Eileen first learned about the value of organic farming at her progressive middle school in upstate New York -- and those lessons stuck. Now she, Paul, and their longtime gardener, Aubrey Choquette, tend to the soil naturally: applying no chemicals and opting to feed it with organic materials and fertilizers instead. Manure from the horses and chickens, along with grass clippings and vegetable refuse (whatever cannot be served to the chickens), feed the 50-foot-long windrows of compost. Grass clippings are also composted for several months with fallen leaves that have been shredded by the mower, then used as a nutritious and weed-suppressing mulch.
In the vegetable garden, frames made from granite curbstones (sourced from New Hampshire) raise the beds six to eight inches to enhance the soil drainage and help it warm faster in the late Vermont spring. They measure only four feet across, so their centers can be reached without stepping off the paths, and the paths themselves are wide enough for a wheelbarrow or cart to be trundled into the very center of the garden.
Even most of the gardening materials are sourced from the farm. The rustic trellises, which provide shelter from the summer sun as well as supports for vines, are made from maple and birch saplings cut on the property. And birch twigs become structures for the peas to climb in the kitchen garden.
The fruits of the couple's labor are enjoyed during the growing season, but also through the cold New England winters. A passionate cook, Eileen cans, freezes, and stores a range of crops in her root cellar. Lettuces are planted in the greenhouse for winter salads. During the holidays, she wraps up her plum, strawberry, and apricot jams; an herbed salt rub; her husband's wildflower honey (Paul is an avid beekeeper); and the farm's maple syrup into about a hundred gift boxes to give to friends and family.
All the while, Eileen never forgets that a relationship with the land is a symbiotic one. She takes pride in the way the heavy clay soil in her garden has, over the years, become more fertile. "It's our responsibility to nourish it," she says, "just as it nourishes us."