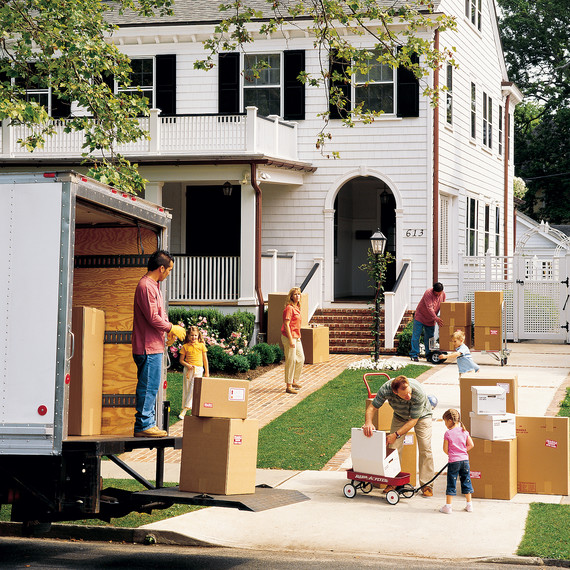 Although it can be one of life's biggest challenges, moving to a new home also presents the refreshing opportunity to start anew. Here are some tips from the Martha Stewart Homekeeping Handbook to help you get organized for the big move. There's no better time to rid yourself of the clutter that accumulates in even the most well-organized household.
Here's a check list to help prepare for moving day, but you can also begin to plan, pare down, and pack even earlier. For example, if you know in December that you will be moving in June, pack holiday ornaments for moving, not for another year's storage. If you will be moving from a cold climate to a warm one, give away, sell, or donate many of your woolens when spring arrives. If you are moving to a smaller house, you can begin to get rid of furniture long before you move.
If you begin the planning (and packing) process as soon as you know you're moving, you are less likely to make hasty decisions—choosing a moving company without checking references, for ex- ample, or packing so haphazardly that things break. Staying focused and organized will keep your move smooth and manageable.
[READ: Our Guide On How to Get Rid of Anything]
Two Months Before
Sort through the contents of closets, drawers, and cupboards to weed out what you don't want or need.
Hold a yard sale, or donate unwanted items to charity.
Inventory everything you plan to move and determine replacement values for insurance purposes.
Obtain estimates from several moving companies and choose one.
[ORGANIZE: Here's How to Stay On Schedule]
Six Weeks Before
Finalize real estate or rental needs.
If moving out of town, make travel arrangements.
Notify your children's schools of the move and contact new schools for enrollment information.
Obtain copies of school records, or have them sent to new schools.
Obtain copies of medical records for each family member.
Ask doctors to recommend doctors in your new community.
Consult insurance agents to find out if changes to policies are necessary.
One Month Before
Contact the chamber of commerce in your new town for information on utility services.
If necessary, arrange for storage in your new community.
If you're packing your house yourself, order supplies and start packing boxes.
One Week Before
If you're packing your house yourself, finish packing boxes.
Confirm travel arrangements, if needed.
Arrange payment or deposit for movers.
Get cash to have on hand to tip movers.
Write directions to your new home for the moving company, confirm delivery date, and give the company your itinerary and phone number.
Complete change-of-address forms at the post office, and send notices to magazine subscriptions, creditors, friends and relatives, alumni organizations, credit cards, banks and any other necessary companies and organizations.
Cancel newspaper subscriptions. Notify your employers—new and old—of your new contact information.
Clean rugs and have them packed for moving.
Obtain health certificates from your vet for pets traveling by air.
[LEARN: They Best Way To Fly With Pets]