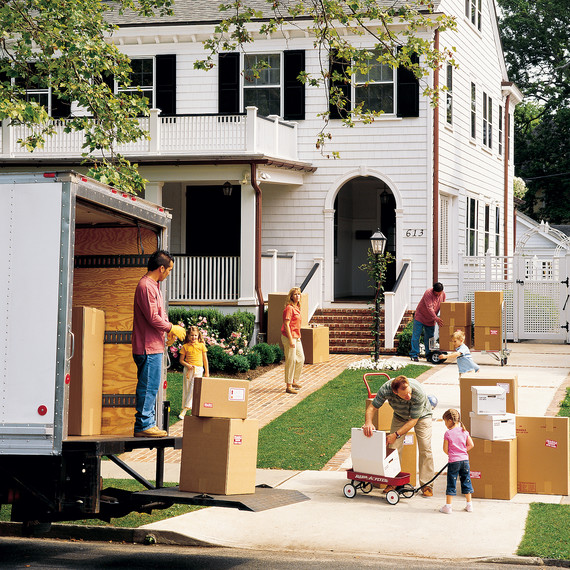 Although it can be one of life's biggest challenges, moving to a new home also presents the refreshing opportunity to start anew. And the key to a stress-free move? Starting early.  If you begin the planning (and packing) process as soon as you know you're moving, you are less likely to make hasty decisions—choosing a moving company without checking references, for example, or packing so haphazardly that things break. Staying focused and organized will keep your move smooth and manageable. 
If you're feeling overwhelmed, Micheal Arrieta, moving expert from Two Men and A Truck, suggests this pro tip: Start paring down your belongings first. "Once you have done inventory of what you want to move, you can hold a garage sale or donate the things you do not want to take with you," he tells us. "Not only will the garage sale help you make cash, but it will also save you money! Remember, the less you need to pack, the less you have to worry about."
Read on for more tips from both Arrieta and the Martha Stewart Homekeeping Handbook on streamlining your packing and preparation process. 
Two Months Before
Start an inventory for everything you plan to move and determine replacement values for insurance purposes. If you own any antiques or artwork, consider getting them appraised in case they undergo damage during the move. Photograph and document them, then save information and images on your phone or computer. 
[HOW: To Pack Jewelry (Carefully!) Before a Move]
Obtain quotes from at least 2-3 licensed companies (on-site quotes tend to be more accurate). Be sure to ask if the quote is binding or non-binding, what additional charges may arise and what insurance is included. Arrieta also notes that movers are typically busiest on weekends and at the end of the month so you'll want to plan accordingly to ensure availability. Consult insurance agents to find out if changes to policies are necessary.

Make a binder! Dedicate this as a place to keep all paperwork, to-do lists, receipts, and phone numbers organized and easily accessible.  
[READ: Our Guide On How to Get Rid of Anything]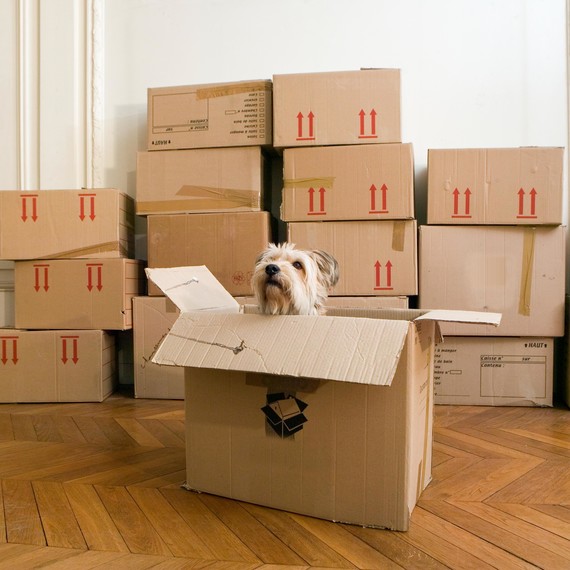 [WHAT: To Know About Moving With Pets]
Six Weeks Before
Finalize real estate or rental needs. If you are moving out of town, make travel arrangements and if you expect you'll be need extra storage while settling it, book storage space in your new neighborhood.  "If you live in an apartment, you may also need to book the elevator," says Arrieta. 
Notify your children's schools of the move and contact new schools for enrollment information. Obtain copies of school records, or have them sent to new schools. 
Obtain copies of medical records for each family member. Ask doctors to recommend doctors in your new community. Notify your employers—new and old—of your new contact information.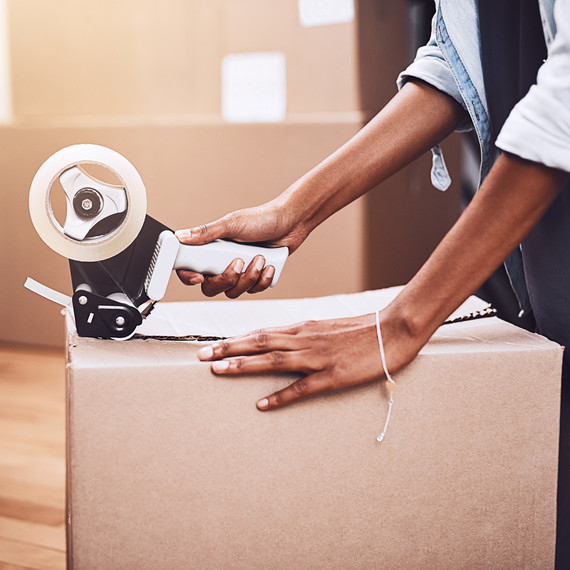 ONE MONTH BEFORE 
If you're packing your house yourself, order supplies and start packing boxes.  "It's always a good idea to buy more packing supplies than you think you will need as long as you are able to return the unused packing supplies for a full refund," recommends Arrieta.  
[SAVE THIS GUIDE: On How To Properly Pack a Box]
Box infrequently used items first (like holiday decorations or out-of-season clothing). Wrap furniture by winding a few layers of plastic wrap around the item to secure it (tape can damage delicate surfaces). Protect glass by making a masking-tap X across mirrors and framed artwork. This will help the item absorb shock and hold the glass in the frame should it be dropped. 
Be sure to keep boxes organized. Number boxes and start a master list to keep the process organized. Mark each box by room or use color-coded stickers which can hep movers know at a glance where to unload boxes in your new home.
[HOW: To Pack Up Your Clothing For a Move]
Consider hiring a cleaning company to help scrub both of the spaces—so you don't have to—preparing the new house in the morning before you arrive and tidying up the old one after you have left. If you will be manning clean-ups, Arrieta says, "Designate a closet or room of the house where you will keep clean-up items such as brooms, dust pants, and mops."
Contact utility providers in your new town or arrange for services to be transferred. Then, request any current utilities and phone and Internet service be disconnected the day after you leave and installed in your new home the day before you arrive.
[KEEP: These Tips on Hand For Transporting Houseplants]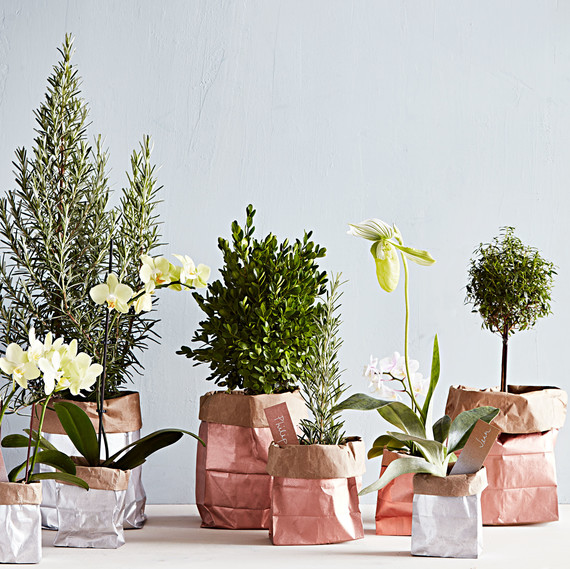 ONE WEEK BEFORE
Clean any rugs and have them packed for moving. Then, plan on how you will transport any houseplants with our guide here. 
Pack your day-to-day necessities so that they're together in one place, including bedding, towels, toiletries, toilet paper, basic tools, cleaning supplies, medications, a camera (to document anything broken in transit), snacks, a few dishes and utensils, and a coffeepot—plus coffee and mugs. Take the box with you in your car.
[READ THIS: For More Expert Tips on Packing For a Move]
Confirm travel arrangements, if needed.  Write directions to your new home for the moving company, confirm delivery date, and give the company your itinerary and phone number.
Have mail forwarded by completing a change-of-address form online or at the post office. Update newspaper and magazine subscriptions, and notify banks and credit card companies. Complete change-of-address forms at the post office, and send notices to magazine subscriptions, creditors, friends and relatives, alumni organizations, credit cards, banks and any other necessary companies and organizations.
DAY BEFORE
Print an information sheet for the movers with the old and new addresses, directions, and your cell phone number. You may also want to have a cashier's check or a credit card (if accepted) on hand, plus cash for a tip.
Empty, defrost and thoroughly dry the refrigerator and freezer. "People often get so busy they forget to do this step," says Arrieta. "Moving companies will not move full refrigerators or freezers at risk of spills, spoilage, and other damages." Instead, he suggests using coolers that are transportable in your own vehicle. 
MOVING DAY
Do a final walk-through. "Go to each room and make sure nothing was left behind and all windows are locked," says Arrieta. "Shut off water, A/C, heat, and turn off the lights." Finally, hand over any keys. 
Review your inventory list as movers start loading boxes and check off as they go. Once you arrive at your new place, be sure to test faucets, toilets, utilities, etc. and start unpacking. Welcome home!