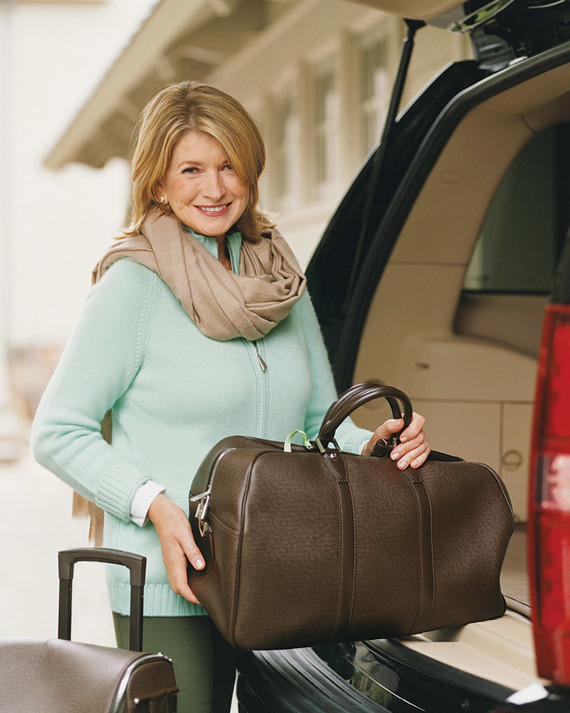 When your daily schedule is booked solid with business meetings, book signings, and guest spots on television, you must be prepared. No one knows this better than Martha. By the time you wake up, Martha has already done at least 8 things.
Martha's day often starts before sunrise at her home in Bedford. After a long day at her Starrett-Lehigh office in Lower Manhattan, she'll usually stop at a social event or dinner party before heading back to Bedford. "I actually carry two bags," she quips, "to carry everything I need for the day." So the items in her handbag (and sometimes, handbags) are all about practicality over panache.
Wallet: Complete with cash, driver's license, credit cards, and a passport. And regarding the last one? "In case you need to make a quick getaway," she says with a wink.
iPhone and iPad: Every morning, Martha catches up on her daily reading electronically including e-books, media news, and "The New York Times." 
Sunglasses and regular reading glasses
Eye drops

Small hairbrush
Small makeup bag: For Martha, it's important to always camera-ready.

Digital camera: "I'm always taking pictures," she says. "Especially for inspiration, but also for my daily blog."
Notebook: Like a true visionary, Martha never stops thinking. Here, she jots down ideas –- for a new cookbook, a new project, or her monthly column in Martha Stewart Living -- as they come to her.
Daily agenda
Tissues
Hand cream
Vitamins, aspirin, and Tylenol: As Martha says, "You can never have too many."
Earphones
Did anything surprise you? What's the one thing you always have in your purse? 
Learn More About the Products Martha Can't Live Without