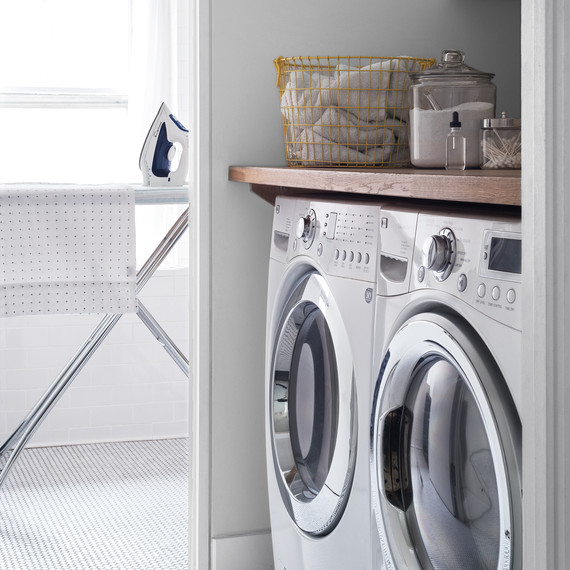 Pillows
Did you know that pillows should be cleaned every three to six months to remove mold, bacteria, and odors? Whether yours is made of natural fibers (like down) or synthetic materials (like polyester), most pillows can be washed in the machine. Pro tip: It's best to use a front-loading washer, since pillows tend to float and stay dry in spots in a top-loading machine.
Get the The Golden Rules of Washing Pillows and Blankets
Backpacks
Whether it's worn from hiking mountains or trekking to and from school, a working backpack needs cleaning. This cleaning technique works best for canvas bags -– be sure to check the tag for "machine-washable" and spot-test it first for discoloration. Remember to empty out the pockets, turn it inside out, and remove key chains, patches, pins and other embellishments.
Shower Curtain
When was the last time you cleaned your shower curtain? Your liner needs a good wash at the start of every season. Here's how: Clean a vinyl, nylon, cotton, or hemp liner by machine-washing it in hot water and mild detergent. Then shake and rehang the liner to dry -- don't use the dryer.
How to Clean a Shower Curtain Liner
Stuffed Toys
They get a lot of love from your kids -- but they come out looking not so lovable when covered in bacteria and grime. While this is not recommended for plush toys, it can work for soft toys as long as there are no excessive embellishments sewn on the outside or musical machinery in the stuffing inside.
Get the Stuffed Animal Repair How-To
Sports Equipment
Think: shin guards, elbow pads, kneepads. Fabric-lined protective gear like this need a good, thorough washing after game day. Before tossing these items into the wash, close velcro straps and zippers to avoid snagging, and use a lukewarm cycle to prevent disfiguring the structure of the items.
Mats and Rugs
From the front door to the hallways, these see the most grime from traffic. Your protective mats and rugs will have different cleaning specifications depending on the material, but generally, you can clean machine-washable throw rugs and runners with your weekly load of laundry.
Pet Bed
After all, Fido needs a place to sleep at night! First, make sure the bedding base cushion is machine-washable. Then, wash both the fabric lining and the cushion in the machine. It's best to wash these two pieces separately from the rest of your load of laundry, unless it's with like colors.
How to Clean Your Pet's Bed the Right Way