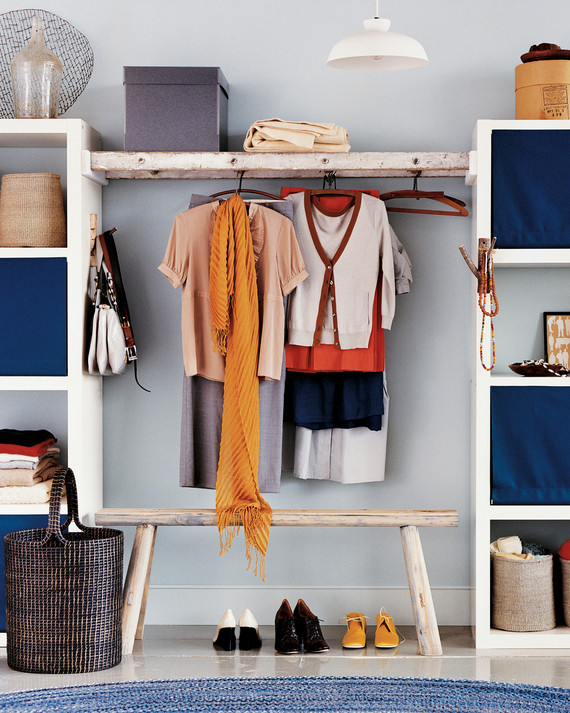 Show Off Your Goods
You know what? You spent a lot of time (and a decent dime) on all your stuff. Maybe not being able to hide everything behind a door is a good thing. There is an amazing concept called a "walk-by closet" that is akin to the envied walk-in closets of the world. Try using a refurbished ladder between two basic shelving units to hold your hanging clothes. Get creative with shoe storage and sweater storage, which are two of the bulkiest clothing items in your collection. We like the idea of using a refurbished bench to tie the look together and provide additional shelving space.
Get the How-To for Building a Walk-By Closet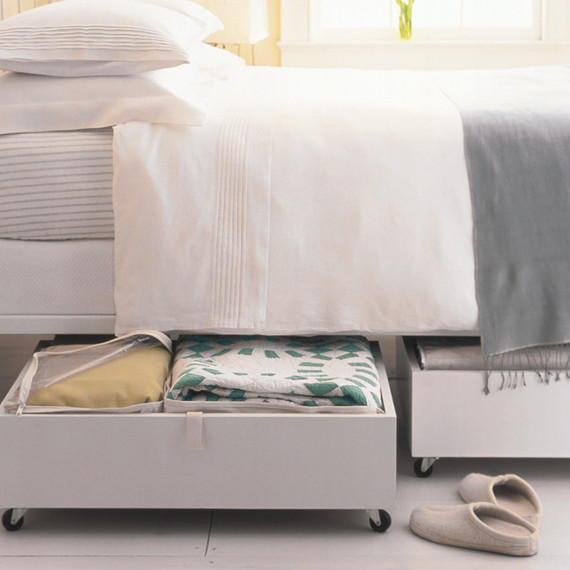 Put it On Wheels
If you don't have a regular closet, it is absolutely necessary to utilize the space under your bed for extra storage. You can easily attach casters to any type of box or storage unit. Store any folded clothing items such as cotton shirts or sweaters under your bed. This is also a great place for under garments and socks!
Get the How-To for Creating a Closet on Wheels
Create Wall Flowers
Peg rails or hooks are the perfect way to store and display bags, scarves, belts or even jewelry. You can even jazz up the space with a piece of artwork. 
Get the How-To for Using Shaker Peg Rails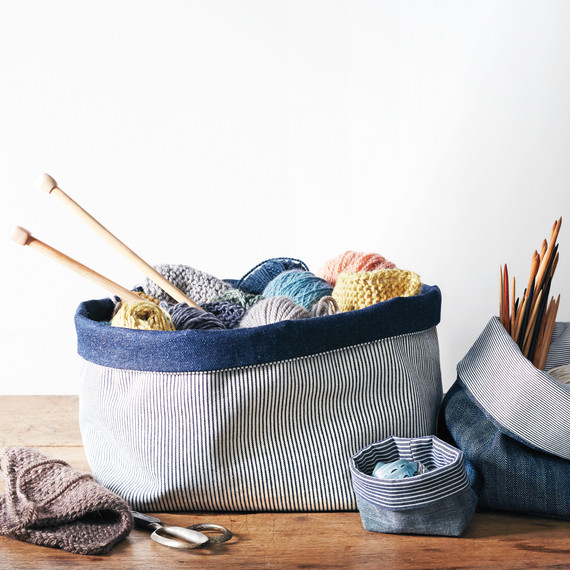 Invest in Decorative Storage
When you are working with a small space, your storage containers need to do double-duty as design pieces. That's right, no more clear plastic drawers that look like they belong in a garage. If these storage units are going to be out in the open, they can't be eyesores!
We recommend these denim bins -- they are super easy to make, and they're extremely durable. Customize them to store under your bed, or stash in a decorative corner of your room. Follow these instructions for your next storage solution.
Get the How-To for Making Denim Storage Bins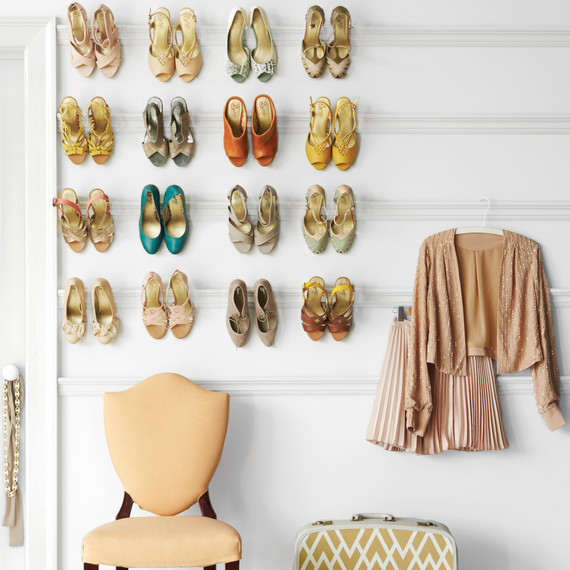 Get in Line
This shoe rack is an incredible solution to having little-to-no closet space. Displaying shoes so artfully also adds color. This rack also serves as a solution for hanging more clothes -- such as dresses, cardigans, blouses and blazers. Don't try to hang your entire wardrobe on the wall. It'll look too cluttered. But perhaps you can finally start planning out your week's wardrobe ahead of time? Like you've always dreamed of doing!
Get the How-To for Bedroom Organizers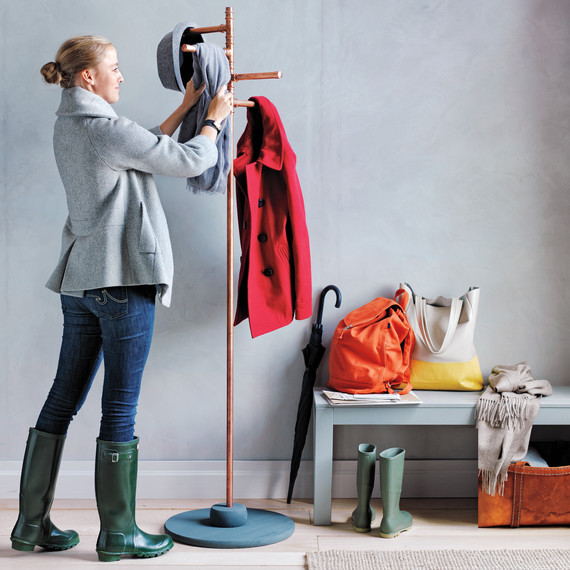 Rack it Up
Coats and big jackets are bulky additions to your wardrobe. The best way to contain them is to keep them all in one place, on top of each other! 
Get the How-To for Storing Outerwear
Respect Shelf Life
Time to think vertically. Do you really need all that white wall space? Perhaps the entire wall can just be one awesome shelving unit. Designate an area in your room to clothing, and build it up from there. Include a mirror, bins, shelves, functional drawers and hooks -- everything you need to organize your stuff. Customize your space to your clothes; if you have a lot of dresses, you'll need more hanging space. If you have a lot of workout clothes, you'll need more stacking space.
Get the How-To for Conquering Your Closet