Named after the island of Capri, this simplest of salads requires the best-quality ingredients for its success -- think juicy late-season tomatoes, fresh mozzarella, vibrant basil, and a sprinkling of coarse salt and freshly cracked black pepper.
You don't need a recipe for that. Purists say the most important thing is not to add anything else to this classic salad. If you love this quintessential pairing, you're likely to want to extend its reach and draw mealtime inspiration from the caprese. Check out our riffs on the classic for deliciously simple meals that are as clean and satisfying as the Italian original.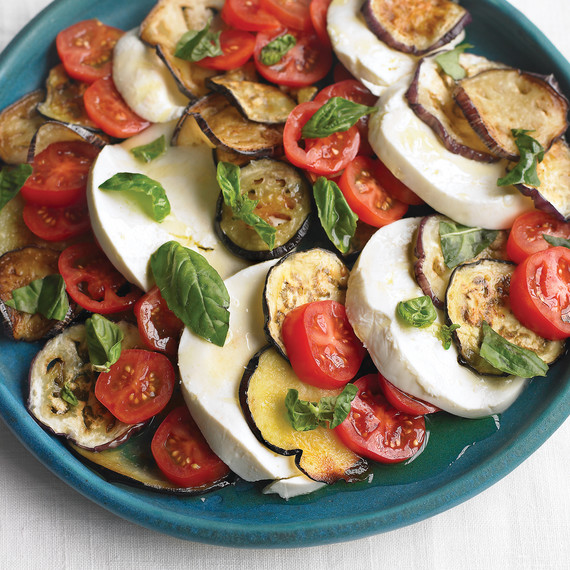 Slice It Up
If you adore tomato and mozzarella together and seek an antipasto or salad with similar feel, try ingredients that work well sliced, such as beets or eggplant. A clean visual composition redolent of the classic is an instant throwback to the caprese.  
Watch Sarah Carey build a tomato-beet salad -- impressive tomato slicing tip included. It's every bit as flavorful, beautiful, and simple as the tomato-mozzarella original: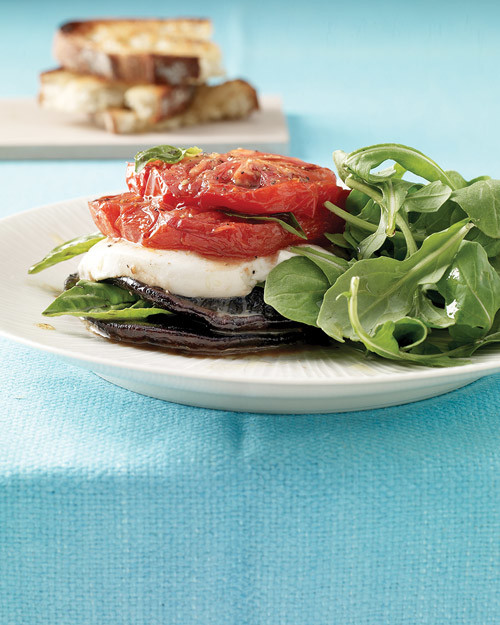 Need More Substance?
Adding grilled or roasted elements to the salad gives it heft, making it less of a simple salad and more of a simple meal. Grilled chicken or delicately flavored white fish are lean, satisfying options that won't compete with the juicy, summery charm of the salad, and portobello mushrooms are a filling vegetarian favorite. 
Get the Roasted Portobello Caprese Salad Recipe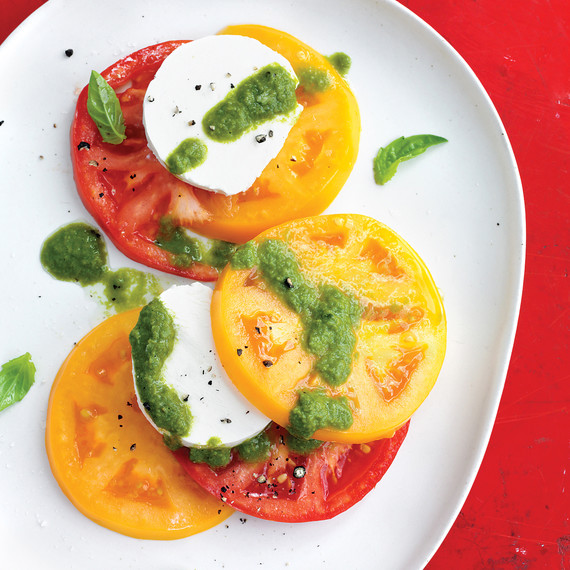 Rebalancing the Elements
Don't underestimate the effect of re-thinking the classic ingredients themselves. Pureeing basil into a vinaigrette adds a silky, rich texture to the salad, ideal when beautiful, vibrant leaves might not be available. If there are other fresh, leafy herbs available, such as cilantro or parsley, use them. The same idea applies to the tomatoes -- experiment with the freshest tomatoes available whether large unevenly sized heirlooms or tiny cherry -- and you can even play with the size of the cheese: the petite size of bocconcini make a diminutive twist on caprese when paired with smaller tomatoes. Using goat's cheese in place of mozzarella gives the salad an entirely new personality (and we're not going to call that caprese though we might call it delicious!).
Get the Tomato and Goat-Cheese Salad with Basil Vinaigrette Recipe