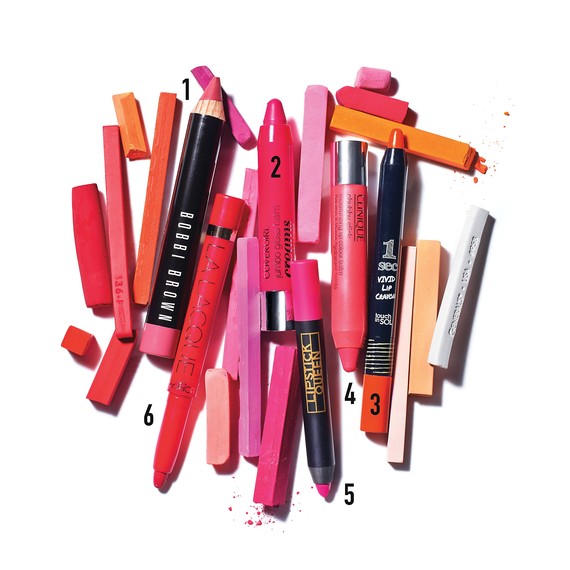 1. Matte
This texture forgoes the flash for a shine-free, suede-like finish that looks both retro and modern.
Bobbi Brown Art Stick, in Dusty Pink, $28, bobbibrowncosmetics.com.
2. Moisture
These sticks hydrate without feeling goopy -- while adding a pop of color, too.
Cover Girl Colorlicious Jumbo Gloss Balm Cream, in Strawberry Frappe, $8.50, covergirl.com.
3. Long Wearing
Finely milled powders grab onto lips without drying them and stay put through power lunches and long days.
Touch in Sol One Second Vivid lip crayon, in Wild Tangerine, $16, sephora.com.
4. Sheer
Expect a heavy dose of hydration with a hint of color—perfect for the minimalist.
Clinique Chubby Stick Moisturizing lip-color balm, in Mighty Mimosa, $17, clinique.com.
5. Intense Color
Don't be fooled by their utilitarian appearance—these glide on easily for goofproof instant drama.
Lipstick Queen Cupid's Bow, in Eros, $22, lipstickqueen.com.
6. High Shine
Nourishing oils and waxes impart the patent leather–like finish typically found only in a tube.
L'Oréal La Lacque lip pen, in Lacque-y You, $10, www.lorealparisusa.com.
A Sharp Idea
Back in 1997, lipsticks and glosses predominated—and if you wanted definition, you needed a mirror and a lip pencil. So when Janet Pardo, then Clinique's vice president of global product development, conceived of the Chubby Stick, she knew it was tapping into the zeitgeist.
The Chubby Stick's appeal lay in the fact that "it was uncomplicated and multifunctional, and you didn't have to be a makeup artist to get great results," says Pardo. Clinique's top brass agreed and moved ahead without the typical market testing (and without waiting to see whether the name raised eyebrows).
Almost two decades later, the crayon is having a rebirth. "With formulas vastly improved since the '90s, the modern chubby crayon is an all-in-one tool," says Gilbert Soliz, a global makeup artist for Marc Jacobs Beauty. Most every major brand has its version, so texture, finishes, and tones abound. And it's not just for lips—you'll find eye-shadow and concealer crayons, too. Its width makes for an effortless, even, mirrorfree application that doesn't require a tool. You don't even need to sharpen frequently, in fact; a dull tip applies more easily.