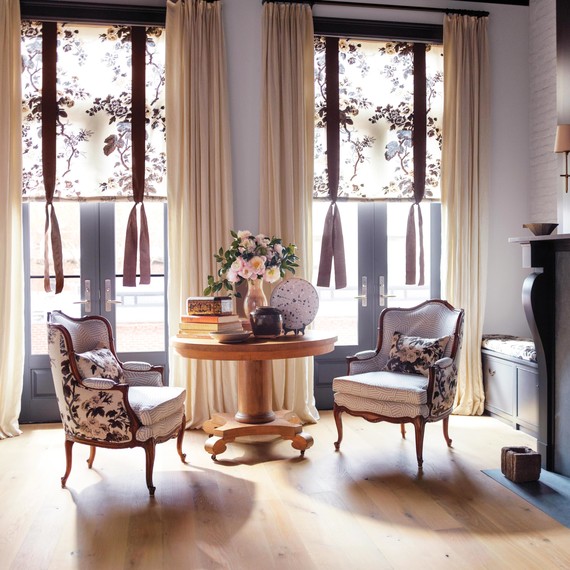 World textiles have always been valued for more than just their utility. While it may seem a bit of a stretch to say that ancient cave dwellers decorated with colorful fabrics, it might not be far from the truth. The oldest textiles discovered to date—flax fibers created in Eurasia some 30,000 years ago—show evidence of having been dyed black, gray, turquoise, and pink. Archaeologists can't say exactly why, but some speculate that even then, humans may simply have been attracted to color.
In the eras since, artisans across the globe have developed their own signature textiles using materials and methods native to their regions, in styles and patterns reflecting their local cultures. The iconographically rich mud cloths of Mali, for example, can refer to a myth or proverb. The way colorful suzani is handcrafted speaks to the rhythms of women's lives in a traditional Uzbek household. France's toile de Jouy and Italy's Fortuny serve as windows into the tastes and social customs of those countries.
While classic textiles convey a rich sense of history, they can also make a room feel decidedly modern. "Fabrics have the power to instantly update a space with color, texture, or pattern," says MSL decorating director Kevin Sharkey. "But these timeless designs are also not so sacrosanct that you can't use them in an unconventional way." Whether it's toile covering a pinup board or a Japanese shibori-style cloth hung as a shower curtain, these textiles can bring personality to any room. And decorating with them is not as expensive as you might think—just a few yards may be all you need to dramatically transform a space. So choose a textile that speaks to you, whatever the language.
Chintz
English accents
The word chintz conjures Cotswolds cottages and afternoon tea (though in fact this staple of English country style has its origins in India). Indeed, though chintzes can be solid, they are usually printed with flowers. The cotton fabric typically has a glazed finish, which gives the colors depth and helps it resist dust. Chintz can lean toward the fussy or froufrou when applied to billowing curtains, canopy beds, and skirted tables, but when used strategically—for instance, only on the back of a chair, with a contrasting fabric on the inside—the effect can be surprisingly cool. In this living room, a gray, brown, and cream floral chintz on roller shades, a bench cushion, and an armchair adds a restrained, gracious quality to the pared-down setting.
Pyne Hollyhock, in Charcoal, and Deconstructed Stripe, in Black; by Schumacher, decoratorsbest.com.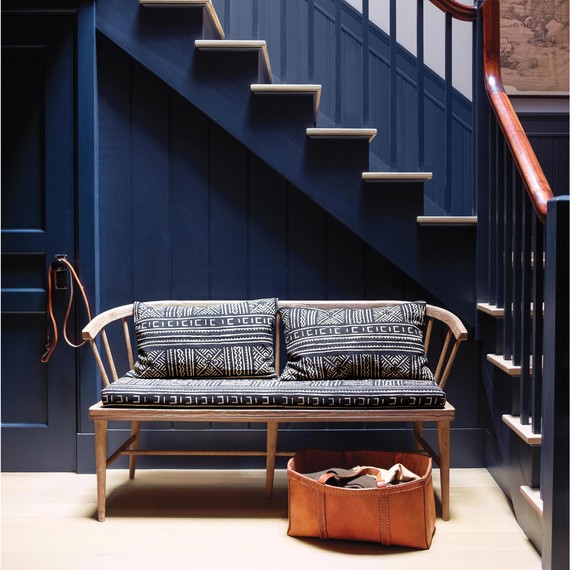 Mud Cloth
Chic Style out of Africa
It's no mystery how this cotton textile from Mali got its name: It is dyed with fermented mud. Known as bògòlanfini in the Bamana language, it is typically cream-colored and hand-painted in dark brown or black to create geometric motifs, resulting in a textile with an understated graphic quality. Although contemporary mud-cloth patterns are often purely decorative, this wasn't always the case. "Historically, the patterns on bògòlanfini were symbolic," says Sarah Brett-Smith, an associate professor of art history at Rutgers University, in New Brunswick, New Jersey. "They could illustrate moral concepts, myths, and historical events." The fabric is traditionally used for clothing, but its rugged quality makes it an excellent choice for hardworking upholstery. Here, the warm earth tones of mud cloth make a harmonious pairing with the clean lines of a wooden bench, setting a quietly welcoming tone in an entryway.
Mud cloth, yaraafricanfabrics.com.
Learn More About Different Textiles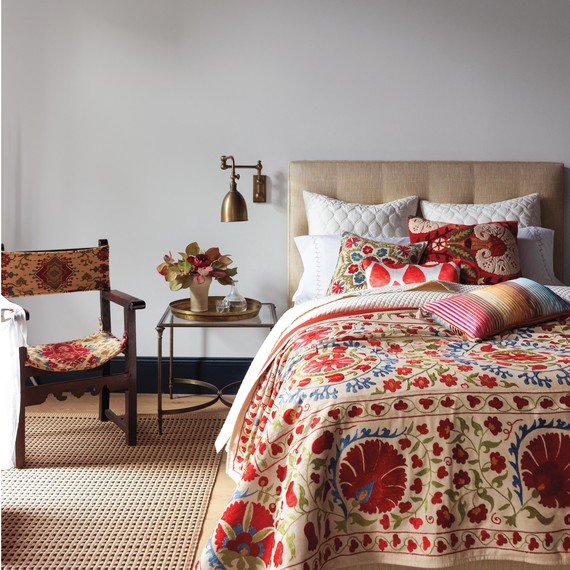 Suzani
Bold Beauty from Central Asia
With its bright floral motifs, the intricate textile art of Central Asia is hardly subtle—and that's part of its charm. A traditional part of a young woman's trousseau, suzani is usually designed as a whole but constructed of three or four separate panels, each hand-embroidered in silk by a different female member of a family, which are then stitched together. Most suzani today is vintage, imported from Uzbekistan. "In Central Asia, suzani is used for anything from wall hangings to tablecloths—there is no one specific use," says Sumru Belger Krody, senior curator of the Textile Museum at George Washington University, in Washington, D.C. Spreading suzani over a bed is one of the easiest ways to make the most of it. ("You would never want to cut it," notes Krody.) A vintage piece serves as the focal point of this otherwise neutral bedroom, its vibrant design complemented by similar patterns on the pillows and armchair.
One-of-a-kind suzani and suzani pillow; stitched bedding, in Coral; and Droplet Malta decorative pillow, johnrobshaw.com.
Eloise Crewel pillow, potterybarn.com.
Jacaranda pillow, abchome.com.
Wyatt coverlet, by Ralph Lauren, in Hollywood Cream, macys.com.
Get Our Tips, Tricks, and How-Tos on Dyeing Fabrics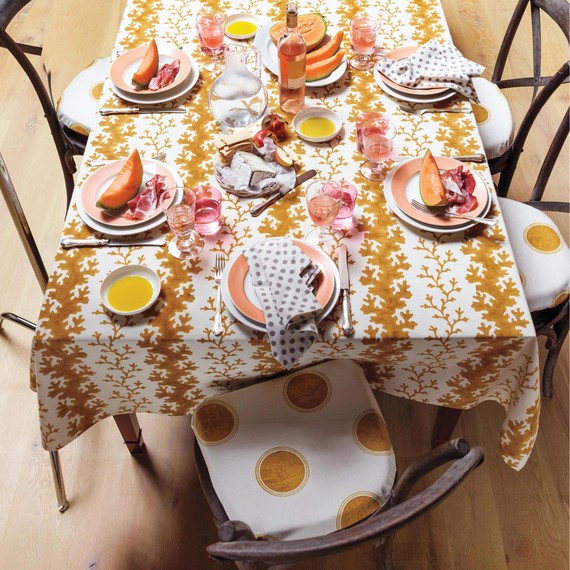 Block Print
Indian Inspiration
One of the oldest, simplest, and most labor-intensive forms of textile printing, this involves carving a block with a design, coating it with dye, and stamping it onto fabric. Although no single culture can claim ownership of the method, Indian block printing has been one of the most influential styles since its development many centuries ago. Traditionally, the extraordinary colors associated with Indian prints were created from natural dyes: madder root made red, turmeric created yellow, and old iron horseshoes yielded black. "Depending on the intricacy of the blocks and the number of color processes used, the designs can range from basic to extremely complex," says Lauren Chang, a textile conservator in Chicago. While classic Indian designs can use flowers or paisley patterns, this table setting features a large-scale seaweed design and polka dots, for a cheery and inviting table.
Esme fabric (on table), in Gold; Dot fabric (on chair); and Monique napkins, in Gray, lesindiennes.com.
Learn More About Block Printing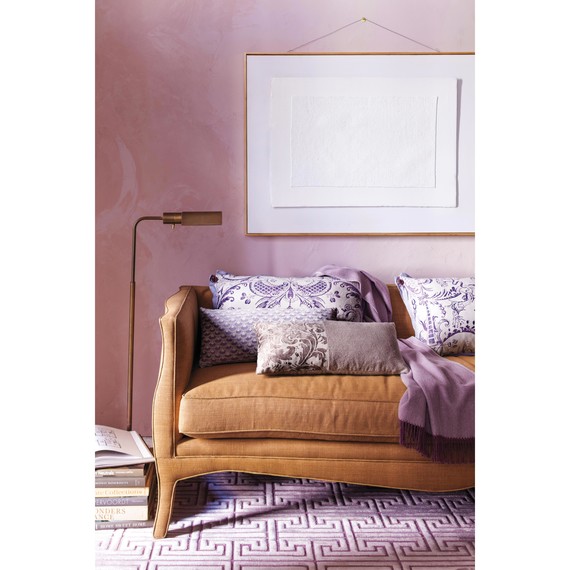 Fortuny
Elegance via Italy
Luxurious, sumptuous, and refined, Fortuny textiles have been coveted by decorators since Mariano Fortuny founded his company in Venice in 1919. An accomplished inventor as well as a designer, Fortuny made his own dyes and printing machinery to create the lavishly printed velvets, cottons, and silks for which he became known. Largely inspired by Renaissance textiles, Fortuny fabrics are still made in the original factory using the same secret techniques. "Fortuny was an artist," says Chang. "His textiles tend to have a certain luminosity, reflectiveness, and layering of pattern upon pattern that is distinctly Fortuny." Because these fabrics are laborious to produce and expensive, Fortuny may not be a practical choice for curtains or upholstery. But with small amounts of yardage, you can create throw pillows that introduce an element of old-world glamour to a living room.
Mazzarino 5274 fabric, in Amethyst and White (rear-left pillow), and Papiro 5681 fabric, in Lavender and White (middle-left pillow), fortuny.com.
Southern Belle sofa, bunnywilliamshome.com.
Alpaca Classic throw, in Plum Wine, aliciaadamsalpaca.com.
PAR641F rug, in Mauve/Violet, safavieh.com.
Learn All About Dyeing Unexpected Items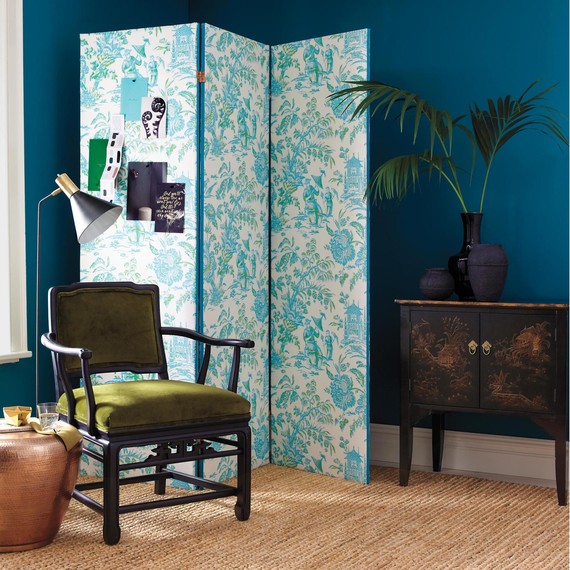 Toile
French Finery
The textile properly known as toile de Jouy -- created by printer Christophe Phillippe Oberkampf in 1760 in the French town of Jouy-en-Josas—has never gone out of style. Typically printed in one color (blue or red) on a white background and depicting pastoral or allegorical scenes, toile was known as a great favorite of Marie Antoinette's. "Copperplate printing allowed for the very fine detail in the engravings that gives toile de Jouy its specific appearance," says Cristina Balloffet Carr, a textile conservator at the Metropolitan Museum of Art, in New York City. This folding screen covered in toile invites the viewer to see the chinoiserie print as a work of art, while also allowing the textile to serve a functional purpose -- the piece doubles as a pinup board. The punched-up green-and-blue print is a playful twist on the fabric's traditional palette.
Williamsburg Asian Arcadia fabric, in Lagoon, joann.com.
Torche reading light, atelierdetroupe.com.
Hammered-metal side table, westelm.com.
Natural jute woven rug, dashandalbert.annieselke.com.
Learn How to Make a Toile Pillow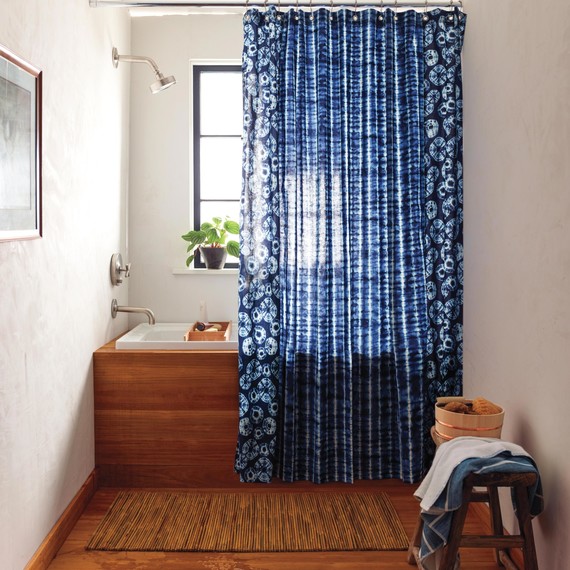 Shibori
Eastern Influence
Think of shibori as the original tie-dye. Dating to eighth-century Japan, it's a traditional method of shape-resist dying: Fabric is folded, crumpled, stitched, or twisted, then dipped in an indigo solution. Shibori designs feature soft, blurry lines and convey a feeling of spontaneity. Though a lot of control goes into the process, the results are never the same twice. That slight unpredictability "is what gives shibori its imperfect beauty," says Matilda McQuaid, deputy curatorial director and head of textiles at the Cooper Hewitt, Smithsonian Design Museum, in New York City. To echo the theme of water and accentuate the peaceful mood of this bathroom, two faux-shibori-printed cotton cloths were sewn together and grommeted along the top to create a shower curtain.
Large Circles Indigo fabric and Lines Indigo fabric, by Robert Kaufmann, purlsoho.com.
Purist Rite Temp bath and shower faucet trim, and Archer drop-in tub, kohler.com.
19th-century Chinese peasant stool, homestories.com.
Learn All About Shibori