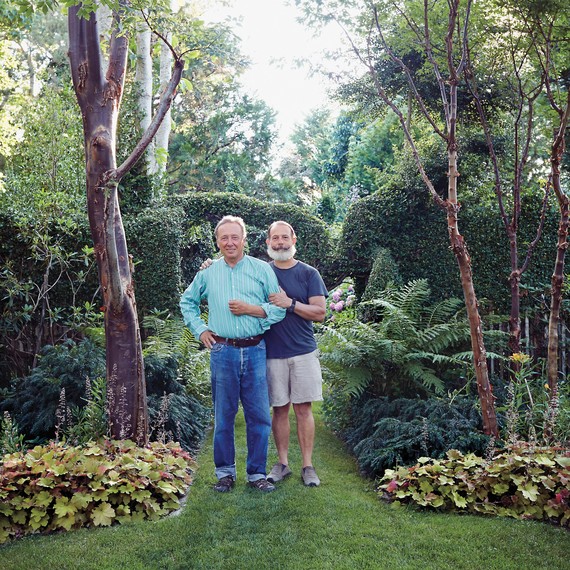 Every weekend for more than 30 years, John Gwynne and Mikel Folcarelli drove four hours from New York City to their home on coastal Rhode Island. They would unpack the car, filled with plants they had ordered that week, and prepare themselves for a weekend of digging in the earth. The garden, once just a large tangle of bittersweet vines, began as a place to experiment, a "weekend playpen," recalls Gwynne.
They began by clearing away the thicket, with the goal of making an intricate series of garden rooms "idea by idea, like beads on a string," for whatever species fascinated them at any given time. "It was backward from the way we work professionally, which is to select plants after coming up with a design," admits Gwynne, a landscape architect who worked for many years for the Wildlife Conservation Society, devising the habitats for the Bronx Zoo. But this method helped them create a place that's "full of surprises," says Folcarelli, a former creative director and merchandising executive.
Learn More About the Best Perennials and Annuals of the Season
The first room came out of an enchantment with rhododendrons. Gwynne had started collecting unusual varieties in scarlet, yellow, pink, and cream. It wasn't long before he had amassed several hundred. "We had the mad idea of building a punch bowl, so we started to group them by color, placing varieties by size and bloom time," he says. Today the compact circular room erupts in rosy hues for two weeks each spring.
While plants led the design, color became an organizing principle in this atmospheric landscape, where the light reflects softly off the nearby ocean. "Every color can work well in the garden. It's just how it's used and what it's with," says Gwynne. "Or what it's separated from," adds Folcarelli. For example, to make an intensely yellow room, they started combining yellowgreen foliage plants in a sunny clearing, next to a dark tunnel of 'Black Swan' weeping beech that was underplanted with Ligularia 'Britt Marie Crawford,' ebony-hued heucheras, and black mondo grass. The black border is all the more dramatic when seen after a walk through the adjacent bright-yellow garden.
Take a Tour of Martha's Culinary Herb Garden
The silver room, inspired by the paintings of Pierre Bonnard, is designed to shimmer. The couple purposely avoided any brightly colored plants -- foliage or flowers -- that would detract from the effect. Instead, they selected the darkest-blue holly they could find as an evergreen backdrop on one side of the garden, and on the other built a stone wall to set off the silver-foliage plants, including artemisia and lamb's ear. Blue and white accent flowers—silvery-blue sea holly along with white, frothy crambe—add to the soft palette.
After decades in the garden, the couple has to be diligent about editing. "We are constantly pruning," says Gwynne. "Sometimes it's with a shovel instead of clippers." They work in the garden nearly every day during the growing season, planting, pruning, or weeding. "Soil is key," he says. They regularly dress beds with compost and amend their clay soil in new beds with a blend of manure and chicken grit. Each March, Folcarelli adds a layer of organic granulated fertilizer as soon as the soil starts to warm.
"This garden is a discovery of plants," says Folcarelli. There are no grand vistas, no vast, sweeping lawns here. Rather, narrow paths meander through intimate rooms. You can't help but look at the specimens up close. And that's exactly the point. "We want the plants to touch you—emotionally and physically—as you walk through the garden," says Gwynne. The labyrinthine garden also encourages you to slow down, to deeply inhale the clove-scented 'Babylon' rhododendron flowers or gaze into the yellow eyes of the sky-blue Himalayan poppies. "Plants are inherently beautiful," he says. "Just being able to play with them is the greatest of luxuries."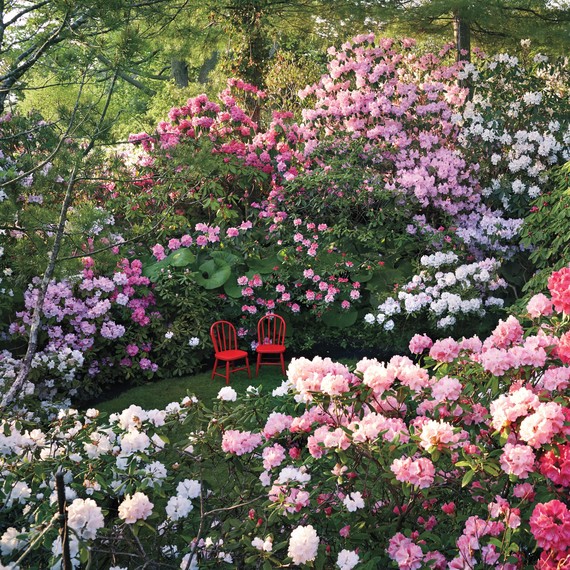 See more beautiful photos of the couple's magic garden.