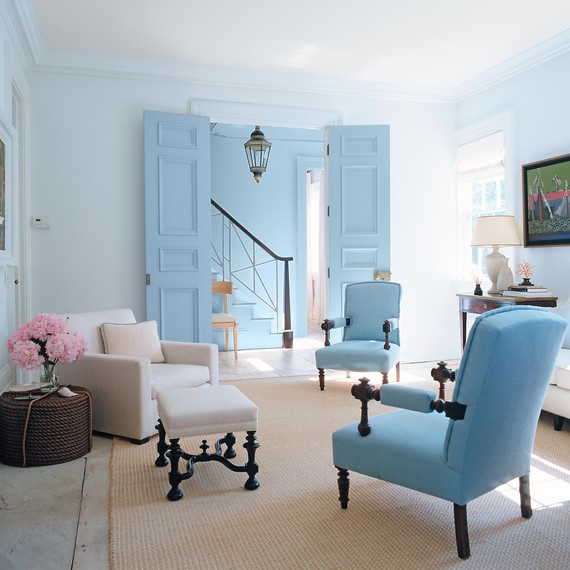 Thinking about choosing colors that shift from room to room? Whether you're torn about which ones to use or perplexed as to how to handle the woodwork, a few simple guidelines will provide the confidence you need to make beautiful choices.
Color Play
Each room in your home probably offers a glimpse into another room (or two), or into a hallway. Why not add interest to that view by varying the paint colors in each space? To ensure that the effect is always pretty and never jarring, Martha prefers subtle shifts in color. So choose a color you're drawn to, and create fail-safe palettes in either of these ways.
Vary the tint
Tint is the amount of white in a color. In this case, a light-blue hall opens onto an even lighter-blue room. The look is varied but still soothing.
A dual-shade door
Each side of the door matches the wall that surrounds it when it's closed. The effect: continuous color. When they're open, you see a quiet contrast between the door and wall. Note the illusion of a wide view into the hall.
Painting the woodwork
Woodwork in the same color as the walls enhances the contrast between rooms and "creates a cocoon of color," says Kevin Sharkey, Living's decorating director. Because the finish on the woodwork is different from that of the walls, you'll have an additional subtle variation in color, which also accentuates the shape of the architecture.
Learn How to Decorate with Colorful Accents
Furniture with color
Introduce upholstery of the same hue. The textural difference here creates an additional visual take on blue. "There's something comforting about that," says Sharkey. It also means that the furniture will work equally nicely in either room.
Paints, by PPG, in Ariel (hall and doors); and in Bashful (living room) available at Home Depot.
Get 8 Tips for Playing with Living Room Colors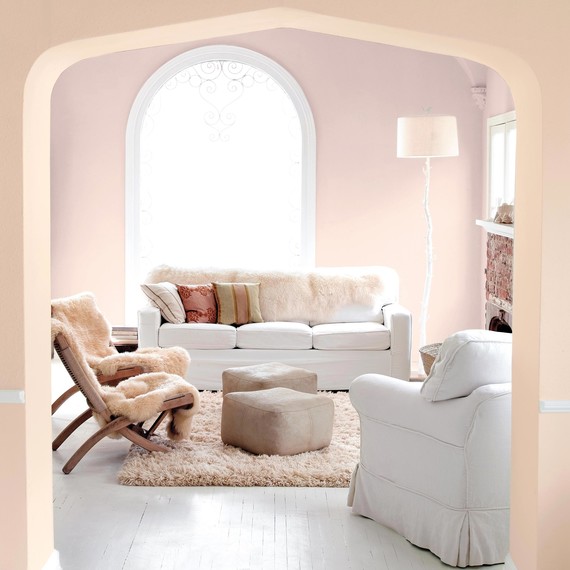 Shift the hue
Changing up the hue simply means working with variations in color. The flow from room to room will still appear smooth if they're equally light or equally dark. Above, a beige hall drifts into a pink room, but the woodwork throughout remains white. There are many reasons to keep the trims consistent, as has been done here, says Sharkey. For instance:
It's practical
Most people find trim more challenging to paint than walls. Serendipitously, keeping it a single color looks just as lovely from room to room.
It unifies
The same-color trim makes the varying colors in each room appear more cohesive. "It turns your paint choices into a palette and ties it up with a bow," says Sharkey.
It offers versatility.
The transitions will continue to look seamless, even if you update your walls with a new color later.
Paints, in PPG Blush Beige (foreground), Lover's Knot (living room) available at Home Depot.