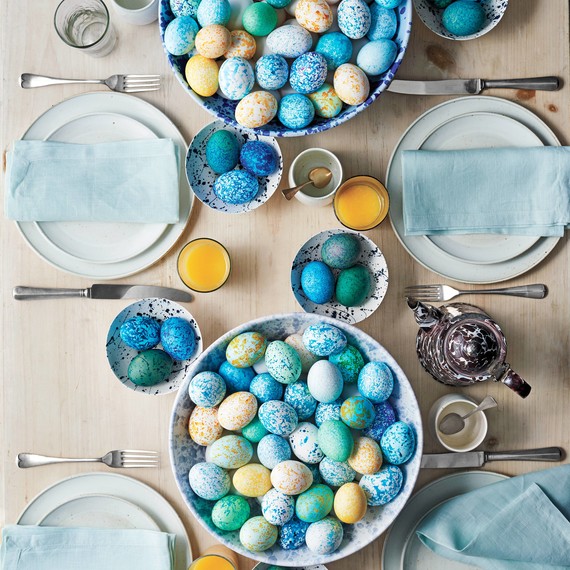 Take a cue from delicately dappled quail eggs and sponge-marked spatterware pottery: Make simple speckled eggs in a cheerful color palette. There's no need to hand-paint spot by spot -- just a few shakes and swirls in a mixture of food dye and dry pantry items will turn ordinary eggs into mottled masterpieces.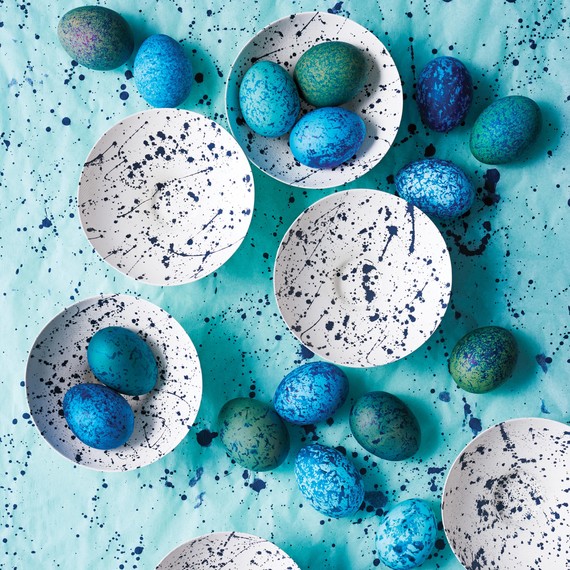 Add a few coordinating accents for a bright and beautiful table display. For a striking centerpiece that celebrates the season, fill storebought spatterware and paint-splattered disposable bowls with speckled eggs. Use hard-cooked eggs and food-safe dyes so guests can help themselves.
Chances are, everything you need to make these dappled beauties is already in your kitchen: dried grains or legumes, food dye, and eggs. All of the supplies shown here impart particularly impressive speckles -- but feel free to test out any small dry spices or grains you have on hand.
Don't miss out: Get Martha's Guide to Easter Eggs—it's the exclusive resource for tutorials, tips, and decorating ideas. 
How to Make Splatter Paint Eggs
A shop-your-pantry supply list and a technique so easy it's child's play make these eggs an ideal last-minute Easter craft. To get the look, simply mix food dye and dry foods (like the ones listed above) in a paper cup, then add a hard-cooked egg. Gently shake and swirl the cups to create stunning speckles.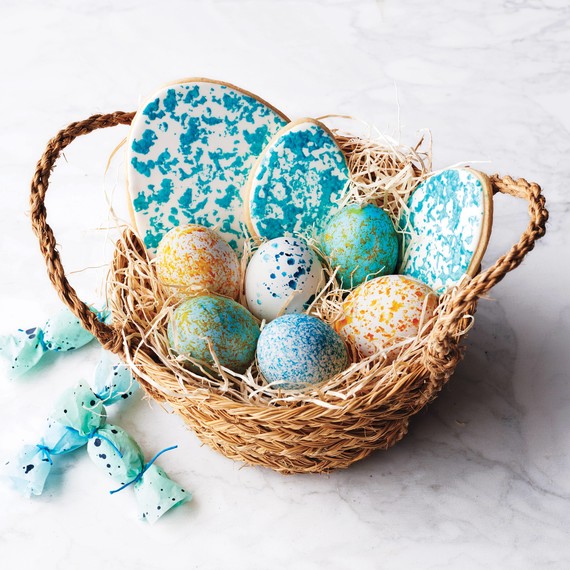 Supplies
Paper cups
Dried grains or beans, or nuts
Liquid food dye (Food color and egg dye, in Assorted and Neon Colors, mccormick.com)
White vinegar (optional)
Hard-cooked eggs, plain or dyed
Egg-drying pin board
Learn How to Make an Easter Egg Drying Pin-Board
How-To
1. Fill each cup about one-quarter full of grains, beans, or nuts. Add 10 to 15 drops of food dye. Swirl each until dye coats contents; the mixture should be damp but not soaked. (Note: If mixture dries, add a drop of vinegar or a little more dye.)
2. Place an egg in a cup. Gently shake and swirl cup to speckle egg. Repeat with more eggs and colors.
3. Let eggs dry on pin board.
Tip: Curating a handmade basket? Tuck them into a basket of similarly-speckled treats for a unified look. Here, we included our splatter-painted eggs with speckled candy wrappers and sponge-painted sugar cookies.