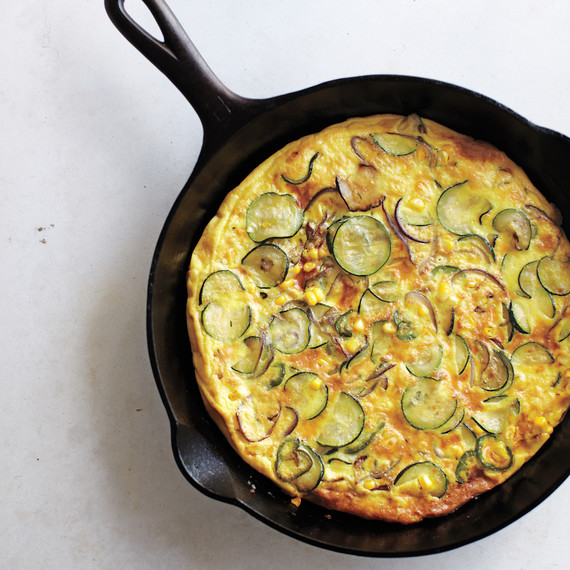 Frittata loosely translates as 'fried' in Italian, but the eggs and choice of fillings are actually gently cooked over medium heat until the bottom sets and usually finished in the oven for a few minutes to set the top. The deeper the egg mixture in the pan, the longer the frittata will need to cook and the higher the oven temperature. Start the oven at 350 degrees for a thin frittata, or 400 degrees for a deeper version.
A frittata can also be flipped to set the top once the bottom is set -- with all cooking done on the stovetop. But unless your flipping skills are top-notch, it's best to slide the par-cooked frittata onto a plate, then invert the plate back over the pan for less mess!
Get the Spicy Zucchini Frittata Recipe
CHOOSE YOUR CHEESE CAREFULLY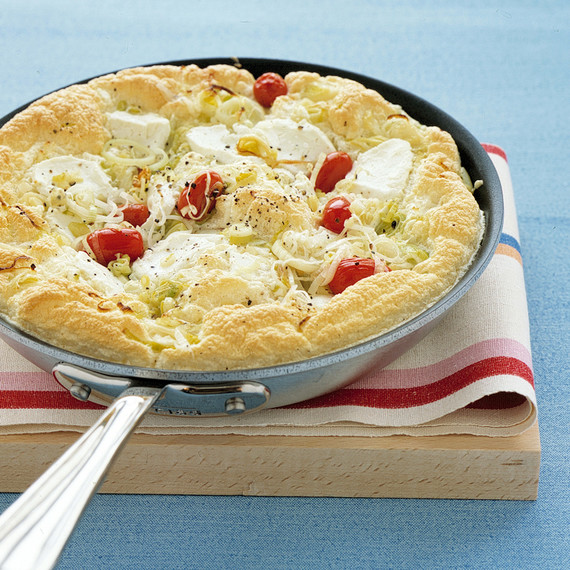 We'll admit it's tough resisting extra handfuls of cheese to boost both the flavor and texture of a satisfying frittata. But if a healthy frittata is what you're striving for, stick with typically low-fat options such as ricotta, goat cheese, mozzarella, and Parmesan. With any of these choices, a little goes a long way.
Get the Tomato and Leek Frittata Recipe
LOAD UP ON VEGETABLE FILLINGS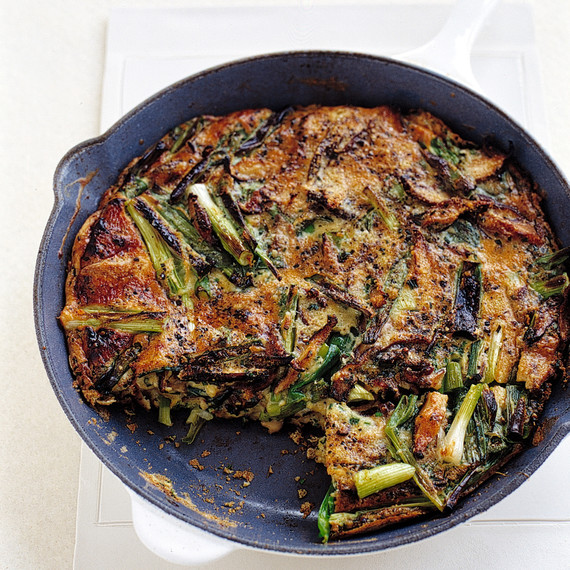 While you can add just about anything to a frittata, to keep things light, forego meaty fillings and simple carbohydrates like pasta or bread. Stick with vegetables and a touch of lean protein to keep frittatas on the healthier side. Fresh herbs will infuse your eggs with flavor. Pre-cooking many vegetables will add depth in flavor without weighing down the frittata. Try our Roasted Red Pepper and Kale Frittata. And remember, you don't always need a healthy frittata recipe: Leftover vegetables are a frittata's -- and healthy eater's -- best friend. Chop them up and add to the egg mixture for a boost in flavor, texture, and nutrients.
Get the Mushroom and Scallion Frittata Recipe
Let our Kitchen Conundrums expert Thomas Joseph show you his formula for a foolproof frittata: