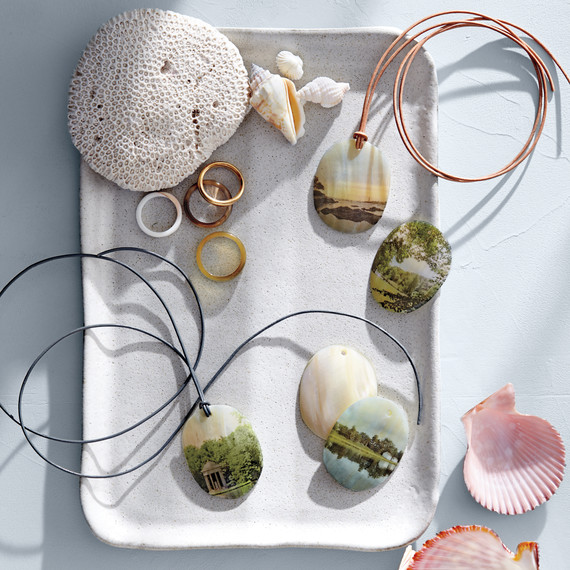 Endless Summer
A seashell pendant makes a lovely natural backing for landscape photos. The images take on a dreamy, painterly quality when printed on decal film and smoothed onto the shells. Thread them with leather cord for necklaces that are far more stylish than your average seaside souvenir. 
Above: Personalize your home décor with printed photo fabric that can be sewn into pillows; these beach and boat scenes go beautifully with blue-and-white patterned fabrics. (For more details on these projects, see page 93.)
Photo Tip
Shoot at the "golden hours" whenever possible. In the early morning and late in the day, when the sun isn't as high, the light is softer and subjects are bathed in a flattering light. In the middle of the day, shooting in shade is more forgiving than bright sunlight, which creates strong shadows.
36 Great Scrapbook Ideas and Albums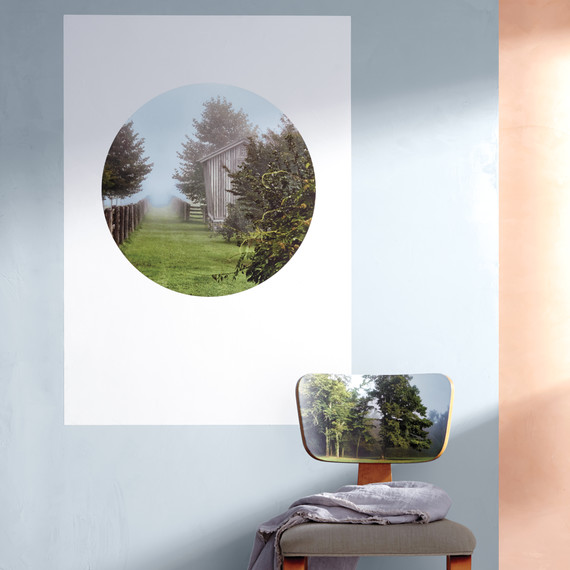 Off (and On) the Wall
Change up any room in the house—long-term or just temporarily—with durable but removable vinyl decals that make a bold statement. They're often used on walls but can be trimmed to fit a piece of furniture. Use them to upgrade vintage pieces or as fitting embellishments for a special event. Our wall and chair decals were printed with photos that Martha took on a misty morning at her farm; each brings a lush, green view of nature indoors.
Prints Charming: Tech Tips
When reproducing a picture—especially if you're enlarging it—you want to start with a good-quality, or high-resolution, image.
Digital photos are made up of colored dots called pixels. The more pixels in an image, the higher the resolution; the higher the resolution, the larger you can make the picture before it becomes grainy. The number of pixels is expressed as a dimension—e.g., 640 by 360. The size of the file (in megabytes, or MB) can also be used as an indicator of quality, but pixels are a more consistent guide.
Today's digital cameras (both point-and-shoot and the more sophisticated digital single-lens reflex, or DSLR) and smartphones can take good-quality images. Generally speaking, if your device shoots in eight megapixels or higher, it is capable of taking a picture that can be enlarged well.
However, several factors can lessen the resolution. Cameras can be set to take pictures at low resolution to save space, so check your settings. Emailed photos may have been sent at lower resolutions. Cropping a photo also makes it lower-resolution. Taking photos through apps such as Instagram or Facebook, or uploading them to a site, often makes files smaller for use online. So use your phone's camera instead (and save the original, rather than relying only on the online version).
Many photo-printing websites have guidelines on reproducing images. As an example, one recommends a minimum resolution of 540 by 360 pixels for a four-by-six-inch photo, and a minimum of 2,100 by 1,400 for a 20-by-30-inch poster. The projects here (with the exception of the two that call for professionally printed materials) can be printed at home on most inkjet printers.
Expression Home XP-420 Small-in-One printer, epsonstore.com.
Simple Wall Art Ideas to Dress Up Your Space
Lives of the Party
Put a personal spin on party supplies with family-vacation memories.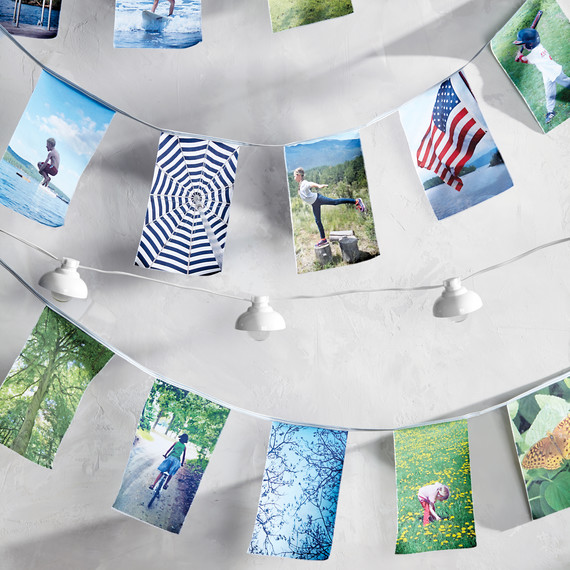 Hang fluttery no-sew pennant garlands, made by printing photos directly onto cotton fabric; mix shots of people, scenery, and objects for an artful effect.
3 Common Sewing Machine Problems (and How to Fix Them)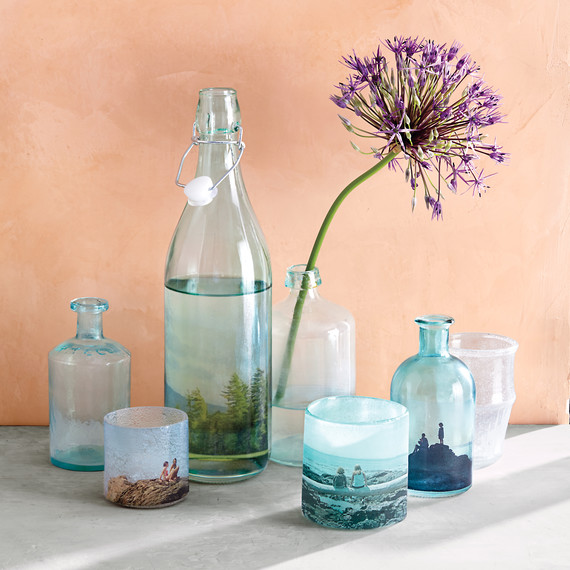 Wrap decals around pale-glass bottles and votive holders for table decorations with a charming sea-glass look.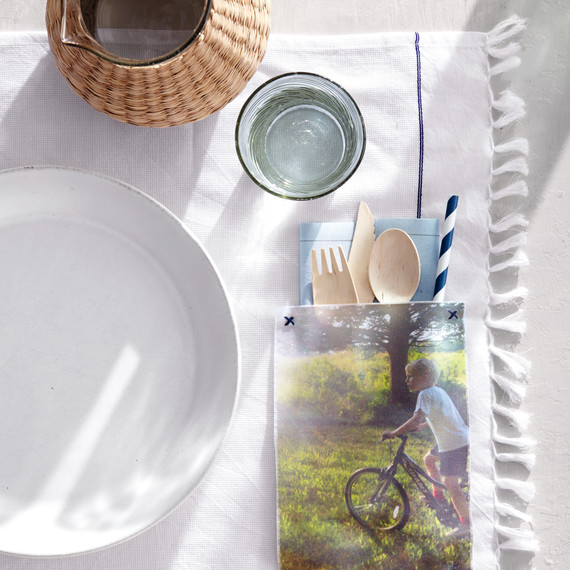 Tack photos printed on cotton to place mats to hold flatware—you can even use ones of your guests to function as place cards (remove the photos before washing the mats).
5 Creative, Nontraditional Table-Setting Ideas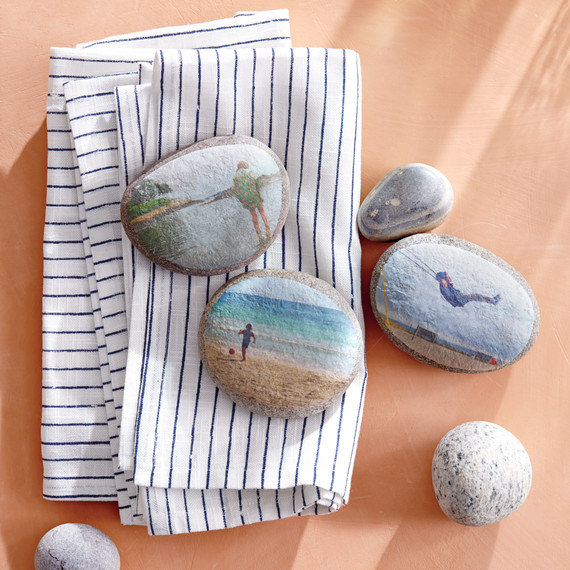 Weigh down napkins and tablecloths on breezy days with découpaged rocks (or use them on your desk as paperweights); printing the images onto thin rice paper lets the texture of the rock come through, so the image appears painted-on.
Industrial string lights and Waterscape votive, westelm.com.
Glass tea-light holder, in White, hm.com.
Glass water bottle with wire bail lid, in Light Green, and bottle bud vase, in Blue, jamaligarden.com.
Indigo Stripe napkins, johnrobshaw.com.
Photo Tip
Obey the rule of thirds: When taking a picture, imagine that your image is divided into thirds horizontally and vertically—as if you'd drawn a tic-tac-toe board on it. Rather than putting the subject of your photo in the center square, put it anywhere else (as shown, left and right).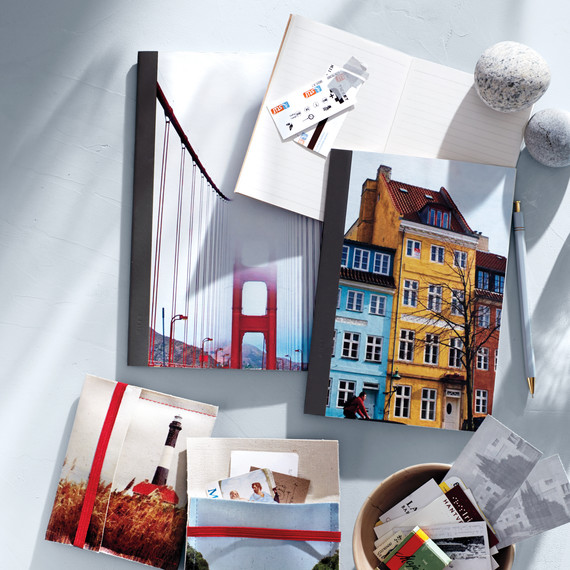 Take in the Scenery
Cover a notebook with an image from your travels and you have a journal that will bring back your trip. Print photos onto matte paper. Brush each notebook (these have a black-fabric binding) lightly with découpage glue and press the matte paper on top; let it dry, then trim the excess flush to the edge. Little canvas cases with iron-on images make excellent holders for passports as well as for mementos like ticket stubs and business cards.
Recycled-paper notebooks, muji.com/us.
Premium Presentation matte paper, 11" by 14", in Bright White, epsonstore.com.
Spiffed-Up Staples: Personalize Your Binders, Backpacks, and More
Photo Tip
When taking pictures of striking buildings and other architecture, try shooting from unexpected angles or going in for details to differentiate your shot from the typical postcard. Also, try to venture off the beaten track to really capture the spirit of a place.