While you don't have to cook asparagus at all – we espouse shaving raw asparagus for salads – many recipes call for tender but still crisp asparagus, and boiling isn't always the answer. [Yes, there is a time and a place for boiled asparagus.] That's where sauteing comes in. It's a wonderful method of cooking the vegetable that helps keep the spears bright green and crisp. Sauteing in a skillet seems to concentrate asparagus flavor whereas steaming or boiling can dilute it. Get started with these sauteed asparagus recipes, and then try your own riffs.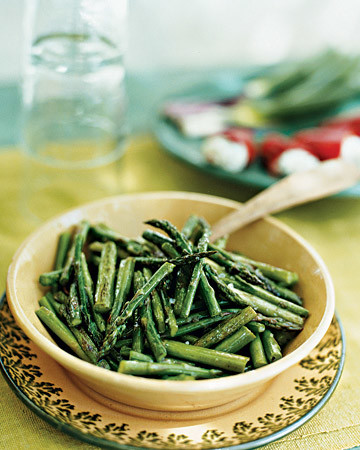 Sauteed Asparagus with Dijon Vinaigrette
Thin spears of asparagus are cut into pieces and sauteed in olive oil until tender. After sauteing, use the sauteed asparagus in a salad, as an add-in for an omelette, or as a side. If serving as a side, dress the sauteed asparagus with Dijon vinaigrette or another favorite sauce.
Get the Sauteed Asparagus with Dijon Vinaigrette Recipe
Sauteed Asparagus with Lemon
Most sauteed asparagus recipes call for cutting the spears into pieces, anything from 1 to 2 ½ inches in length, but in this recipe whole spears of asparagus are sauteed in a large skillet (large enough that they can lie flat!). They're tossed occasionally as they cook to prevent them getting too browned on one side. Then finished with lemon, a classic partner for asparagus.
Get the Sauteed Asparagus with Lemon Recipe
Sauteed Asparagus with Bacon
Using olive oil or butter to saute lets the flavor of the asparagus shine, but sometimes you want to change things up – that's where bacon comes in. After the bacon is cooked, small pieces of asparagus are sauteed in the bacon fat. Then you finish the dish with Dijon mustard, parsley, and the bacon pieces.
Get the Sauteed Asparagus with Bacon Recipe
Asparagus Sauteed with Other Vegetables
Just as you can combine sauteed asparagus with bacon, try it with other vegetables. Here, fresh asparagus is sauteed in butter until bright green and slightly softened, then the quicker cooking frozen peas are added. It only takes about 10 minutes. Or try it in an Asian-accented saute with scallions and shiitakes.
Get the Sauteed Asparagus and Peas Recipe
To saute asparagus, you wash and trim it as you would for other recipes. Watch this primer on how to prep asparagus: