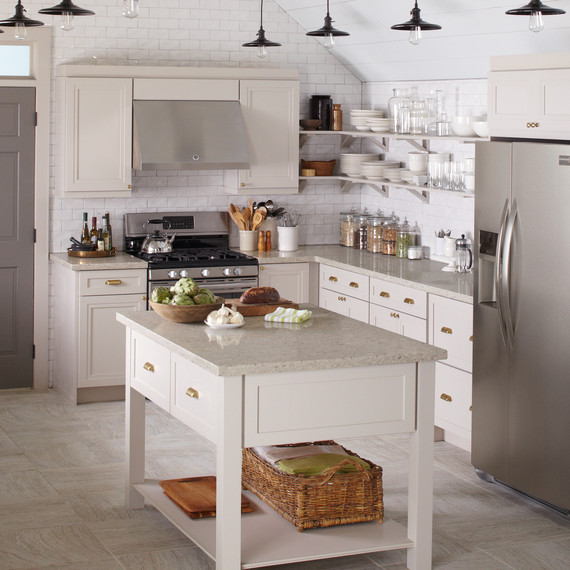 1. Flour-sack kitchen towels: Though flour is no longer commonly sold in cotton sacks, the material is still used to make absorbent kitchen towels. Because they're lint-free, they're ideal for drying glassware.
A Mudroom/Kitchen Combo Gets a Spotless Makeover
3. Nonstick baking mats: Made of rubberized silicone, these mats are great for baking cookies or meringues that might stick to a cookie sheet. They are well worth the initial cost since, unlike parchment paper, they can be used over and over. Silicone mats are durable, able to withstand high oven temperatures, and easy to clean. Don't put silicone mats in the dishwasher, though. Wipe them with a sponge and dry them flat so they retain their shape.
Deliciously Healthy Muffin Recipes That Won't Give You a Muffin Top
4. Plastic-impregnated wood-handled knives: Combining wood and plastic gives you the best qualities of both materials, so you have a handle that looks and feels good (like wood) but is durable (like plastic). Plastic-impregnated wood is not porous and generally gives a secure grip.
How to Slice, Dice, and Chop Vegetables and Herbs
5. A chinois: Used to strain stocks and vegetables, a chinois is constructed of very fine stainless-steel mesh in a conical shape. Soups and sauces strained in a chinois have a velvety smooth texture.
Seafood Chowder, Soup, and Stew Recipes
7. Poultices: Available at hardware stores, poultices are powders specifically formulated for treating deep-set stains — especially oil and rust — on marble and other types of stone countertops. Begin by mixing the powder into a paste according to the package directions, until it has the consistency of peanut butter. (Some stores carry ready-to-use poultice pastes, if you don't want to mix your own.) Apply the paste to the stained area, overlapping the stain by at least a quarter inch. To retain moisture, attach plastic wrap to the stone over the poultice (using painter's tape, which is low-contact). The paste can take 12 to 24 hours to dry. As the poultice dries, it draws out the stain. Once the poultice is completely dry, remove the plastic wrap and scrape the paste off and rinse the area with a clean, damp cloth. You can reapply the poultice if the stain remains, but if after several applications the stain doesn't disappear completely, consult a stone-restoration specialist or your stone supplier.
Choosing Kitchen Countertops: 15 Things You Need to Know