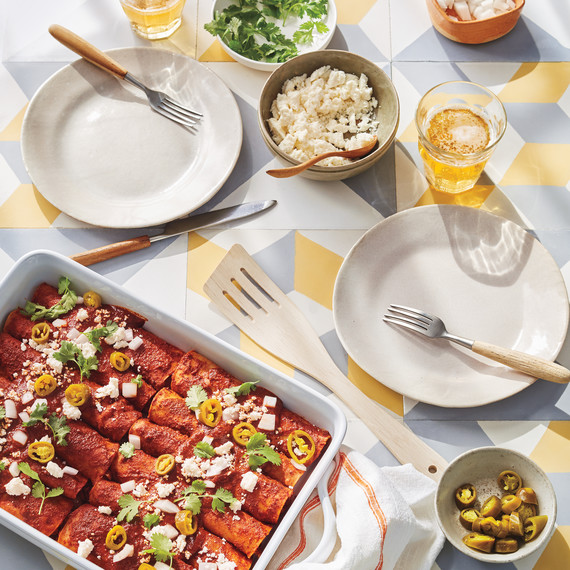 On wintry nights, nothing hits the spot better than an earthy, fragrantly spiced dish. Enchiladas rojas are topped with ancho-chile sauce and filled with carnitas -- pieces of pork shoulder that get braised until tender, then browned until crisp. Unlike the enchiladas you often find in the States, these aren't topped with melted cheese. Instead, the finish is more authentic: You simply sprinkle crumbled queso fresco on top, along with cilantro leaves, diced white onion, and pickled jalapeno slices. Master this recipe and use it for get-togethers, or for cozy family dinners all winter -- or all year -- long.
Get the Enchiladas Rojas Recipe
How to Make Enchiladas Rojas Step-by-Step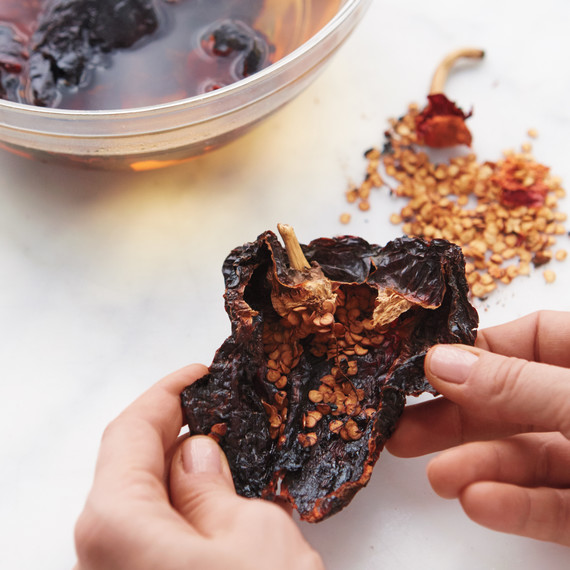 1. Prepare chiles
Toast chiles in a dry medium skillet over medium-high until fragrant and blistered, 1 to 2 minutes a side. Wipe skillet clean. Remove and discard chile stems and seeds; transfer chiles to a bowl. Cover with 3 cups hot water and let soak 15 minutes. Remove chiles, reserving liquid.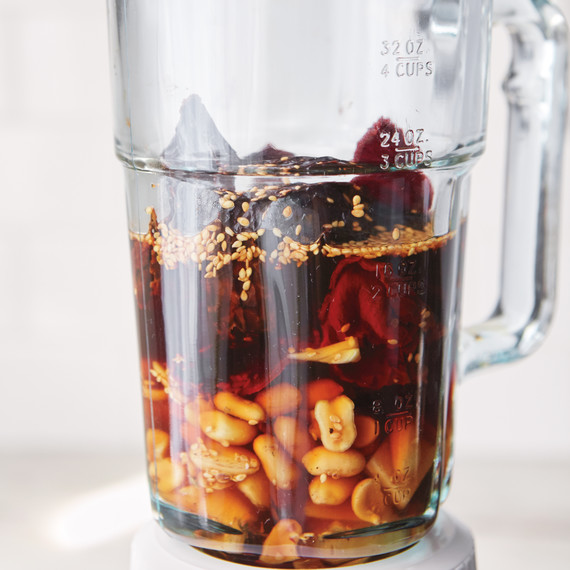 2. Blend sauce
Blend chiles, cinnamon, clove, oregano, thyme, peppercorns, sesame seeds, peanuts, onion, and 1 1/2 cups reserved liquid until smooth. Heat 2 tablespoons oil in skillet over medium-high. Add sauce and cook, stirring constantly, until thickened, 5 minutes. Add 1 cup reserved liquid; bring to a boil. Season with salt; keep warm.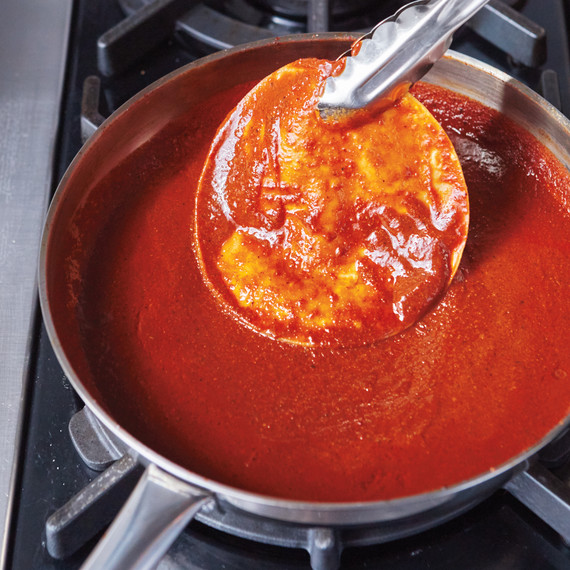 3. Fry tortillas and dip into sauce
Heat 1 tablespoon oil in another skillet over medium. Gently fry tortillas one at a time, using 1 tablespoon oil for every 3 tortillas, until pliable, about 30 seconds a side. Remove each with tongs, letting oil drip back into skillet, and dip into sauce, turning to fully coat. Transfer to a plate.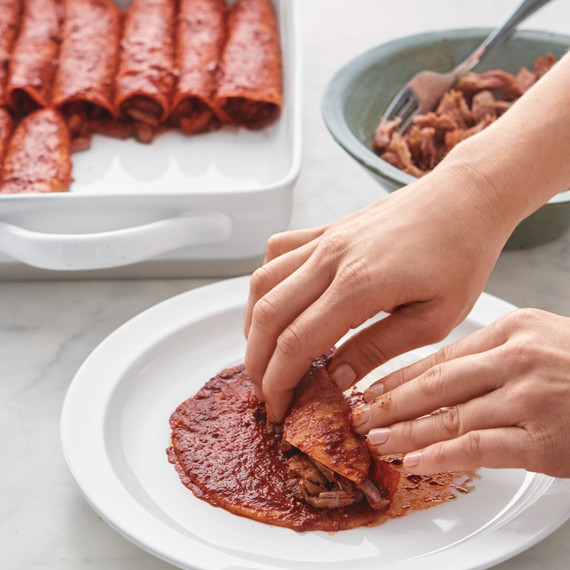 4. Fill and roll
Place a heaping 1/4 cup carnitas in center of a tortilla. Roll tightly and place, seam-side down, in a 9-by-13-inch baking dish. Repeat with remaining tortillas, arranging them in dish in 2 rows. Pour remaining sauce over enchiladas. Top with queso fresco, onion, jalapeno, and cilantro; serve.