1. Bring out the bags.
Purses and bulky totes aren't only hard to stash away—they're nice to look at. Give them their own shelf and a proper place to allow them to sit upright, rather than hang.
2. Stack and separate.
Shelf dividers give sweaters and other folded items their own spots and keep them from toppling over. These clear-acrylic dividers are nearly invisible and don't require any hardware.
Acrylic shelf dividers, $54 for 4, closettetoo.com
3. Enhance the view.
Use a stylish table lamp for additional lighting, and mount a decorative mirror, which helps brighten a dark space even more.
JWDA concrete table lamp, $175, shophorne.com
4. Create small storage units.
Bowls, compotes, serving trays, and the like are perfect for organizing little accessories and fragrances. Use a small vessel to hold the jewelry you wear most often for easy-on, easy-off access.
5. Embellish the dresser.
Adding new hardware to a simple dresser gives it a custom look.
Bedford awning cup cabinet hardware pulls, by Martha Stewart Living, 3", in Brass, $4.50 each, homedepot.com
Malm 4-drawer chest, in White, $100, ikea.com
10 Things You Could Probably Eliminate from Your Closet Right Now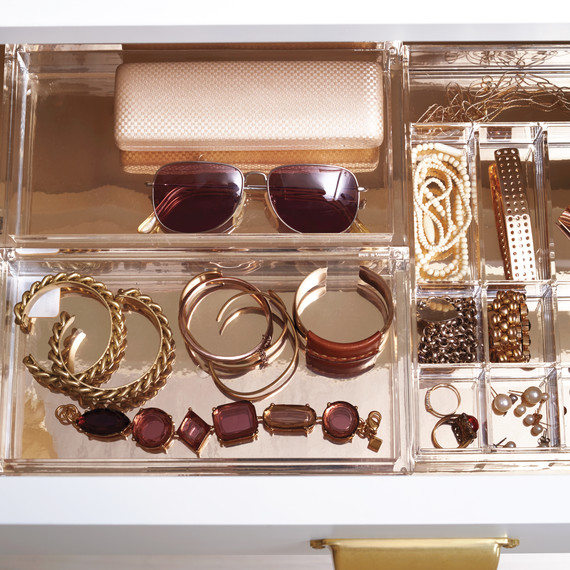 6. Forgo the jewelry box.
Instead, opt for a jewelry drawer; keeping everything in a single layer lets you see what you have more easily. Fit acrylic containers of various sizes into a drawer that's not too high—you need to be able to look down into it.
Stacking acrylic trays, from $6 each, containerstore.com
7. Line and shine.
Brass pulls and gold mirrors inject a dose of luxe into the room; now add it to the interiors of the dressers, too, by lining the drawers with metallic paper. "I wanted to banish the feeling of darkness in drawers," says Lorna. "Plus, the shiny paper plays off the sparkle from the jewelry."
Metallic foil paper, by Hygloss, in Gold Foil, $15 for 25', dickblick.com
25 Reasons to Get Rid of It
Midas Touches
Decorative details in a metallic finish will give your closet just the right amount of shine.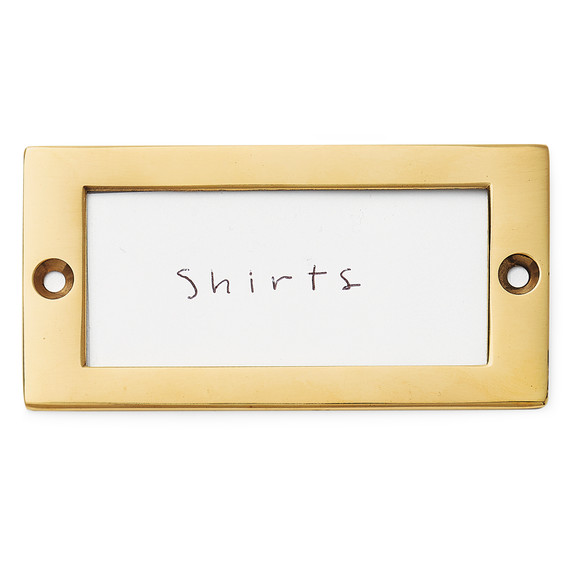 Gilt-framed labels give star treatment to what's inside.
Brass label holder, 3", in Unlacquered Brass, $6, rejuvenation.com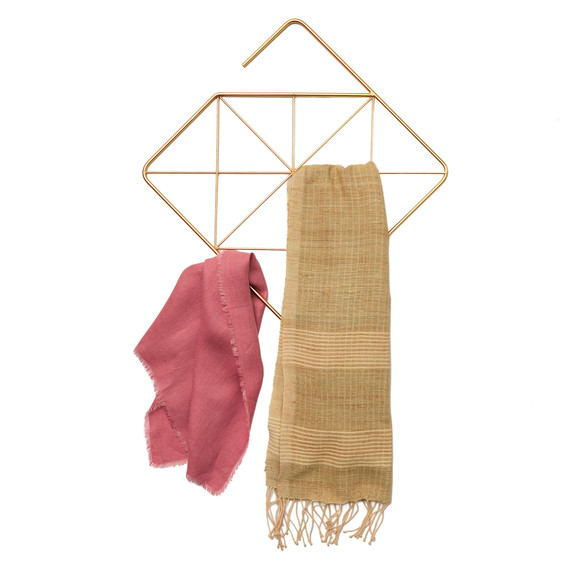 This geometric hanger brings an edge to the closet—along with space to hang more than a dozen scarves.
Square Pendant scarf organizer, by Umbra, $15, containerstore.com