1. Make it inviting.
White walls, shelving, and flooring make a small space feel bright and open. Adding accessories in a unified color scheme (like the pastels here) and a few carefully chosen accents (we like gold) give it eye appeal.
2. Have a seat.
It makes sense to have a comfy place to sit while you put on your shoes.
Cross base upholstered bench, in Dusty Blush, $349, westelm.com
Shag Champagne rug, by Martha Stewart Safavieh, $285, wayfair.com
3. Flip and fold.
Raise the leaf of a wall-mounted table to make a flat surface for folding; lower it for more changing-room space.
Norberg drop-leaf table, $39, and Stave mirror, $50, ikea.com
All in the Details
A few small, smart pieces add up to big storage solutions—and look great, too.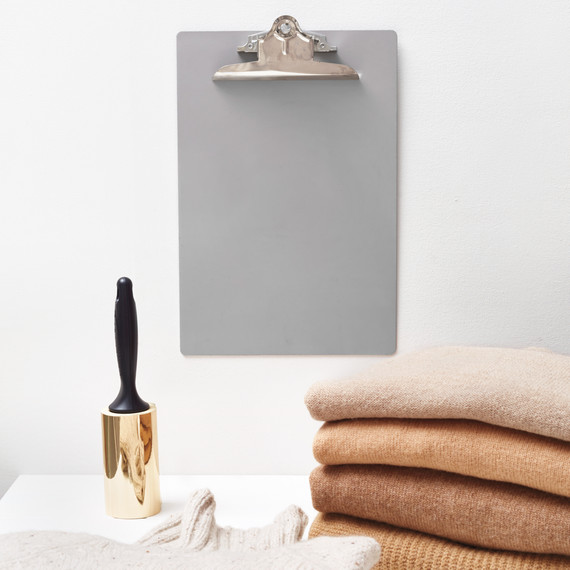 1. Get on Board with Folding.
These tools will help you find charm in the chores: Use a clipboard as a folding board, and hang it inside the closet for easy access. When your sweaters are uniformly folded, they look neater and take up less room on the shelves. And give a lint brush an easy upgrade with trimmed-to-fit metallic paper.
Aluminum clipboard, by Saunders, $9.50, staples.com
Scotch lint roller, by 3M, $4 for 70 sheets, target.com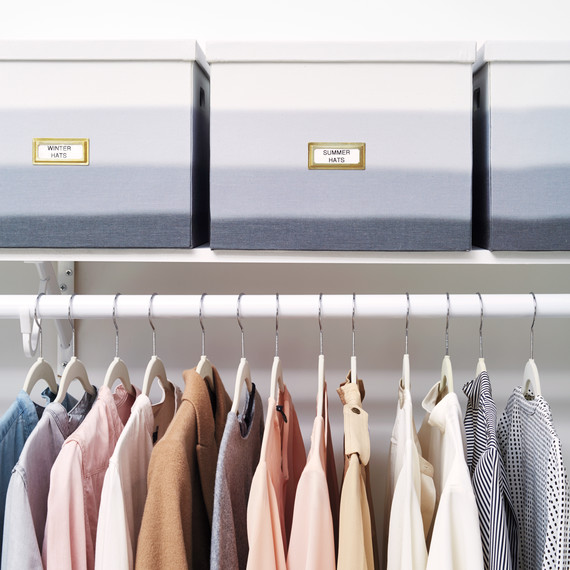 2. Don't Squander Your Space.
The area above the closet rod is great real estate—but not readily accessible. Use a set of attractive lidded bins or boxes to store off-season items or other things you don't use every day, to help keep them neat and dust-free.
Canvas milk crates, by Room Essentials, in Ombre Gray, $10 each; and Huggable hangers, by Joy Mangano, $20 for 34 pieces, target.com
Brass metal bookplates (similar to shown), by Kaisercraft, $8 for 6, scrapbook.com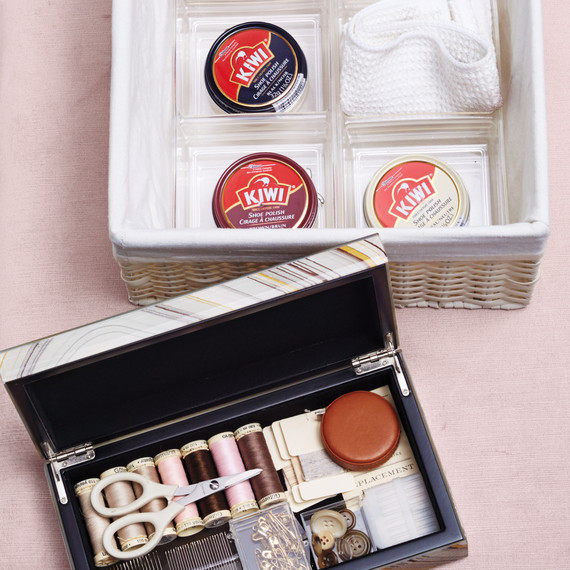 3. Gather and Contain Your Touch-Up Tools.
Round up all your clotheskeeping necessities—sewing kit, sweater combs, shoe polishes—in one place, either a box or a basket, and place it in or near your closet. The more accessible they are, the more likely you are to sew, shine, and spiff up your clothes.
Montauk rectangular bin, in Medium White, $20, containerstore.com
Lacquer medium box, $145, mgbwhome.com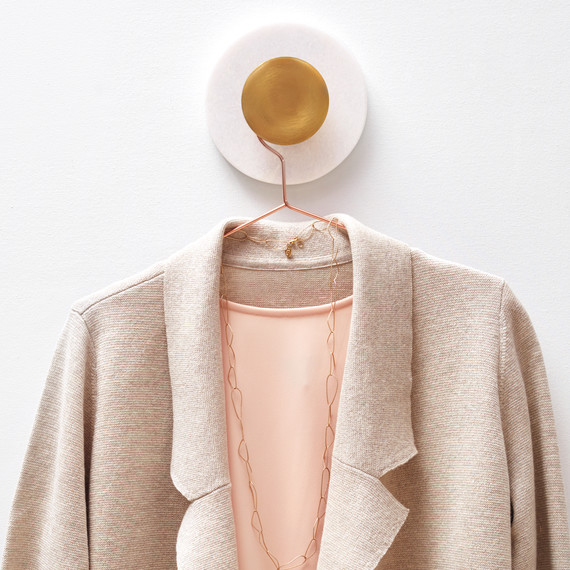 4. Plan for Tomorrow.
Your get-ready routine will feel much smoother when your outfit has been planned the night before. Create a dedicated space for it with an attractive hook and hanger. We chose a brass knob and a copper hanger to complement the pastel-and-gold palette of this closet.
Circlet hook, in Marble, $48, anthropologie.com
Copper hangers, $20 for 5, shopanthom.com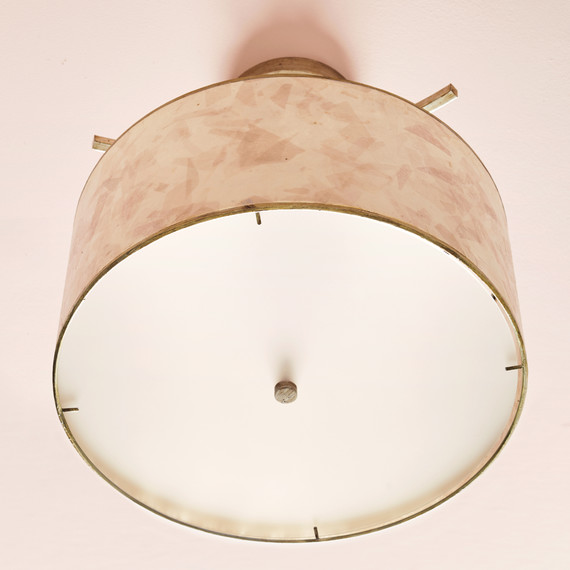 5. Let There Be Light—And Make It Bright.
Lighting is critical when it comes to closets, since most are windowless. "Ideally, you want a light source overhead that doesn't cast shadows and is bright enough that you can tell your navies from your blacks," says home editor Lorna Aragon. She suggests a globe or drum pendant ceiling light.
Champagne Elegance ceiling light, $294, shadesoflight.com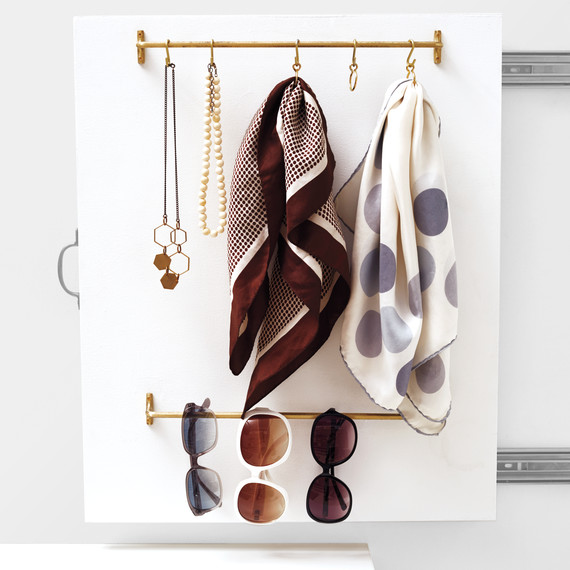 6. Feature a Slide Show of Accessories.
Here's a space-saving way to store scarves, sunglasses, and more: On a side wall in your closet, mount a slide-out board with bars for hanging accessories. To make this one, we screwed two towel racks onto a 20-by-24-inch painted wooden board, then installed two drawer slides to affix it to the wall.
Brass towel hanger, by Futagami, from $85, nalatanalata.com
Accuride drawer slides, by Richelieu Hardware, $29 a pair, homedepot.com