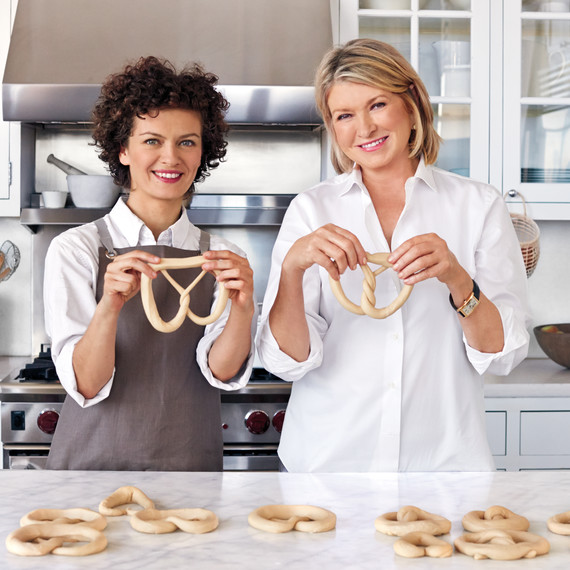 Do you remember the first time you ate a giant, soft, salty pretzel, purchased warm from a street vendor? I do -- it was while I was standing in line with my friends, waiting to enter Radio City Music Hall, in New York City, to see its Christmas show on a Saturday morning in December. We were cold, our fingertips were freezing from the frigid air, and the pretzels warmed our hands and our souls. We loved the crystals of salt, and the smooth exterior and somewhat fluffy interior of those pretzels. I dreamed one day of learning how to form and cook them myself.
It wasn't until many years later (I will not tell you how many!) that I was introduced to the creator of what I consider the very best soft pretzels in the United States. Lina Kulchinsky is a petite, lively, pretty, curly-haired Russian woman who has developed a recipe for pretzels she tops with an amazing variety of unusual and delicious flavors that will make you, your family, and your friends lifelong fans.
I have baked with Lina on my PBS television series Martha Bakes, and I baked with her again in our test kitchens to prepare for this story. We had such fun chatting about her childhood in Moscow, her various stints in the pastry kitchens of many great chefs, and her successful entrepreneurial ventures, including Sigmund's Pretzels, on Avenue B in Manhattan's East Village. Treat yourself, treat your kids, treat everyone you know -- bake some pretzels, soon! And by the way, bake a lot; you can freeze them with awesome results.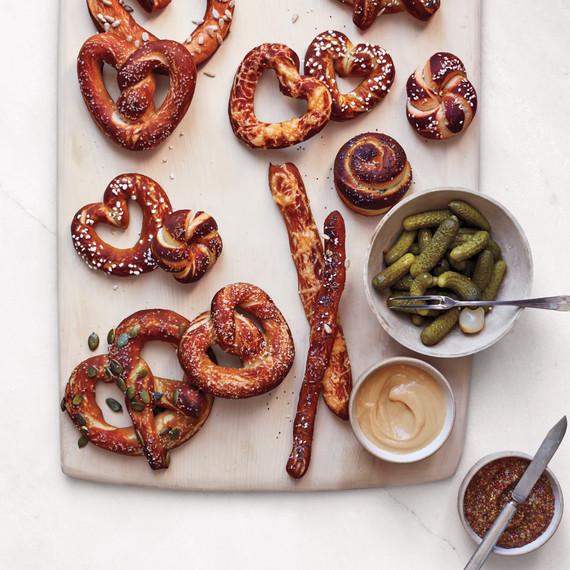 Heart-shaped pretzels -- and other shapes, too -- are an irresistible party snack. Serve an assortment of styles and flavors with cornichons and mustards for dipping.