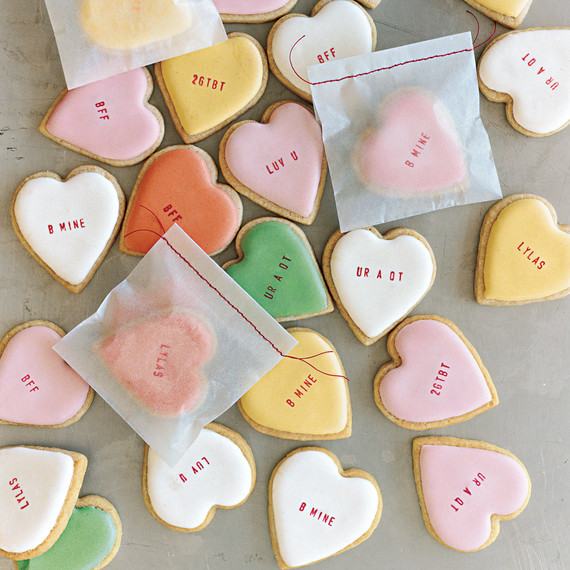 "[i carry your heart with me(i carry it in]"
by E.E. Cummings
i carry your heart with me(i carry it in
my heart)i am never without it(anywhere
i go you go,my dear;and whatever is done
by only me is your doing,my darling)
                                                      i fear
no fate(for you are my fate,my sweet)i want
no world(for beautiful you are my world,my true)
and it's you are whatever a moon has always meant
and whatever a sun will always sing is you
here is the deepest secret nobody knows
(here is the root of the root and the bud of the bud
and the sky of the sky of a tree called life;which grows
higher than soul can hope or mind can hide)
and this is the wonder that's keeping the stars apart
i carry your heart(i carry it in my heart)
The Gift:
For someone who  "carries" your heart, give these heart-shaped cookies and the sweet messages they bear.
Get the Conversation Heart Cookies Recipe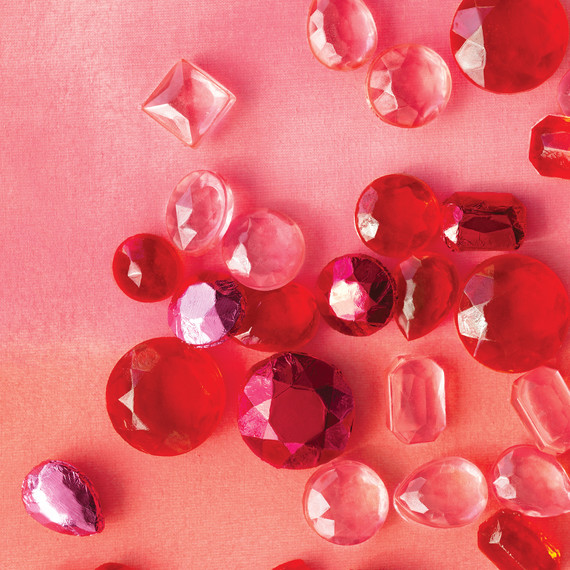 "I Held a Jewel in My Fingers"
by Emily Dickinson
I held a jewel in my fingers
And went to sleep.
The day was warm, and winds were prosy;
I said: "'T will keep."
I woke and chid my honest fingers,
The gem was gone;
And now an amethyst remembrance
Is all I own.
The Gift:
For someone who treasures your love, a box of these colorful candies will leave more than a passing remembrance.
Get the Candy Gems How-To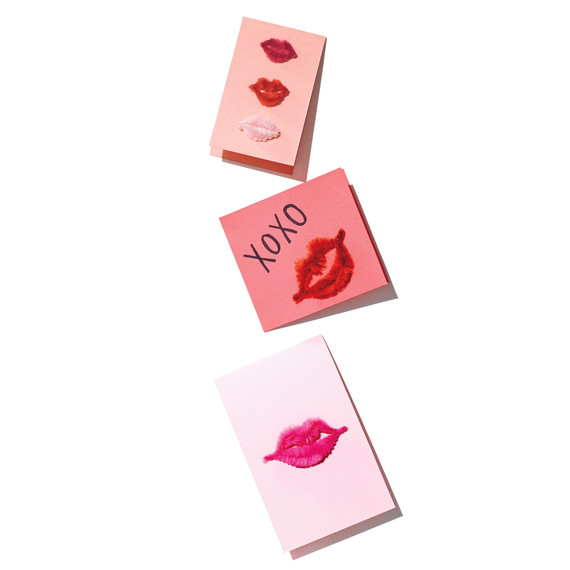 "Sonnets from the Portuguese 38: First time he kissed me, he but only kissed"
by Elizabeth Barrett Browning
First time he kissed me, he but only kissed
The fingers of this hand wherewith I write,
And ever since it grew more clean and white,...
Slow to world-greetings...quick with its "Oh, list,"
When the angels speak. A ring of amethyst
I could not wear here plainer to my sight,
Than that first kiss. The second passed in height
The first, and sought the forehead, and half missed,
Half falling on the hair. O beyond meed!
That was the chrism of love, which love's own crown,
With sanctifying sweetness, did precede.
The third, upon my lips, was folded down
In perfect, purple state! since when, indeed,
I have been proud and said, "My Love, my own."
The Gift
For someone with lots of kisses to give, this handmade valentine is sealed with a (reciprocal) kiss.
Get the Pipe-Cleaner Kiss Valentines How-To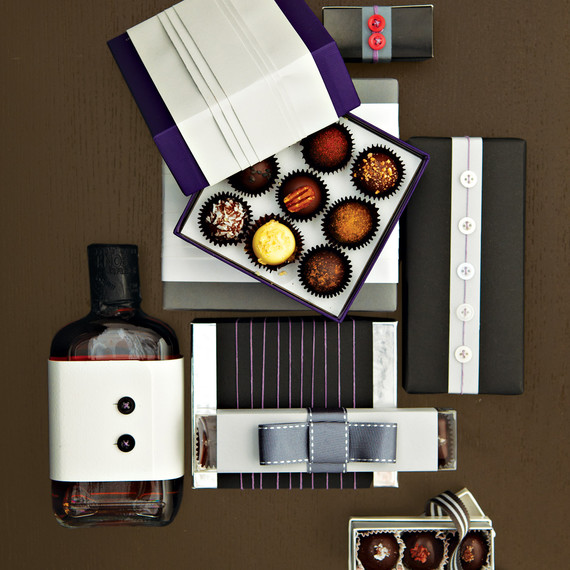 "To My Dear and Loving Husband"
by Anne Bradstreet
If ever two were one, then surely we.
If ever man were lov'd by wife, then thee;
If ever wife was happy in a man,
Compare with me ye women if you can.
I prize thy love more then whole Mines of gold,
Or all the riches that the East doth hold.
My love is such that Rivers cannot quench,
Nor ought but love from thee, give recompence.
Thy love is such I can no way repay,
The heavens reward thee manifold I pray.
Then while we live, in love let's so persever,
That when we live no more, we may live ever.
The Gift
For a special man in your life, he might prefer a valentine that lacks pink and frills. Gifts like a necktie valentine, a pair of cuff links, or a box of decadent homemade chocolates are made chic with pinstripes, buttons, and tuxedo bows.
Get the Menswear-Inspired Gift Wrap How-To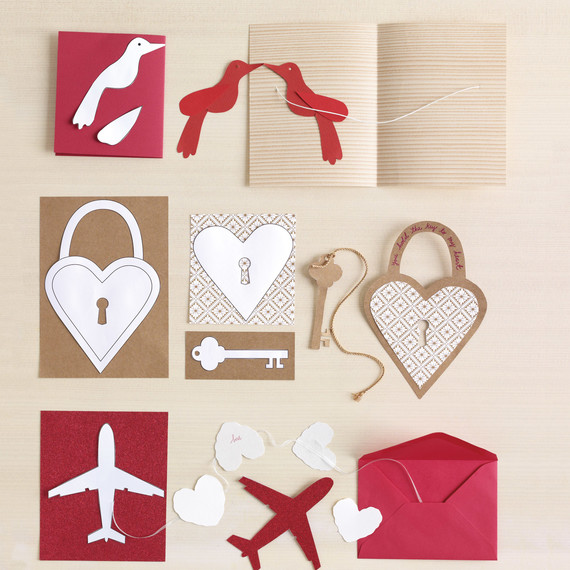 "I Love You"
by Sara Teasdale
When April bends above me
And finds me fast asleep,
Dust need not keep the secret
A live heart died to keep.
When April tells the thrushes,
The meadow-larks will know,
And pipe the three words lightly
To all the winds that blow.
Above his roof the swallows,
In notes like far-blown rain,
Will tell the little sparrow
Beside his window-pane.
O sparrow, little sparrow,
When I am fast asleep,
Then tell my love the secret
That I have died to keep.
The Gift
For someone who may not know your true feelings, don't let your "secret" go untold: send a pop-up card inspired by the bird imagery in this touching poem.
Get the 3-D Valentine's Day Accordion Card How-To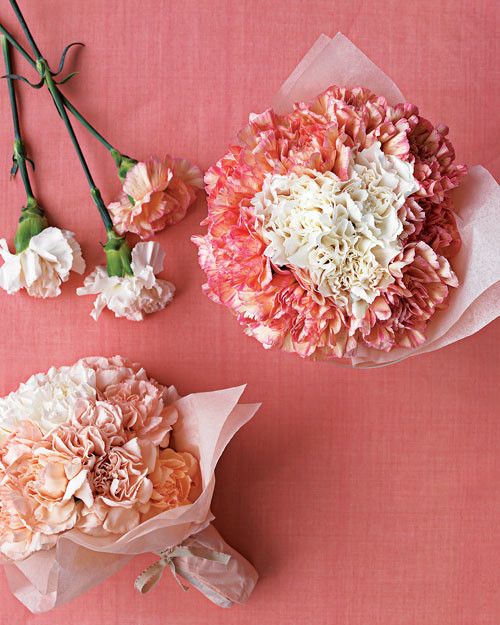 "Love and Friendship"
by Emily Bronte
Love is like the wild rose-briar,
Friendship like the holly-tree--
The holly is dark when the rose-briar blooms
But which will bloom most constantly?
The wild rose-briar is sweet in spring,
Its summer blossoms scent the air;
Yet wait till winter comes again
And who will call the wild-briar fair?
Then scorn the silly rose-wreath now
And deck thee with the holly's sheen,
That when December blights thy brow
He still may leave thy garland green.
The Gift
For a friend or a lover (or someone in between), a heart-shaped bouquet of bright carnations, mums, and hyacinths might plant a new seed of romance.
Get the Floating Heart How-To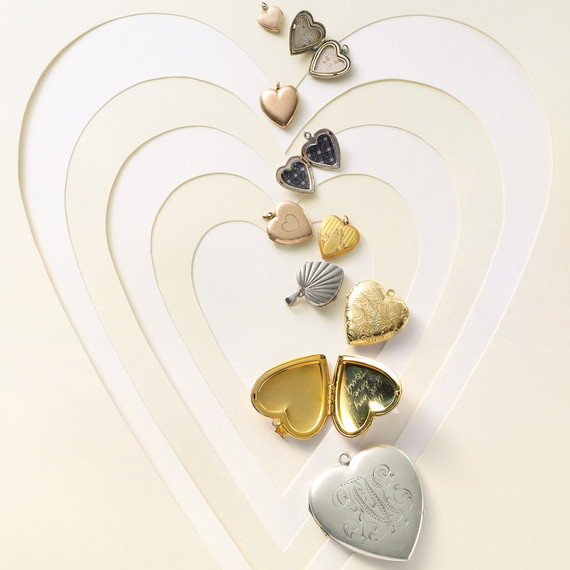 "Touched by an Angel"
by Maya Angelou
We, unaccustomed to courage
exiles from delight
live coiled in shells of loneliness
until love leaves its high holy temple
and comes into our sight
to liberate us into life.
Love arrives
and in its train come ecstasies
old memories of pleasure
ancient histories of pain.
Yet if we are bold,
love strikes away the chains of fear
from our souls.
We are weaned from our timidity
In the flush of love's light
we dare be brave
And suddenly we see
that love costs all we are
and will ever be.
Yet it is only love
which sets us free.
The Gift
For someone whose "love strikes away the chains of fear" in you, a locket or charm on a chain is the perfect token of affection.
Get the Vintage Lockets