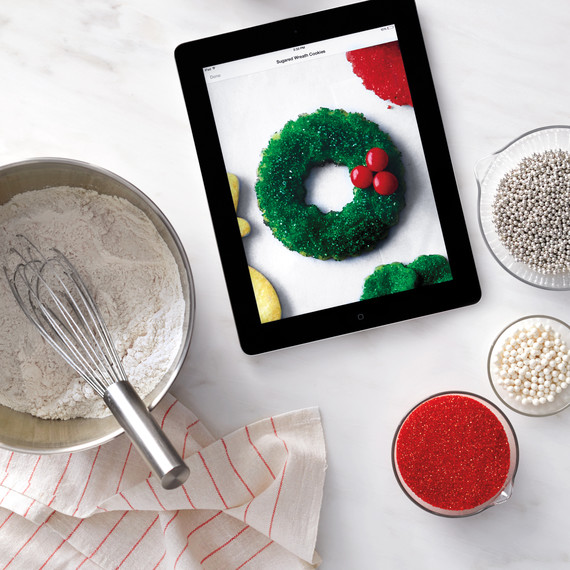 1. Basil
Best search function
Basil imports recipes from the Web with one tap, generates grocery lists (even combining ingredient quantities from all the recipes in your menu and offering healthy ingredient substitutions if you wish), and has a built-in measurement converter and a timer to help with cooking. Best of all, it automatically scans each recipe and tags it by cuisine type, meal type, and ingredients, so it's a cinch to search for, say, "Italian chicken dinners." The one drawback? Basil is currently only available for the iPad and iPhone.
$4.99, from the App Store
2. Paprika
Best meal planner
This app boasts tools similar to those offered by Basil (except for the auto-tagging), but it's not limited to just iPads: Paprika is compatible across all your personal devices, including iPhone, Android, iPad, Mac, and PC. And because it works on a laptop, too, you can easily type in your favorite printed recipes and add them to your digital collection. What's more, recipes can be scaled up or down, and there's a tool that allows you to schedule meals on a weekly or monthly basis, then export them into your calendar.
$4.99 for iPhone, iPad, and Android; $19.99 for Mac and Windows, from the App Store, Google Play store, and paprikaapp.com.
3. RecipeTin
Best archiver
RecipeTin, available for the iPad, iPod, and iPhone, doesn't offer as many bells and whistles as other apps, but what it does do—collect your favorite dishes in a virtual recipe box—it does exceptionally well. No boilerplate digital recipe card here; this app imports items just as they appear (PDF, email, or Word document) and allows you to view them without an Internet connection. Stumbled onto an easy biscotti how-to on a blog? Download it to your account. Found a new pizza recipe in a magazine? Snap a photo (or four) of it and save it to your Tin. Your mother emailed you tips for making her fluffy pancakes? Into the tin they go!
$1.29, from the App Store.
4. BigOven
Best print converter
Whereas the other three apps on this list all begin as empty recipe boxes waiting to be filled, BigOven starts out with more than 350,000 recipes—all uploaded by its users—already in its database. And you have access to them for free! A paid yearly subscription (BigOven Pro), however, also gives you an ad-free experience, unlimited recipe storage, the ability to download recipes from anywhere on the Web, and access to its shopping list and what-to-make-with-leftovers tools. Our favorite feature? The RecipeScan, which converts scanned print recipes (like a newspaper clipping or your grandmother's handwritten meatloaf recipe) into digital format.
BigOven, free, and BigOven Pro, $19.99, from the App Store and Google Play store.