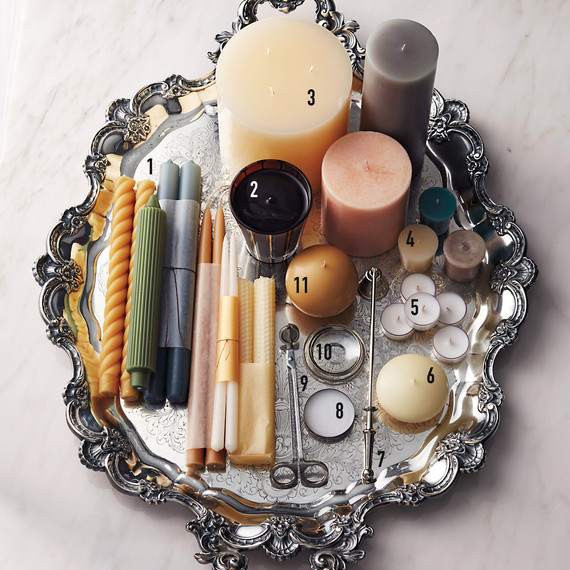 1. Tapers
These elegant, slender candles (also called dinner candles) taper at the wick and stand at least six inches high. Pair them with candleholders or candlesticks.
From left:
Rope tapers, 10", in Natural, greentreehomecandle.com
Grecian Collenette, 9", in Dark Olive, rootcandles.com
Royale candles, by Cire Trudon, in Gray, monc13.com
Taper candles, 12", in Cafe au Lait, creativecandles.com
Tiny tapers, 10", in White, williams-sonoma.com
Natural beeswax candles, 8", beehivealchemy.com
2. Filled Candles
Usually scented, these are poured into containers, most often glass or metal.
Hearth Classic candle, nestfragrances.com
3. Pillars
Thick and sturdy, they have a diameter of two inches or more and can stand on their own or be placed in hurricanes. To prevent melted wax from drowning the wick, don't let a two-inch-wide candle burn longer than two hours; a three-inch-wide candle, longer than three hours; and so on.
Pillar candle, 6" by 6", in Ivory, potterybarn.com
Classic pillar candle, 3" by 9", in Paris Gray, creativecandles.com
Coconut-Milk Mango pillar, 4" by 4", illumecandles.com
4. Votives
About the same width as tea lights but around two inches high, votives are often burned in glass cups to contain the liquefied wax. Splashing a few drops of water into the bottom of the holder before you put the candle in makes it easy to remove afterward.
Unscented votive, by Threshold, in White, target.com
Scented votives, in Tonka Noire and Mediterranean, illumecandles.com
5. Tea lights
Low (three-quarters of an inch high) and petite (one-and-a-half inches wide), they are usually housed in snug-fitting containers.
Clear-cup tea lights, taghomedecor.com
6. Floaters
These candles are designed with rounded or tapered bottoms to help them stay afloat in water.
Floating candle, by Ashland Basic Elements, in Ivory, michaels.com
7. Snuffer
An instrument for properly extinguishing a candle, it's generally in the form of a small cone at the end of a long handle.
Shiny Titan snuffer, by Biedermann and Sons, walmart.com
8. Candle adhesive
A soft, waxlike product that helps candles stay put in holders. Most types adhere to wood, metal, and glass.
Stick-Um, by Fox Run Craftsman, michaels.com
9. Wick Trimmer
Designed to facilitate the trimming of wicks, this tool is particularly useful for filled candles.
Perfect wick trimmer, yankeecandle.com
10. Bobeche
It's a collar, usually made of glass, that attaches to the base of a taper candle (on top of a candlestick) to catch melting wax.
11. Novelty Candles
Pyramids, balls, and other unusual shapes fall into this category.
Ball candle, in Large, creativecandles.com