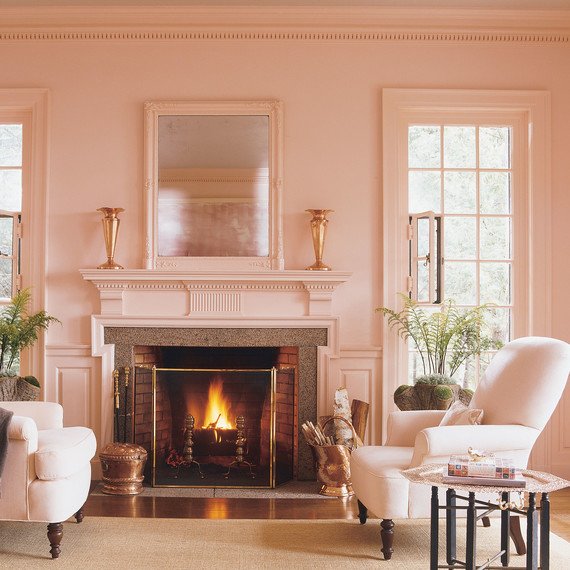 Martha's home on Mount Desert Island in Maine is called Skylands. The estate is known for its ultra-lavish grounds, but adjacent to the main house is a charming guest cottage—and the inside of this home is a vision in pink. As Martha explains it, "When I first laid eyes on Skylands, a 1925 summer house, I could have never believed that one day I would I would own such a wonderful piece of American architectural history, a place that evokes an era gone by." Indeed, before Martha bought the estate, it was owned by Edsel Ford's family and then by the Leedes, a large family from Texas and Colorado. "My goal has been to combine the grandeur of the place with true comfort and real warmth. "People go in there and they just want to lie in bed and read, or sit on the terrace and look at the view," Martha says. "It's an idyllic little place." 
Here are some lessons to learn from this charming cottage.
1. Pink Isn't Just for Princesses
Martha chose a serene shade of pink for the living room—and similar shades of blush for the entire guest cottage, for that matter. She chose this monochromatic decorating tactic to create a cohesive, welcoming flow throughout the house. And it works. What could have easily been a Barbie Dreamhouse in the wrong hands is a sophisticated, feminine space under Martha's guidance. She says that the color highlights "the loveliness of the interiors."
2. Window Frames Don't Have to Be White
If you look closely, you'll see that Martha covered the window frames (and even the mirror frame above the mantel) in the same pink as the walls. She's used this strategy in some of her other homes as well. "I don't paint my window frames white anymore," Martha says, "because the bright trim interrupts the view outside." And when you have a view like Martha's (see the Skyland grounds here), you can understand why she'd feel this way.
3. If the Fireplace Is the Focal Point, Make It Sizzle
We've done a lot of coverage on decorating the fireplace, and for good reason: Part of the appeal of gathering around a crackling fire is the vision of it all. Here, Martha uses a stately granite fireplace surround and a traditional, gilded fireplace screen. A matching Craftsman-era copper vessel holds extra firewood, and fireplace tools with intricate copper handles are there to stoke the fire. Their rosy luster reflects the glow of the walls in the living room and catches the flickers of the fireplace, which is put to work on Maine's colder summer days and nights. Echoing the gold fireplace accoutrements are two gold vases, which flank the otherwise bare mantel above. A simple sisal rug and soft, neutral furniture let the fireplace setup steal the show.