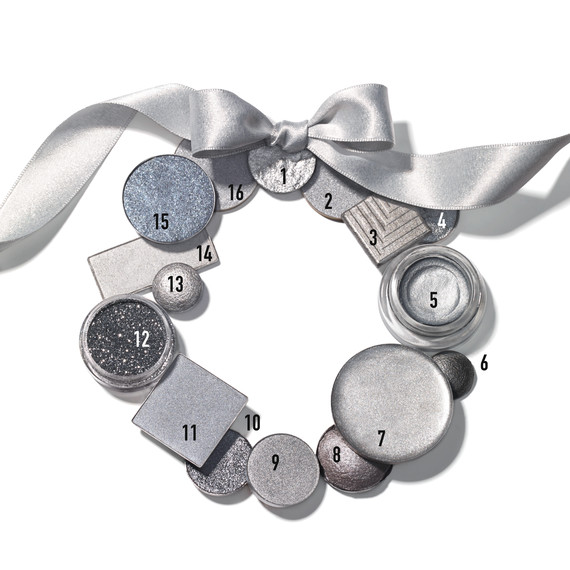 1. Stila Magnificent Metals Foil Finish eye shadow, in Comex Platinum, $32, stilacosmetics.com.
2. Kat von D Metal Crush eye shadow, in Static Age, $21, sephora.com.
3. Nars Dual-Intensity eye shadow, in Lysithea, $29, narscosmetics.com.
4. M.A.C eye shadow, in Electra, $16, maccosmetics.com.
5. Maybelline Color Tattoo Metal 24HR cream-gel shadow, in Silver Strike, $7, maybelline.com.
6. Chanel Quadra eye shadow, in Tissé Smoky (one of four shades), $61, chanel.com.
7. Obsessive Compulsive Cosmetics Crème Colour Concentrate, in Mercury, $23, nordstrom.com.
8. NYX Cosmetics Baked shadow, in Silver Haze, $6, nyxcosmetics.com.
9. Benefit Longwear eye shadow, in Blingo!, $20, benefitcosmetics.com.
10. Urban Decay Moondust eye shadow, in Moonspoon, $21, urbandecay.com.
11. Bobbi Brown Shimmer Wash eye shadow, in Sterling, $24, bobbibrowncosmetics.com.
12. Make Up for Ever Glitters, in Silver, $15, makeupforever.com.
13. Chanel Quadra eye shadow, in Tissé Smoky (one of four shades), $61, chanel.com.
14. Maybelline New York Expertwear, in NY Silver, $4, maybelline.com.
15. M.A.C Pressed Pigment eye shadow, in Smoky, $22, maccosmetics.com.
16. Make Up for Ever Artist shadow, in Platinum, $21, makeupforever.com.
1. Choose Your Shadow
When it comes to shimmery eye shadow, keep it sheer for day, and amp up the intensity for evening. Shades abound: Pick from the constellation of offerings on the previous page, then choose one of these options:
A subtle highlight
Apply your usual eye shadow, then dab silver shadow in the middle of the lid or corner of the eye, or sweep some in above the crease.
A little drama
Brush a silver cream shadow from lash line to crease, then blend a deeper tone—like navy, burgundy, gray, or brown—into the crease.
Full-on festive
Smudge a pewter eye shadow along the upper and lower lash lines with a small, tightly packed bristle eye-makeup brush.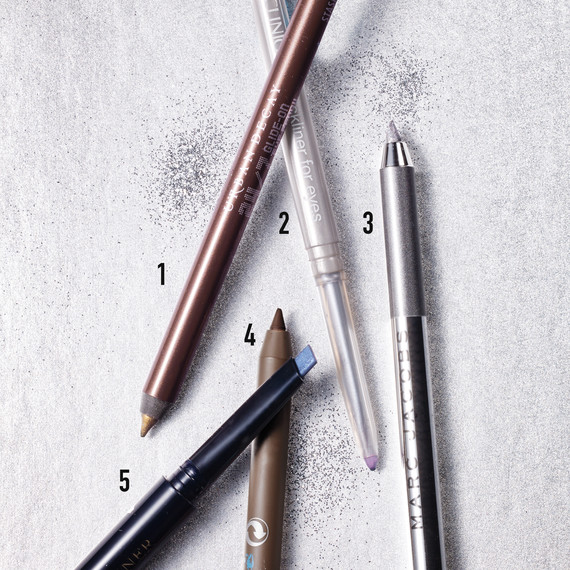 1. Urban Decay 24/7 Glide-On eye pencil, in Stash, $20, urbandecay.com. 
2. Clinique Quickliner for Eyes, in Grape, $17, clinique.com. 
3. Marc Jacobs Beauty Highliner gel eye crayon, in Stone Fox, $25, sephora.com. 
4. Sephora Collection Waterproof Contour matte gel eyeliner, in Espresso Your Love, $14, sephora.com. 
5. Dior Diorshow Waterproof Pro Liner, in Pro Blue, $32, dior.com.
2. Find the Right Liner
Eyeliner helps eyes stand out while also making lashes appear thicker. The trick is to keep it close to the upper lash line and, if you choose, along the lower lash line, too. Colored liners help open up the eye, while balancing the gilded effect. Schlip's rule of thumb: Choose a shade that contrasts with your natural eye color or match the tone, as suggested here:
Blue eyes
Think navy, copper, or brown.
Green eyes
Reach for a forest green or deep aubergine.
Hazel eyes
Olives and browns are a safe bet, as is steel or cobalt if your eyes run grayer.
Brown eyes
Chocolate, moss green, eggplant, and grayish blues all flatter.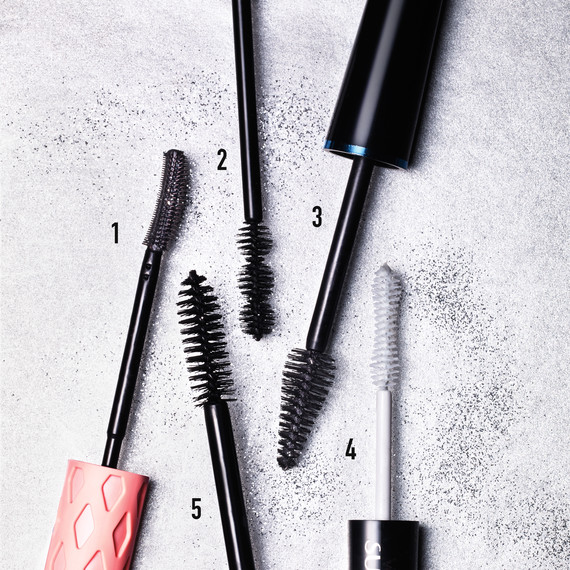 1. Benefit Roller Lash mascara, $24, benefitcosmetics.com. 
2. Givenchy Noir Couture 4-in-1 mascara, in Black Satin, $33, givenchybeauty.com. 
3. Make Up for Ever Aqua Smoky Extravagant waterproof mascara, $24, makeupforever.com. 
4. L'Oréal Paris Voluminous Superstar primer and mascara, $11, lorealparisusa.com. 
5. Laura Geller DramaLash Maximum Volumizing mascara, $24, laurageller.com.
3. Dress Up Your Lashes
Innovative mascara formulations with ingredients like collagen, panthenol, and keratin leave lashes feeling soft, while novel wand designs deliver a fanned-out fringe minus the clumps. Follow these tips for a clean application.
Curl
Eyelash curlers are the pushup bras of makeup: Without them, lashes just droop. Get as close to the lash line as you can and crimp gently, then gently "walk" the curler out as you crimp two more times.
Wiggle
Place the mascara wand at the base of the lashes. Shimmy it from side to side while pulling the brush toward the tips to ensure that you coat every lash.
Tap
Layer mascara as needed, especially on the outer lashes. For the most natural look, simply touch the wand to your bottom lashes to gently color them.
Easy on the Eyes
The best reason to add a swipe of silver: "It's very youthful," says Schlip, who turns to this tone to obscure redness in and around the eyes while also giving them a little lift (and who couldn't use that?). For eye-popping results that never look out of place, follow her foolproof three-step method, and pair the final effect with soft pink or peach blush and lips.