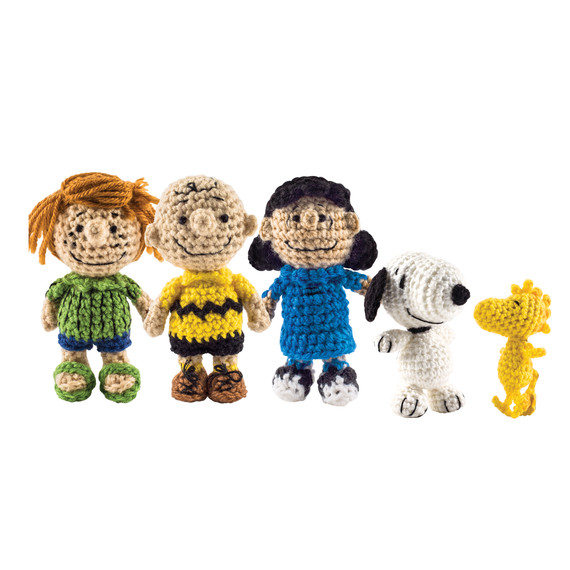 When Kristen Rask was a little girl, she loved her dad's toolbox.
She would spend hours hanging out in his office, where he worked as a graphic designer and artist. The room was piled high with the tools of his trade –- markers, a tape recorder, papers, paint, and easels. But he had one particular item that always caught her attention the most: his art supply box, which was plastered in colorful depictions of the Peanuts characters.
So when her father passed away a few years ago, and she inherited the box, she was reminded of those fond memories. "When you grow up surrounded by that much creativity," Rask says, "you don't realize how it much it influences you."
Today, as a prominent toy shop owner and toy maker, she has made it her mission to share the joy of toys. And her latest project is a dedication to both her father and her craft.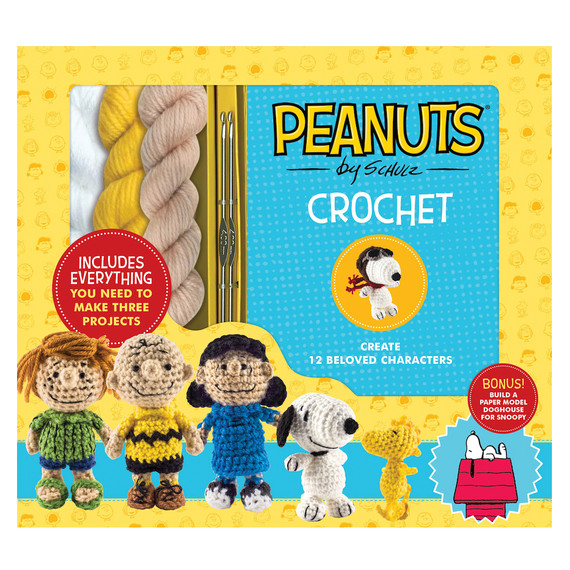 The Book
It's called "Peanuts by Schulz Crochet," an all-inclusive kit that includes a book of patterns with step-by-step instructions to create 12 characters from the classic comic strip, plus a bonus paper doghouse for Snoopy. Also included are five colors of worsted-weight yarn, two metal crochet hooks, fiberfill stuffing, black embroidery thread, and a tapestry needle –- basically, everything you need to make your own "Peanut" gallery.
In the book, the first few pages introduce the terminology and crochet techniques. After that, pick a pattern of the character you'd like to crochet. To create the patterns, Rask collaborated with a handful of fellow toymakers including Twinkie Chan, Denise Ferguson, Kandice Soraya Grate, and Rachelle Smith. "When this idea came about, I knew I wanted them to work with me," Rask says. "We've all worked very closely together." They provided the base design for each character and developed them as needed for the instructions. Most characters are the same height at approximately 5 inches tall, with the exception of Snoopy and Woodstock, who are shorter. Of course, these crocheted characters will appeal to anyone who is a fan of the Peanuts, but it's really recommended for crocheters at an intermediate skill level.
This book comes out just in time to coincide with the release of "The Peanuts Movie," now in theaters -- that's 50 years after Charles M. Schulz's cartoon characters first won the hearts of America with "A Charlie Brown Christmas."  That is a long legacy to try to uphold.
So, we asked Rask, What would Charles M. Schulz think of his characters crocheted to life? "I'd like to think that he would appreciate the craftsmanship and design sensibility," Rask says hopefully. "And I mean, I think even he would have to admit they're super cute!" That, Rask says, is part of the timeless appeal of the Peanuts and plush toys in general. "You would think that these toys are meant for kids, but really, adults love them just as much," she remarks. "They remind us of a nostalgic time in our childhood. You can't look at them and not feel happy!"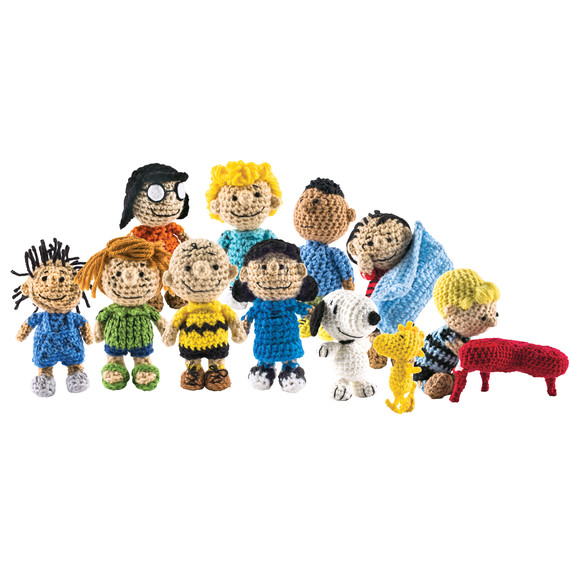 And besides, as Rask says, "Who doesn't have a soft spot for Charlie Brown?"