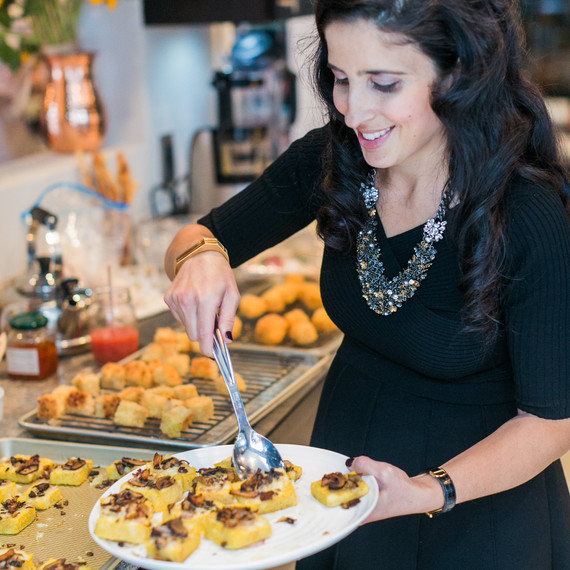 What an amazing time I had planning and hosting my "Appetizers" event! I chose to have a "Fall Harvest Soiree" to welcome the fall season and highlight seasonal ingredients. Looking through Martha's "Appetizers" book, I picked recipes that were hearty and warming to balance the cool air fall brings. It was so hard to narrow down a menu because there were so many recipes I wanted to try! I finally chose my favorites; my menu consisted of:
Appetizers
Cayenne Spiced Mixed Nuts
Popcorn Bar
Olive-Caper Tapenade
Marinated Bell Peppers
Caponata
Cheddar & Gruyere Crackers
Puff Pastry Cheese Straws
Crostini
Cheeseboard
Arancini
Pistachio-Stuffed Dates
Roasted Polenta Squares with Fontina and Wild Mushrooms
Fried Macaroni & Cheese Bites
Treats
Fudgy Brownies
Pumpkin Cookies with Browned Butter Icing
Seasonal Sips
Apple Cider Sangria
Mulled Blood Orange Punch (w/Prosecco)
I really had fun trying the new recipes, especially the fried macaroni & cheese bites! I had never made anything like those before and it was so exciting to see the finished product: perfect, crispy macaroni and cheese cubes! I also loved all the tips Martha had in her book to make things in advance, especially her tip to freeze the pistachio-stuffed dates after assembling. It was a real time-saver!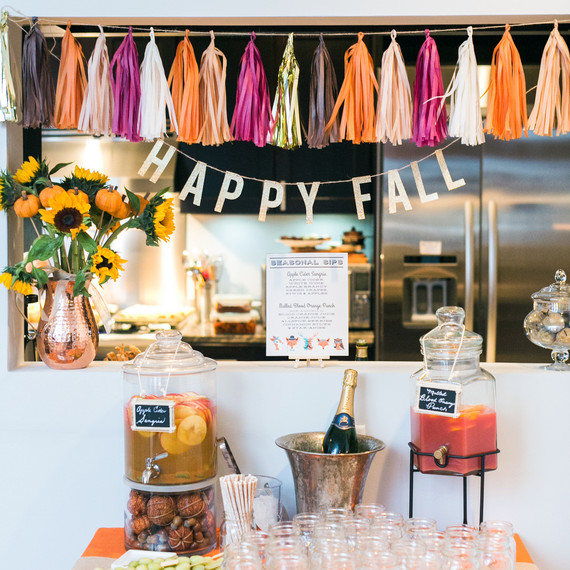 The "Seasonal Sips" were served in mason jars and both went quickly! For the sangria, I had skewers of frozen grapes instead of floating them in the drink to add a unique twist. And my preganant guests (myself included!) enjoyed the mulled blood orange punch. Mulling the blood orange juice with the spices made the drink so flavorful that it didn't need the addition of a spirit.
I rounded out the appetizers and sips with some seasonal treats -- rich chocolate fudgy brownies and pumpkin cookies with browned butter icing.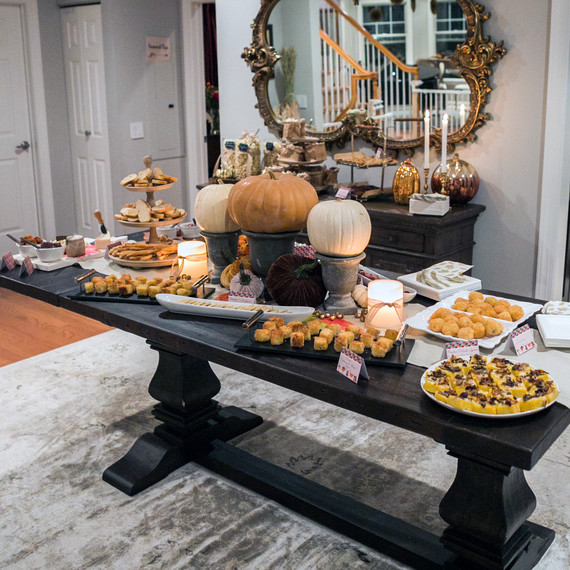 I had a great time figuring out how to display all the food so it would look picture-perfect! I chose white, natural wood, and slate-colored serving pieces to create a fall-harvest theme. For the popcorn, I created a bar displaying each flavor in clear glass jars with chalkboard labels. For the antipasti board, I placed parchment cheese leaves in subtle fall colors under the cheeses to have a nod to the autumn season. The leaves were a perfect complement to the white paddleboard from the Martha Stewart collection at Macy's!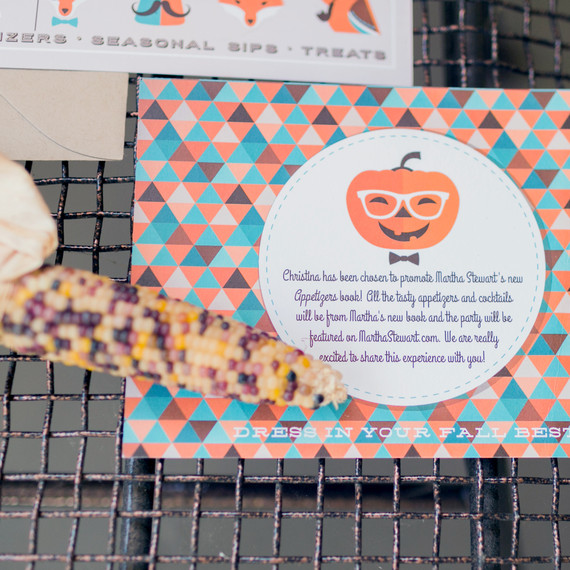 For decor, I used elements from nature. When I went apple picking in New Jersey to harvest fresh apples for the apple cider sangria, I picked up dried corn and a variety of pumpkins and squashes (kabucha, golden hubbard, blue hubbard and sugar pumpkins to name a few) to decorate our house festively. I also added some mercury glass and glittered pumpkins to the mix to bring some sparkle to the fall theme. For the cocktail area, I wanted to make it special since it was in a room off to the side. I made a tassel banner to go along with a "Happy Fall" sign that hung right above the "Seasonal Sips" table. I also highlighted all the ingredients in the two cocktails by having a drink menu designed to match my Fall Harvest invitation suite. Along with the mason jars and the paper straws that looked like branches, the cocktail area definitely tied in with the theme!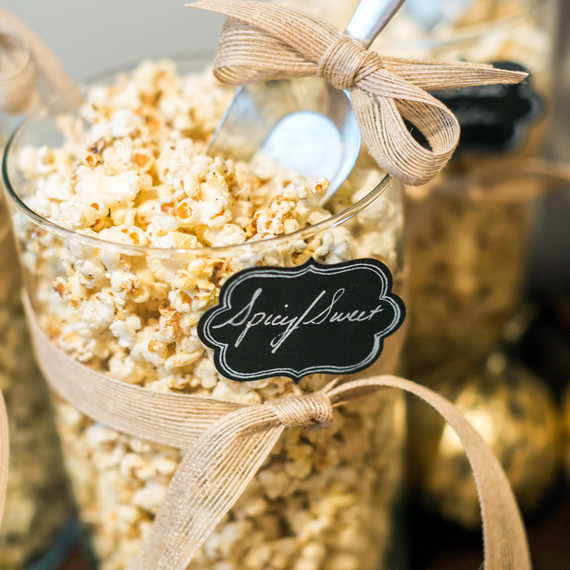 I know my guests thoroughly enjoyed all the tasty bites I served from "Martha Stewart's Appetizers" book. I'm sad it is over because I can't express what a joy it was to plan and host this party! I guess I'll just have to have another one soon!
 
Professional photos taken by Brandi Schaffran-Webb of Alexis June Weddings. Invitations, menu cards, and cocktail signs designed and printed by A Pretty Little Party.

Tassel banner kit and "Happy Fall" banner from StudioPep