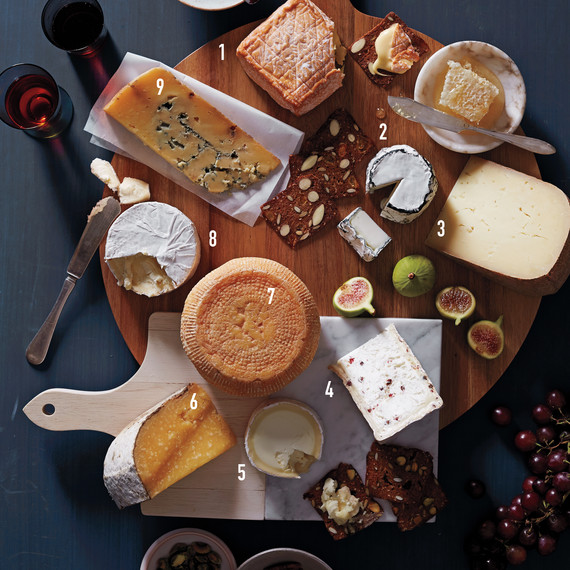 1. Good Thunder
Alemar Cheese Company
Minnesota
Inspired by the French cheese Reblochon, this irresistibly pungent, nutty washed-rind cheese spreads easily over a crisp cracker or piece of crusty bread.
$11 for 7 oz., alemarcheese.com
2. Cavalry Camp Ash
Georges Mill Farm Artisan Cheese
New York
Vegetable ash is dusted onto this young goat cheese before it is aged. The result has a delectable earthy taste and a distinct black-and-white rind.
$8 for 4 oz., georgesmillcheese.com
3. Singing Brook
Blackberry Farm
Tennessee
Its mild, nutty flavor makes it a natural for canapés as well as grits. A Manchego-like aged sheep's cheese, it's semisoft and has a hard rind.
$32 for 1 lb., blackberryfarm.com
4. Peony
Rivers Edge Chèvre
Oregon
Delicious on its own or crumbled over a salad, this fresh goat cheese bursts with fragrant, spicy pink peppercorns.
$32 for 1 lb., riversedgechevre.com
5. Garretts Ferry
Many Fold Farm
Georgia
From the Chattahoochee Hill Country, this soft, milky sheep's cheese makes an exceptionally mouthwatering match for cranberry-pistachio crackers.
From $14 for ½ lb., murrayscheese.com
6. Havilah
Cherry Grove Farm
New Jersey
Aged for 15 to 18 months, this hard cheese is made from raw cow's milk. Serve it with honey and walnuts, or grate it over pasta.
$23 for 1 lb., cherrygrovefarm.com
7. Hooligan
Cato Corner Farm
Connecticut
A twice-weekly brine bath for two months before packaging ensures pungency for this award winner. Made from pasture-raised Jersey cow's milk, it melts beautifully.
$30 for 1 lb., catocornerfarm.com
8. Kunik
Nettle Meadow
New York
This buttery triple cream blends tangy goat's milk and rich Jersey cow's cream for a flavor and texture that resemble those of classic Brie, but with zing.
$35 for ½ lb., murrayscheese.com
9. West West Blue
Parish Hill Creamery
Vermont
A drizzling of good maple syrup helps bring out the flavor of this hearty Gorgonzola-style blue cheese.
$24 for 1 lb., parishhillcreamery.com
Crackers, jansfarmhousecrisps.com
Wood-and-marble cutting board with knife and round acacia paddle cutting board, by Martha Stewart Collection, macys.com