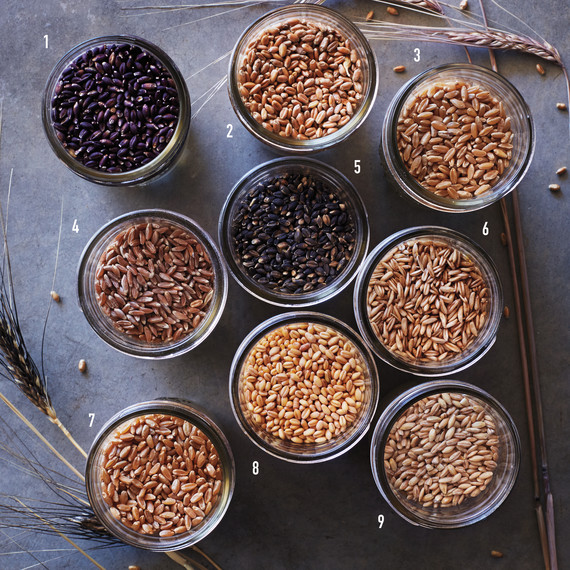 1. Tibetan Purple Barley
This striking heirloom, brought to the United States from Tibet in 1924 and then forgotten in a seed bank until recently, adds a sweet, smoky flavor to soups, salads, and pilafs -- and it's delicious as a breakfast cereal; try it in our Sweet Breakfast Bowl. You can also grind it for use in baked goods or brew it into a tea.
2. Red Fife Wheat
With a faint scent of herbs and cinnamon just after milling, this 19th-century favorite bakes into deliciously rich baguettes and boules, as well as crisp crusts for pizza.
3. Durum Iraq
Nutty and sweet, the wheat is favored by bakers for semolina breads; it makes a great golden-hued pasta, too.
4. Emmer Farro
Farro is both savory and chewy -- a natural fit for soups, such as our Farro-Mushroom Soup, and salads. You can also use it ground, as we did for our chocolate-chunk cookies.
5. Black Nile Barley
The possibilities for this plump, chewy barley are endless: Simmer it in soup, mix it into a pilaf, use it for risotto, or make it the star of your breakfast with our Savory Breakfast Bowl.
6. Streaker Oats
Not your typical oat, this heirloom variety has a subtle buttered-toast flavor that makes it a nice match for milk and berries.
7. Blue Beard Durum
Have a robust sauce in mind? The flour from this grain yields a sturdy, flavorful pasta that will stand up to it.
8. White Sonora Wheat
Ground into flour, this subtly sweet wheat, one of the oldest varieties in North America, slips naturally into baked goods, whether a moist muffin or a flaky pie crust.
9. Bronze Barley
Caramel undertones, a subtle earthy scent, and a sturdy texture make this barley a lovely addition to soups, casseroles, and pilafs. (Saute it first to bring out its nuttiness.)