Rich and cheesy, browned and bubbly, our rendition of scalloped potatoes shows how a few familiar -- even humble -- ingredients can be transformed into something truly luxurious. As if that weren't enough, the dish can even be prepared ahead -- ideal whether you're cooking the whole Thanksgiving dinner yourself or toting a side dish to a potluck feast. 
Get the Creamy Scalloped Potatoes Recipe
Here's how to make this seriously delicious problem-solver: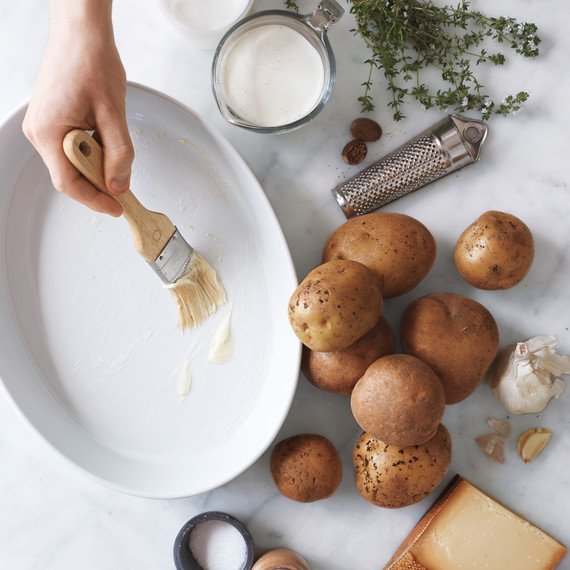 1. Prepare pan and slice potatoes
Preheat oven to 375 degrees. Rub the bottom and sides of a 3-quart baking dish with garlic; reserve garlic. Brush pan generously with butter. Peel potatoes, then cut into 1/8-inch-thick rounds.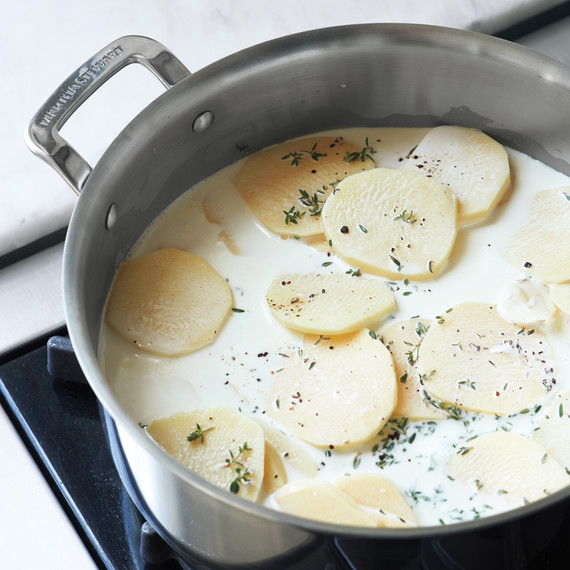 2. Boil potatoes
Transfer potatoes and garlic to a large pot with cream, milk, thyme, 1 tablespoon salt, 1/2 teaspoon pepper, and nutmeg. Bring to a boil over high. Reduce heat to medium and simmer 1 minute. Let cool slightly, about 10 minutes.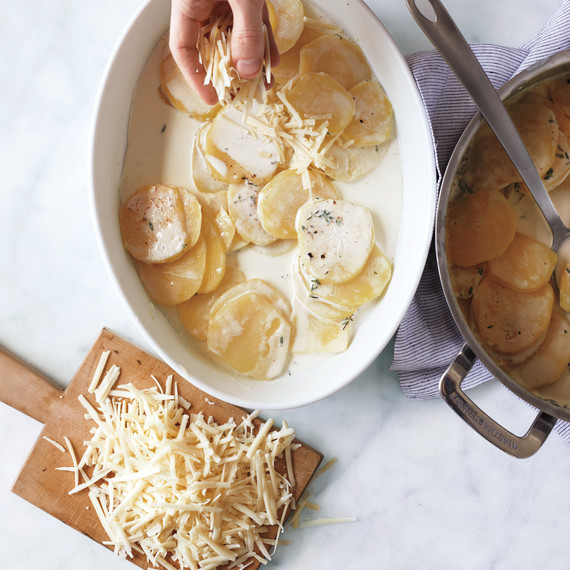 3. Assemble dish
Spoon one-third of potato mixture into prepared dish. Sprinkle with one-third of cheese. Repeat layering twice more. Loosely cover dish with parchment-lined foil.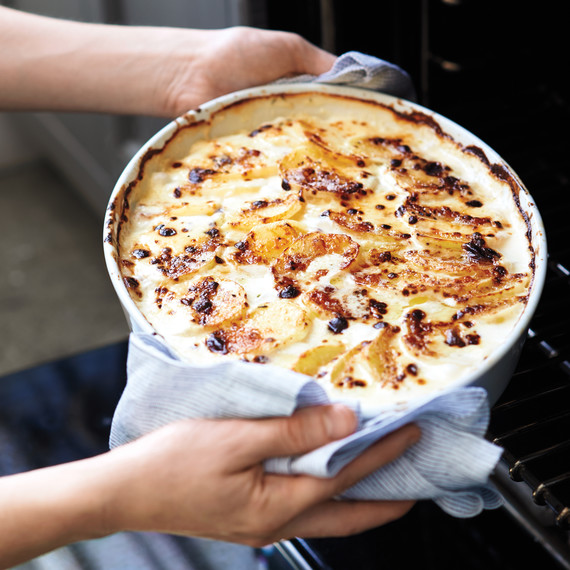 4. Bake and broil
Bake until potatoes are tender when pierced with the tip of a knife, 35 to 40 minutes. Remove foil; turn oven to broil. Broil until potatoes are bubbly and browned in places, 3 to 5 minutes. Let cool 15 minutes before serving.
Indispensable Ingredients
This dish has few ingredients, so each one really counts. Don't wing it with substitutes for Yukon Gold potatoes, which hold their shape well when baked, or Gruyere, a richly flavored melting cheese.
Get the Creamy Scalloped Potatoes Recipe