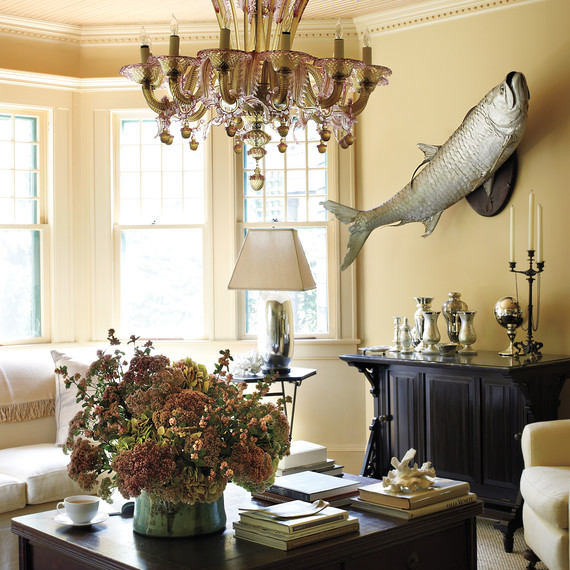 1. Have Fun with Wall and Ceiling Color Combinations
Believe it or not, this room used to be a study of white on white. But the contrast between that and the lush, green garden and trees outside just didn't look right. So Martha decided to let the nature outside inspire the decor inside. She updated the living room without doing anything too drastic; she kept the same basic furnishings. But she painted the walls a unique shade of warm yellow and the ceiling a specific shade of pink. Both reiterate the pink-and-yellow Venetian glass chandelier, which hangs regally in the center of the room.
Living Room Paint Colors
2. Make a Statement Piece the Focal Point
Martha's giant mounted tarpons are trophies from early-20th-century sports fishermen. She has a collection of them, but only one is seen here; another hangs above a sofa in the same room. Tarpons are native to the Atlantic Ocean and can grow to up to eight feet long!
11 Living Room Decorating Ideas Every Homeowner Should Know
3. Combine Textures Creatively
Martha's Lily Pond living room incorporates glazed linen furniture, metal tables, a nubby rug, painted wood, groupings of mercury glass, and of course, lush plantings. In a monochromatic room, mixing textures is a great way to add interest and diversity, both visual and tactile.
Living Room Decorating Ideas
4. Style Your Tabletop Like a Bookshelf
East Hampton literature in both hardcover and paperback, decorative coral, a large arrangement of sedum (also known as 'Autumn Joy'), faded hydrangeas, and snowberries adorn Martha's coffee table in this photo. But it won't look this way for long; Martha loves to experiment with different bouquets, whether they are large or small, exuberant or understated.
Real Page-Turners: Our Favorite Bookshelf Organizing Ideas