We bought our fixer-upper ranch home, located just outside Los Angeles, about two years ago. Since there was so much work that needed to be done to the house, we waited to do any decorating until we finished most of the essential renovations. I had so many visions of what I wanted it to look like, but with an overload of inspiration on Pinterest, I couldn't choose one theme, color, or anything! So, I asked my friend Sarah Sherman Samual to help pull it all together. I highly recommend consulting with a designer you trust and like because it saved me so much time, and the decision-making was much more manageable! Sarah nailed my modern, rustic aesthetic and helped me think outside the box on items I might have never chosen -- which now happen to be my favorites!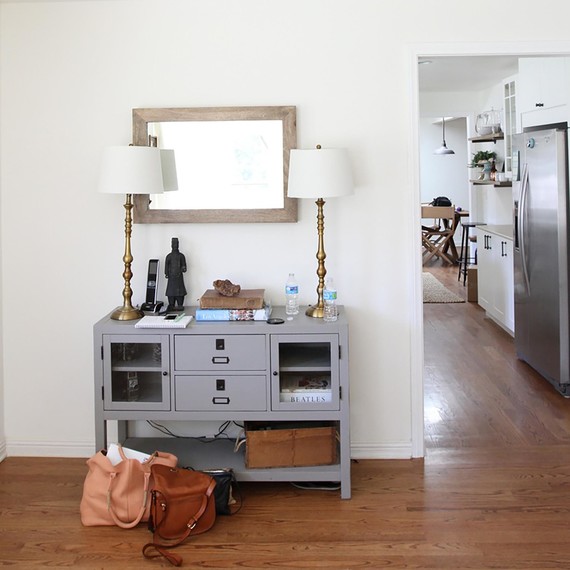 Before:
As you can see here, the entryway was a total disaster! I mean, literally some of those items are from college (yes, college!) and they had to go! Sarah and I both thought it would be the perfect place for a gallery wall and a long bench. So out with the lamps and the gray console (which I actually ended up painting and using outside) and in with the gallery wall that took me months to create -- ha!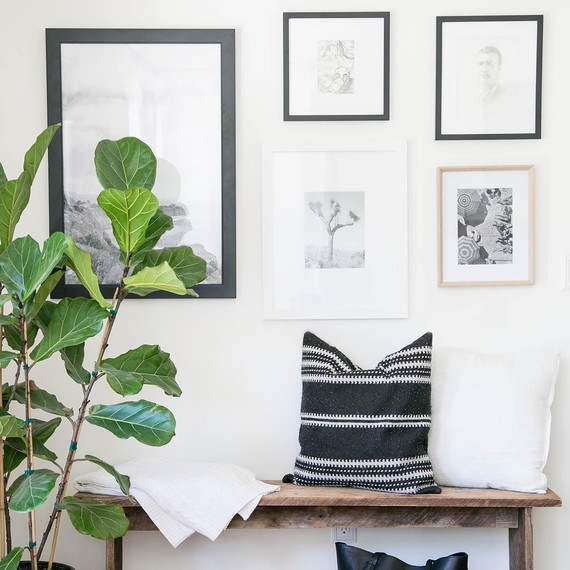 After:
Choosing the art and laying out the gallery wall wasn't an easy task! I wanted the art to be meaningful to us so I chose two photos my husband took, a pencil drawing he created in high school, an old black-and-white photo pulled from a Los Angeles coffee table book we've had for years, and then a drawing of Teddy Roosevelt because, well, we like him in our house. Fun fact: Teddy Roosevelt's mother's name was Martha Stewart "Mittie" Bulloch!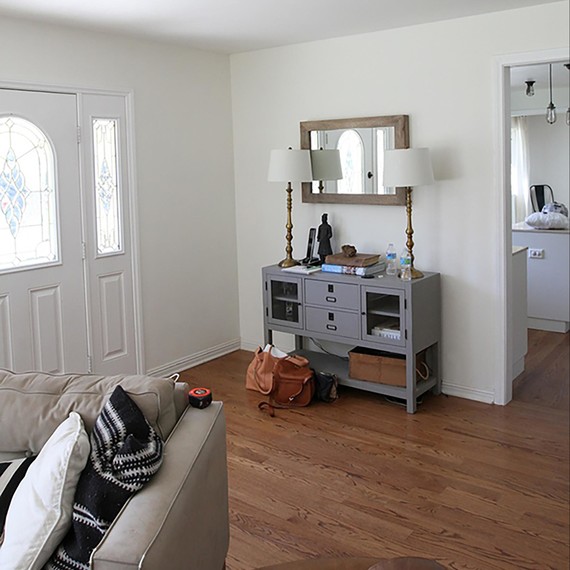 Before:
We also knew that a new front door would make a tremendous difference in the look of the living room and the curb appeal of the house. The '80s door with an ornate gold design and small window panels wasn't going to cut it!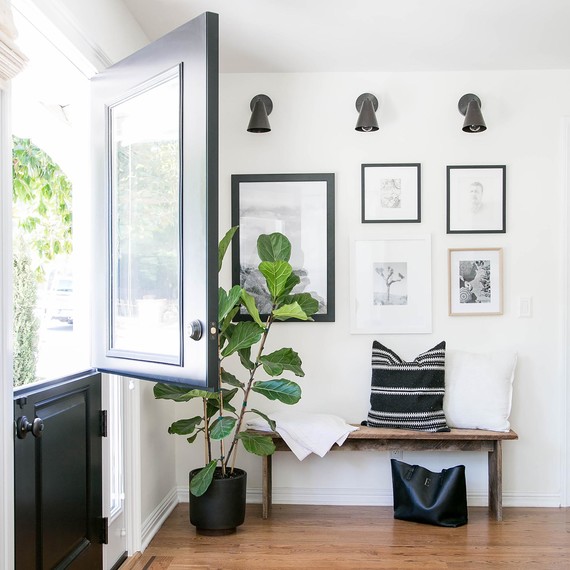 After:
My dream was to have a Dutch door, so we sought out the best local company to make our dream door a reality. We did hours and hours of research ... just on the door. Thankfully our efforts paid off and we love the way it looks. My family thinks it's lots of fun to open just the top when we get a knock at the door. My son likes to pop his head out the top and say, "Welcome to our home!" I think it's pretty cute.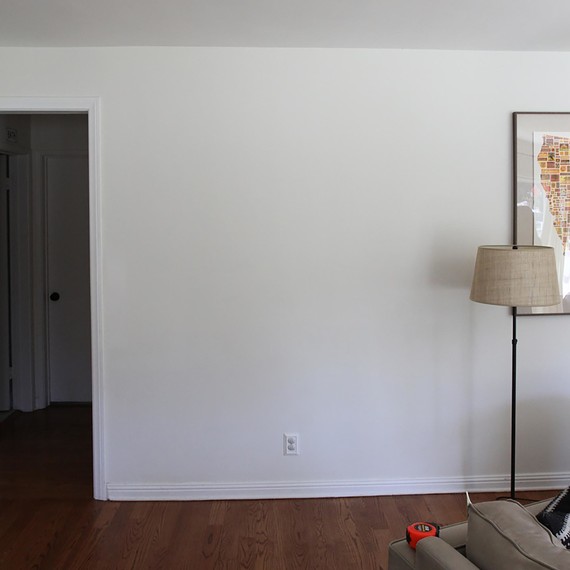 Before:
When you walked through the front door, you saw this -- yes, nothing! I had yet to even put anything there, so it was a white wall for most of the year. In December, we placed our Christmas tree there for two months. Other than that, this wall needed some serious help!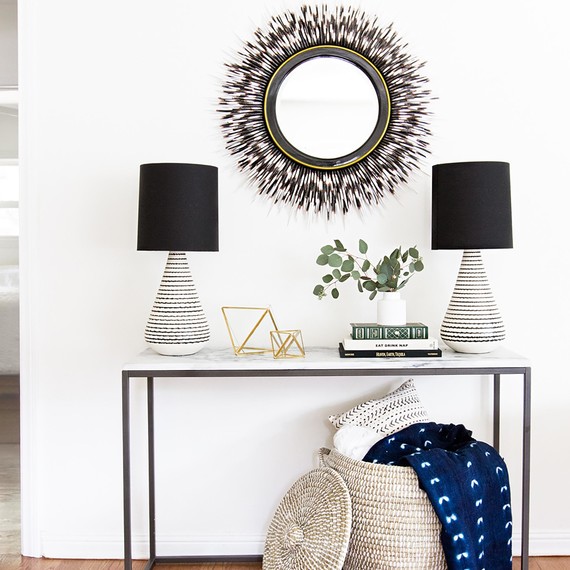 After:
To go with the rustic, modern theme we have throughout the living room, Sarah found this awesome faux porcupine mirror that fit perfectly with our theme. It's such a great staple piece and everyone comments on it, as it's the first thing they see. We also switched out the old console with a simple yet more modern one and purchased the lamps. It tied everything together very nicely.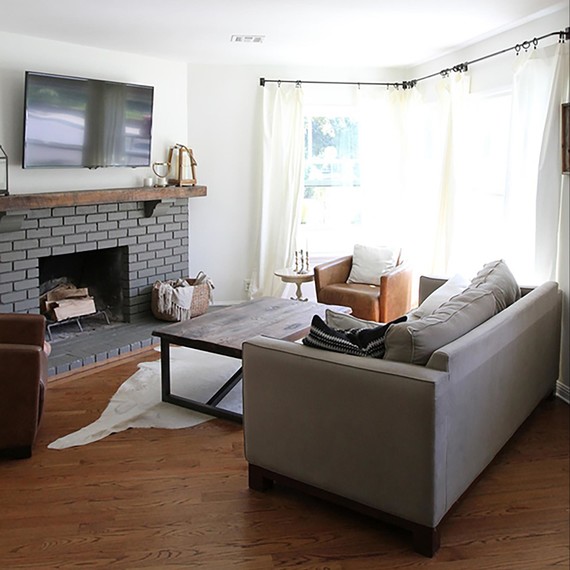 Before:
The entire room lacked a fresh, vibrant look and feel. It was very bland; the gray fireplace, off-white curtains, muted green couch, and leather chairs were all working together to create a boring room. I was so ready for a massive refresh.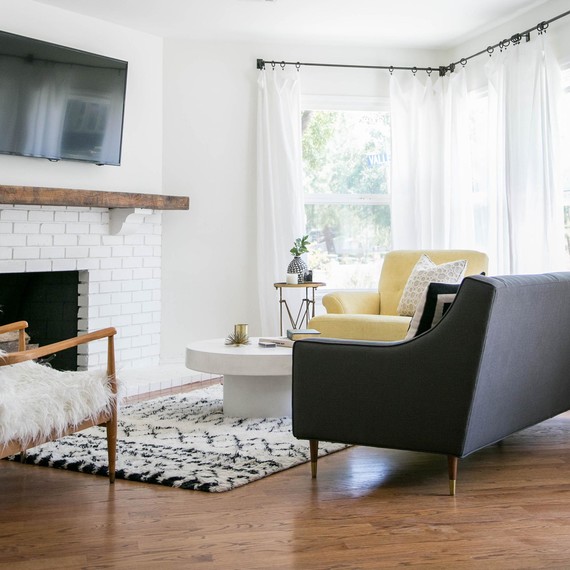 After:
To brighten the room we painted the fireplace white. I used Polar Bear by Behr on that and gave it two thick coats. We also bought bright white linen curtains rather than off-white, and that helped brighten up the windows while still allowing for privacy. The couch is one of my favorite pieces because I designed it with the team over at Viesso. I chose the style of the couch, the fabric, color, height, legs, etc., and it turned out exactly the way I had hoped.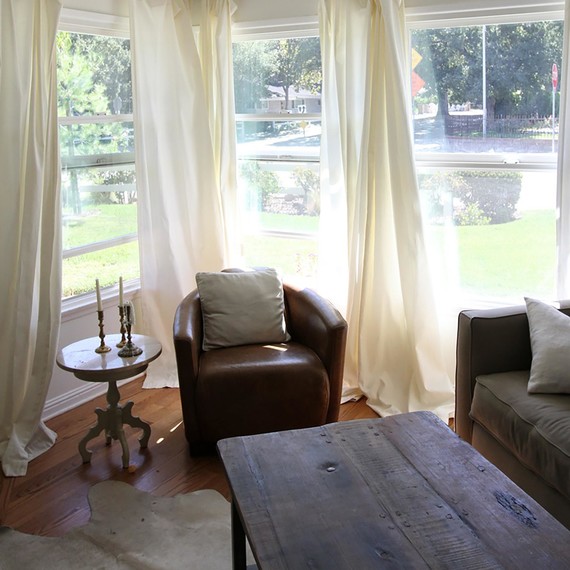 Before:
This reading nook wasn't the worst area ever. But it did lack character.
After:
We brightened the corner up with a sunny and very charming yellow chair. It's my favorite spot to enjoy my morning latte and write emails before the sun comes up.
You can see everything I purchased at Sugar and Charm!