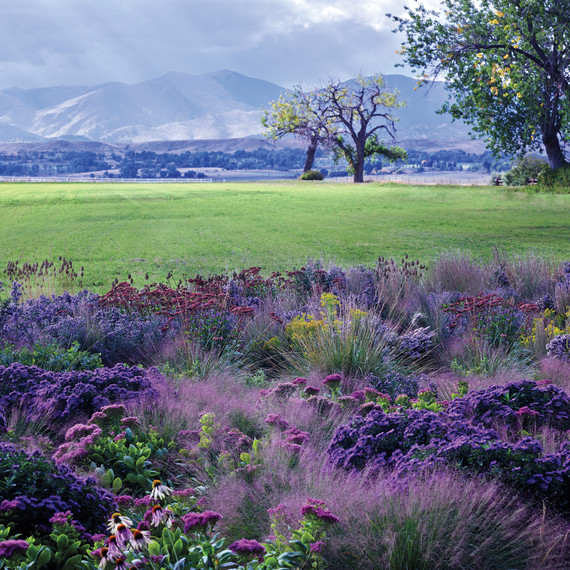 by Carol Williams
A haze of grasses, asters, and goldenrod catches light as the sun goes down over the distant Rockies. Plants and mountains resonate. This rich quarter-acre of prairie meadow is the fruit of connections: human ones, as well as those between cultivated and natural landscapes.
The meadow grows just beyond the deck of the farmhouse where Larry Scripter has lived for 25 years, farming the surrounding fields near Boulder, Colorado. He never thought to garden. Weedy junipers obscured his view.
Eight years ago, Larry met Mary Jackson. Both soon recognized their good fortune in finding each other, and they married. After thinking about what she wanted for the garden, Mary enlisted the help of landscape designers Lauren Springer Ogden and her husband, Scott Ogden.
Lauren and Scott, authors of Plant-Driven Design (Timber Press, 2008), believe that the key to successful landscape design lies in the choice of plants. Plants must belong to the place where they will grow. They need not all be native but must possess the qualities to both thrive in and express the character of their intended spots. In Mary and Larry's high-plateau garden, that translated into the ability to survive subzero temperatures in winter and 95-degree heat in summer, as well as no more than 12 to 14 inches of rain a year.
The view west is the focus of the garden. Mary wanted a meadow that would be its foreground throughout the year. Lauren designed a series of matrices: bands of perennials that flower sequentially and combine beautifully with one another, as well as with certain grasses and sedges. Each matrix weaves throughout the meadow: jewels in a subtle, ever-changing setting of low grasses and foliage. So, for example, ribbons of mauve pasqueflower, blue fescue, and burgundy burnet open early in spring. As these fade, bands of dwarf blue indigo, scarlet and salmon Oriental poppies, and prairie dropseed seize their moment.
Early in the first spring, Lauren laid out a few demonstration matrices. Enriching the design were eager participants Mary and Larry. Though respectively in their 60s and 70s, they would carry out all the work of installing and maintaining the garden themselves.
Tour a Breathtaking Garden That's Rooted in History
During three weeks in May—with occasional help from extended family—Mary and Larry planted 1,800 small plants from pots that ranged in size from one gallon to two and a half inches. They mulched with gravel chips to help maintain moisture, then laid out two gravel paths. That fall, they planted 1,500 bulbs: daffodils, camassias, and alliums.
As plantings continue to fill out, the need to weed lessens. Watering is minimal: occasional hot-spell relief from an overhead sprinkler. Each year, in late winter, Mary and Larry spend a week cutting all the grass clumps to the ground. Then comes the meadow's still point: It lies bare and stony. Soon the first green tips of daffodils appear, and the year's cycle begins again.
A meadow must grow and change, or fail. It requires a gardener's sharp eyes, educated taste, and steady hands. Note must be taken of what thrives, what fails. Bullies are cut back, seedlings cultivated. But for Mary and Larry, such work is yet another engaging delight.
Click Here to See the Entire Meadow!