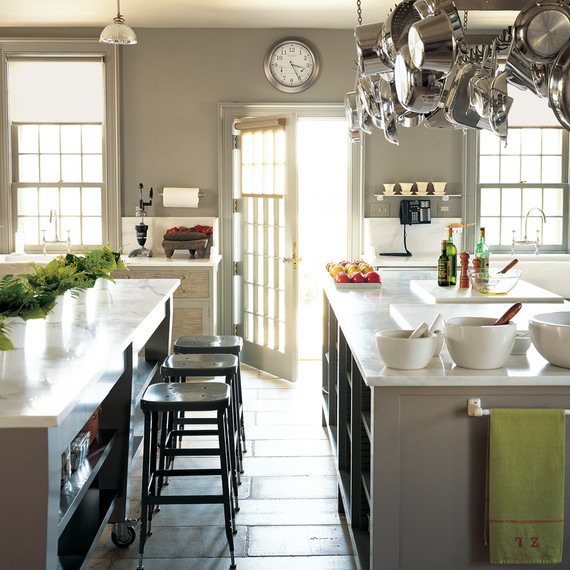 1. Take advantage of the fifth wall -- the ceiling!
An overhead steel rack in Martha's kitchen keeps pots and pans out of the way yet easily reachable at the same time.
2. Got Space? Add an Extra Island
In Martha's kitchen, two islands offer seating and storage. "I plate food for guests on the rolling one," she says of the island on the left, which measures 122 by 28 inches, and 37.5 inches high. For informal suppers, friends sit on 26-inch-tall metal stools painted gray. One side of the island holds cutting boards and platters; dog toys and leashes are on the other. The stationary island, on the right, is the same length and height as the rolling one but is 44 inches wide.
Choosing a Kitchen Island: 13 Things You Need to Know
3. Opt for customizable storage.
Kitchenware sizes and shapes vary, so if you're designing shelving and drawers, make them adaptable to your belongings. Martha loves the steel-lined shelves, storage slots, and drawers built into the stationary storage island in her kitchen (right), where bowls and everyday dishes rest on adjustable shelves.
5 Golden Rules of Kitchen Organization
4. Decorate with things you love to look at.
Just because it's a functional space doesn't mean your kitchen can't be a spot for decor experimentation, "I like to display vintage kitchenware, such as mortars and pestles," says Martha. "Old porcelain-coated towel racks hang in handy places."
The Right Way to Wash Pots and Pans (Yes, There's a Right Way!)
5. Maximize Natural Light
If there's one place where having a lot of light is important, it's the kitchen. Martha has two large windows flanking an exterior door. Make like Martha and choose a door that also has large window panes to let the sunshine pour in!