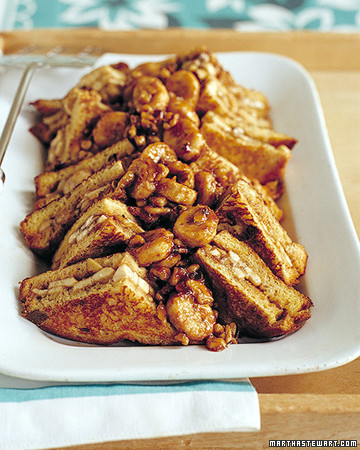 While you prepare your favorite French toast recipe in one skillet (or in the oven, if you're serving a crowd), make the Bananas Foster topping in another: Simply melt butter and brown sugar (and pinches of cinnamon and nutmeg if you like) together, heat until bubbling, and then bathe some bananas in the mixture.
For the piece de resistance, splash some dark rum into the pan, and then ignite it to allow some of the alcohol cooks off. (If you have a gas stove, you can tilt the pan until the flame ignites the alcohol fumes; if working with an electric stove, hold a long match just above the banana mixture til you see licking blue flames rising from the surface. Don't worry -- they'll burn out on their own momentarily!)
Spoon some of the rich and delicious Bananas Foster mixture over each serving of French toast and serve immediately. For bonus points, add a scoop of vanilla ice cream or some toasted pecans.
Ready to let the good times roll? Get the recipes:
And what's even more French than French toast? How about Bananas Foster Crepes?