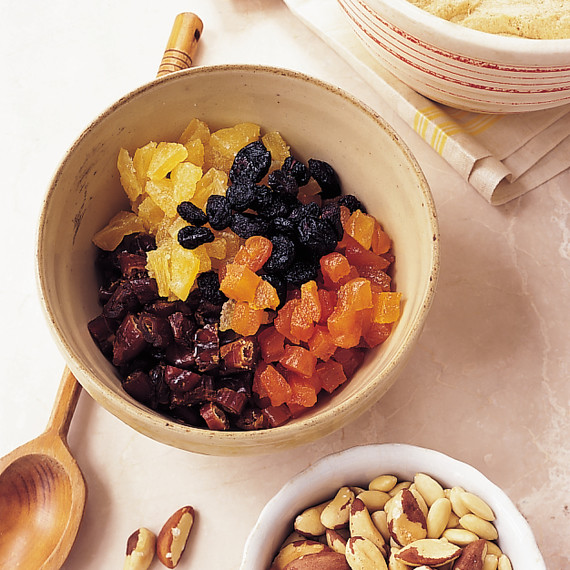 Every family has its own recipe and its own beloved kitchen rituals for preparing Jamaican Christmas cake (also sometimes called Jamaican black cake, black rum cake, or Jamaican wedding cake). Most recipes begin by soaking copious amounts of dried fruit -- raisins, currants, prunes, cherries, orange peel -- in copious amounts of rum and port wine (or sometimes Manischewitz wine), for at least a couple of days. Some cooks soak their fruit for an entire year (!), a process that completely breaks down the fruit into a smooth, dark pulp. For soaking times of less than a year, a food processor comes in handy to break the fruit down into a thick and boozy puree.
A Jamaican Christmas cake needs, in addition to the intoxicating fruit mixture, brown sugar, flour, eggs, and, of course, plenty of warm, Christmassy spices including cinnamon, nutmeg, and ginger. Unique to this particular fruitcake recipe is an ingredient called "browning." Simply a mixture of burnt sugar and water, browning (a.k.a. browning sauce) lends a distinct depth of flavor and deep color to many Caribbean dishes, both sweet and savory. Bottles of browning can be found at any Caribbean grocery, but it's also easy to make your own by melting brown sugar in a saucepan until it's smoking and almost black, then pouring in boiling water to turn it from a sticky mass to a pourable sauce. Use two parts sugar to one part water, and make sure to use a saucepan that holds at least twice the total volume of the sauce, because it bubbles up when you add the water.
Once your Jamaican Christmas cake comes out of the oven, it's not time to eat it -- not yet! First they need to be bathed in rum and allowed to sit for at least a few days, but preferably a few weeks, wrapped in cheesecloth and foil, and opened up for a gentle brushing with rum every three days or so. The aging and soaking process makes the cake even more dense, moist, and intoxicating.
Ready to get baking? Pull out your very biggest mixing bowls and get started. Just be sure to plan ahead: You'll need at least two weeks from start to finish for a perfect Jamaican Christmas cake.
Get our recipe for Moist and Boozy Caribbean Fruitcake
Watch Martha make Caribbean fruitcake with Melissa Clark: