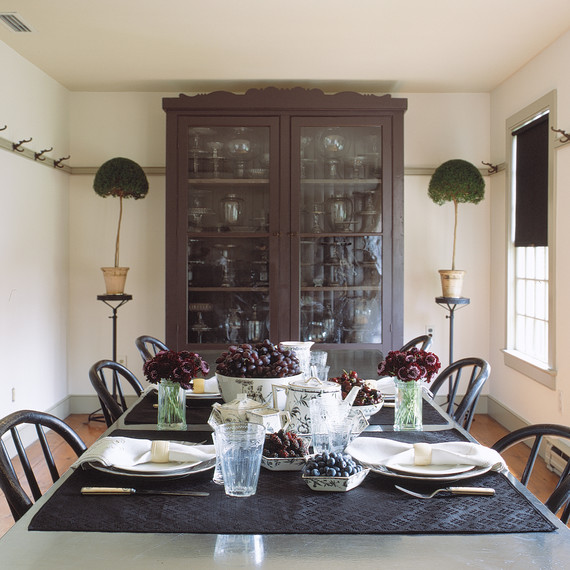 It's a simple idea: Take a well-made piece of furniture and reinvent it by painting it black. Martha tested this theory when redecorating the guest apartment at Turkey Hill, her former Connecticut home. Welcome to the space that was once her dining room yet continues to be a home-design inspiration. Here are a few of our favorite ideas.
1. Use a Single, Unifying Color for the Furniture and Accessories
This gives the room a fresh, clean, classic look. And with a single hue, there is plenty of room for personalization. Beyond true black, there's a whole spectrum of wonderful black shades that are softened by hints of gray, brown, and blue -- as you can see on the galvanized-steel tabletop, black-painted grange chairs, horsehair table mats, and even the black scabiosas (flowers) and the black foods (blackberries, grapes, and cherries) in Martha's dining room.
2. Use a Bold Statement Piece to Anchor the Room
This large cupboard was unremarkable when Martha found it, but when painted in two similar dusky shades -- inside, an almost-aubergine stone brown, and outside, a slightly darker deep caviar -- and filled with clear glassware, it became a handsome and useful focal point.
3. Control Light and Add Drama with Dark Window Treatments
Black window shades are unusual, but they help keep the glaring afternoon sunlight in check. "They work beautifully," says Martha. They look good both inside and out, and when drawn, they keep the space cool and comfortable.
4. Use Cabinet Hardware on Window Treatments
Sound unusual? It is -- in the best possible way. Here, Martha used drawer handles as sleek shade pulls. She also replaced existing Shaker-style wooden pegs along the horizontal wall trim with metal hooks!
5. Carry the Look Throughout the House
By using shades of black in the living room, bedroom, bathroom, kitchen, and foyer too, Martha created a visually cohesive home that had the quaint appeal of a black-and-white photo.
Ask Martha: Choosing and Installing Drapes
Want to make a bold design statement with window treatments like Martha did in her Turkey Hill dining room? Watch her explain the process.