Looking for a gluten-free appetizer that doubles as a low-carb dessert idea for Thanksgiving? We've got the answer with these eye-catching, mouthwatering bite-size gluten-free treats. Your friends and family will be overjoyed by these tasty creations!
The best part: They are both a cinch to make and use ingredients you already have on hand.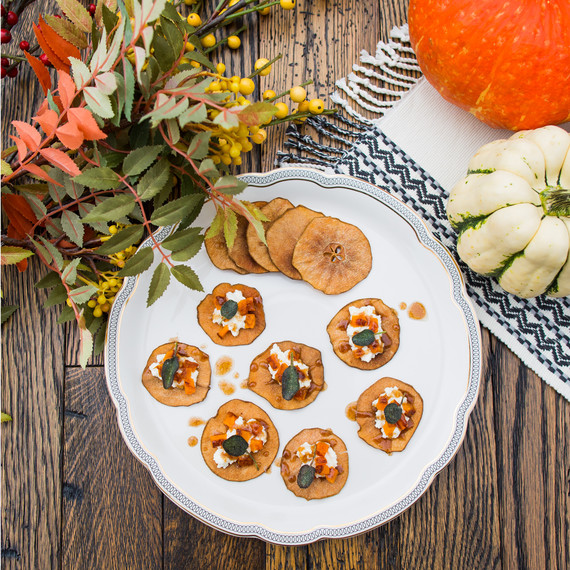 Butternut Squash and Ricotta on a Dried Pear Cracker
Thanksgiving is about giving thanks and celebrating the harvest, and what better food represents the season than butternut squash? This gluten-free recipe will turn your traditional squash dish into a bite-size, modern masterpiece.
To make, take a dried pear crisp and dollop some fresh ricotta cheese in the middle. Fresh is best here, but your regular store-bought ricotta cheese will do in a pinch. Then, take some roasted butternut squash and chop it into tiny cubes. We used a butternut squash that was sweetened ever so slightly with brown sugar butter, but this is optional. Nestle the squash cubes atop the ricotta and garnish with a fried sage leaf.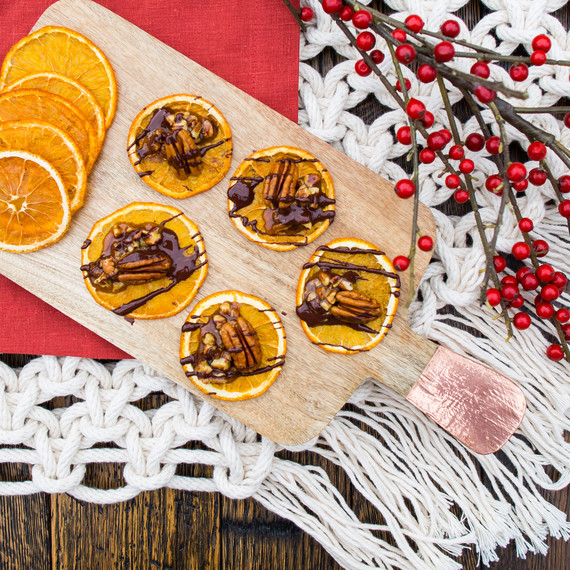 Chocolate Pecan "Pie" on a Dried Orange Cracker
Some might argue that pies are the best part of Thanksgiving, but they can also lead to carb overload. Instead of stuffing guests with heavy desserts, try this new take on the ol' classic pecan pie recipe, by deconstructing it with a zesty new twist. You can also take advantage of your leftover pecan pie filling and transform it into this deliciousness!
First, you will either need some leftover pecan pie filling (which is very hard to come by in my home, as it usually disappears at a furious pace), or you can roast some pecans with butter, brown sugar, cinnamon, and nutmeg. Place a dollop of the pecan pie mixture on a dried orange cracker. Then drizzle with a chocolate of your choosing. You can get creative here! Feel free to experiment with super-dark chocolate, or try melting Nutella slightly in the microwave instead. Also, make sure to melt chocolate the right way so you can get the drizzle effect you desire.
Want to know how to correctly roast spiced pecans? Watch the video below!