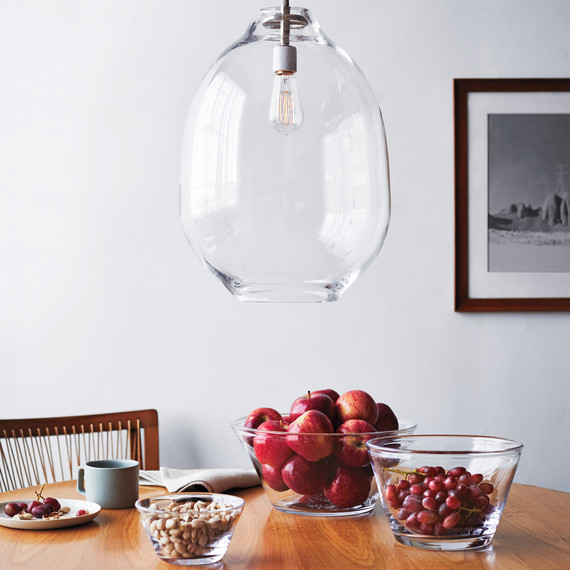 When glass-and-ceramics artist Simon Pearce moved his business from Ireland to the United States in 1981, he fell in love with a 25,000-square-foot vacant mill on the Ottauquechee River, in Vermont. It wasn't just the picturesque location that lured him but also its potential for hydropower. "I set up shop and quickly added a turbine to produce electricity," says Pearce. "It made us self-sufficient and a little kinder to the planet." The turbine powers the company's flagship store–restaurant in Quechee -- as well as, most important, its glassblowing furnaces. "Glass furnaces are usually powered by gas, but we use electricity," he says. "It allows us to produce a very high-quality glass that has the same refractory index as crystal but without the lead." Yet unlike special-occasion crystal, a Simon Pearce glass piece is made to be enjoyed every day.
Why We Love It
This elegant Simon Pearce pendant lamp first caught our eye at the Woodstock Inn (in Woodstock, Vermont), where it illuminates the spa brilliantly. At 17 inches tall, it is at once dramatic and understated. Like the lamp, every glass or ceramic Simon Pearce piece is handmade, imparting it with an "organic, modern sensibility," says James Murray, Simon Pearce's VP of design. 
Woodstock pendant, $1,750, and Nantucket bowls, from $75 each, simonpearce.com.
The Magic of Glass
In its heyday, from 1800 to 1860, blown glass was used to make millions of bottles, compotes, pitchers, and tumblers. A surprisingly large number of these items has survived; as a result, prices are still relatively moderate -- pieces can be found for less than $200 -- and there is an impressive variety from which to choose. 
Learn More About the Traditions and Features of Blown Glass
Collecting Blown Glass
Vibrant, shapely decanters, vases, and bowls are as clearly beautiful as they are collectible. In the two decades following World War II, glassware went wild. Decanters shaped like genies' bottles, amorphous bowls, and flamboyant pitchers became de rigueur. Turned out in Popsicle reds, acid yellows, and jewel-tone blues, it was as if glassblowers flipped a Technicolor switch. "These were the magic years," says Fritz Karch, Martha Stewart Living's collecting editor, "when glassblowers were at their most imaginative and creative." It also marked the final years of certain mineral-based colors, which were brighter than the synthetic hues that replaced them.
If you've never had the chance to see glass blowing in action, check out this video: