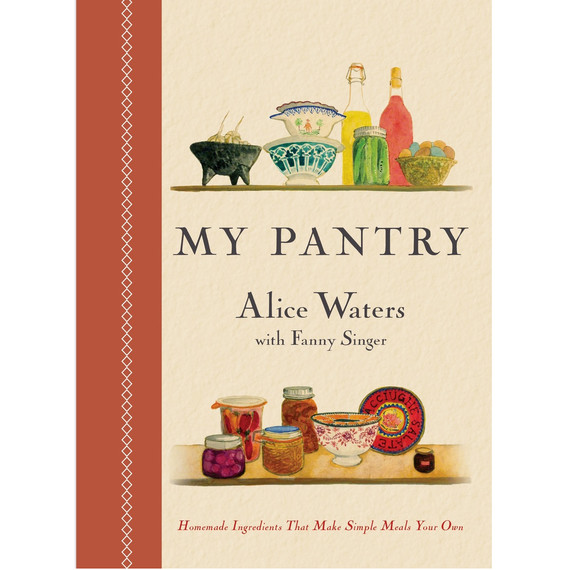 Our editors love Alice Waters' new book "My Pantry" (Pam Krauss Books). The collection includes essays and recipes for many of the pantry staples and preserves that many people wouldn't think to make. Creating your own basic ingredients from scratch can make a simple meal feel rich and satisfying. One of our favorite recipes is the Apple Peel Cider Vinegar, which can be made from leftover cores and peels.
Rather than throwing away your apple scraps from baking, freeze them. Then when you have enough, make delicious fruity vinegar. See the full recipe below then pick up a copy of "My Pantry" for more!
Apple Peel Cider Vinegar
Put 2 quarts apple cores and peels in a large glass or ceramic bowl. Dissolve a 1/3 cup sugar in 2 quarts water and pour over the cores and peels. Cover with a plate and weight down with something heavy to keep the solids submerged. Cover the entire bowl with cheesecloth or a kitchen towel and leave on the counter out of direct sunlight for 7 days.
Strain the cores and peels from the liquid and discard the solids. Put the liquid in jars or bottles and secure a piece of cheesecloth over the opening with a rubber band to allow airflow. Allow to age at room temperature out of direct sunlight for 6 to 8 weeks, until the desired flavor is achieved. A "mother" will begin to develop after about 2 weeks.
This recipe yields 3 1/2 quarts of vinegar. Waters suggests trying it with sparkling water, as a soda or "shrub." Start with equal parts vinegar and sparkling water and adjust to taste.
Reprinted from "My Pantry." Copyright © 2015 by Alice Waters. Illustrations by Fanny Singer. Published by Pam Krauss Books, an imprint of Penguin Random House, LLC.